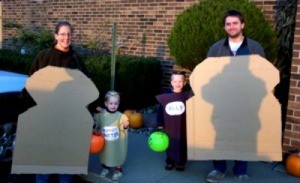 Supplies:
two pillow cases
plastic coffee can lid
two pieces of white felt
marker
scissors
two large pieces of cardboard
string
Instructions:
We took two pillowcases and cut head and arm holes in them for the peanut butter and jelly. We used plastic coffee can lids for the top of the jar and tied it on like a hat. The labels were sewn on felt with the words written in marker. The bread was cut out of a large piece of cardboard.
Source: Family Fun magazine gave us the idea of a sandwich and we went from there!
By Jennifer from Millington, MI
October 3, 2013
1

found this helpful
I work at a local boys and girls club. We are having a haunted house and party for our members. There is a staff of about 10. We need a theme for the members to enjoy as well as our staff.
By Danielle from Taunton, MA
October 4, 2013
0

found this helpful
The Adams Family. With all their quirky relatives, you can surly get 10 people to make up like 10 of them. Adam, Morticia, Lerch, Wednesday, Pugsly, is half right there! If you do send us a shot?
September 17, 2011
0

found this helpful
I am looking for a super easy idea for office Halloween costumes for a group of 6 or 7 people. Last year we all dressed as usual and carried signs saying "Nudists on Strike!". I am looking for something simple like that. Anyone?
By C. L.
September 18, 2011
0

found this helpful
Several years ago I worked in a fast food place and none of us got real carried away for Halloween, mostly due to the job. I wore a sign around my neck that had a picture of Elvis glued to it and the words "I am the King." I got a lot of comments at the drive up window.
September 18, 2011
0

found this helpful
For two-three years my daughter wore jeans to work with a western style belt( the only problem was we had to figure out how to cover her name that was tooled into the back of it, so after the belt was in her belt loops, I took a piece of brownish felt and wrapped it around the letters and safety pinned it on the back side of the belt. Then she wore a one of her Garth t-shirts and a kid's cowboy hat from WalMart. She was Garth. lol
September 18, 2011
0

found this helpful
Take an older T-shirt or sweatshirt and paint a large letter "P" on the front. Then use black or dark gray make-up (eyeliner, eye shadow, eye pencil, anything really dark) under and around one eye.
You are a "Black-eyed Pea!"
September 18, 2011
0

found this helpful
Could you all dress in white shirts and black pants like waiters, and put a sign around your neck which says Waiting For Godot? Or the name of a popular restaurant in your area whose staff dresses that way? You could buy clothesline at the dollar store and wind it around yourselves several times because you're all tied up at work. You could get plain helium balloons, attach them to your shoulders and be cartoon characters with word or thought balloons over your heads. Write the name of your favorite cartoon strips on the balloons.
September 21, 2011
0

found this helpful
Copy and cut out local statutes, laws for the city, county and state, etc out of law books. Pin them to your suits and become...what else? Law suits!
Simple, cheap and sure to get a laugh out of everyone. Enjoy!
September 24, 2011
0

found this helpful
A few years ago, I was on staff at an elementary school. Teachers wore black, brown or white clothing. Someone brought in black, & brown face paint & we painted our noses black or brown. Ladies wore their hair in two pony tails to simulate dog ears. Others clipped construction paper ears to their heads. Some used rope or cloth belts for tails. Some made black labels & cut them in the shape of spots, then put them on their clothing.Some even wore dog collars. The kids loved it when they saw the staff dressed as dogs.
Read More Answers
August 22, 2002
0

found this helpful
We are having a Halloween costume contest at my work and have to do a theme for our department. However, we are having a little trouble coming up with an original idea for 5 girls and 1 guy. We would really like to win so we can get an extra pto day so if you have any ideas I would greatly appreciate them

Thanks,
Jeannette Stoddard
By guest (Guest Post)
October 14, 2006
0

found this helpful
I think it would be great for the women to dress up as playboy bunnys and the man to dress as Hugh Hefner.
Good Luck
By guest (Guest Post)
October 14, 2006
0

found this helpful
i want a very inexpensive(cheap non sleazzy) non reveiling costume but i don,t want to be scary or a princess do you have any ideas? something i can wear in a public work place that won't scare children and won't look inappropriate.
By guest (Guest Post)
October 17, 2006
0

found this helpful
i apologize for offending anyone, but i saw something on a website where a group dressed as mormons, the guy was the husband and the girls were his multiple wives. =)
By guest (Guest Post)
March 1, 2007
0

found this helpful
I got that same dress for my batmitzvah it's so great and also 4,000 dollars there's one like it at davids bridal except in ivory i hope you find it
By guest (Guest Post)
September 8, 2007
0

found this helpful
You know that robert palmer video with all the girls in black dresses with red lipstick. you should all dress like that and have the guy be robert palmer.
September 13, 2008
0

found this helpful
i think the Calfornia Rasians would be very cute i think their is about six of them. and u could play the song Hear it through the grape vine.
Read More Answers
September 16, 2009
0

found this helpful
I'm on the drumline in Marching Band at school. Every year the band does Halloween parades and we are instructed that each section needs to think of Halloween costumes and dress up. We need to think of a group Halloween costume. There's about 26 people on the drumline, I am one of 2 girls. Any ideas on what we can be?
By xdthatsrockin from PA
September 25, 2009
0

found this helpful
26 people all dressing alike was a hard one for me. I suggest you do the people in the Micheal Jackson video thriller. You should be able to find it on you tube and view the costumes. It is very halloween and a very timely story so most people will know exactly who you are.
September 25, 2009
0

found this helpful
How about a barnyard theme: a farmer, farmer's wife, all the different animals. Not scary but could turn out very funny.
September 25, 2009
0

found this helpful
I thought of some more ideas:
26 letters of the alphabet. Along the parade route you can do different formations to spell out things to the crowd.
You could do something to play on the fact that there are only 2 girls: like the girls dress as football players (I'm sure you can borrow uniforms from your school) and all the boys have to dress as Hooters waitresses (a white man's tank with an iron on transfer saying "hooters" on the front that can be made on anyone's computer, short orange shorts of any kind, wigs, lipstick, and definitely the front of the shirt "stuffed"). You could do two Hugh Heffners and a bunch of Playboy bunnies, or two Frankensteins with a bunch of scary brides.
October 8, 2009
0

found this helpful
I like the "Thriller video" idea! That would be really cool. Here's a few more ideas to toss around; pirates (easy-bandanas, eye patches, drawn on beards, ect.), "traditional" halloween-witches, ghosts, mummies, ect., kind of like the barnyard idea previously mentioned...you could go with zoo animals. Hope that helps.
June 10, 2013
0

found this helpful
Here's a couple of ideas for groups:
1: the "head" family
easy to put together
mop head, pot head, bed head, bald head, bone headeraser head, pin head, hammer head, nail head, etc. the popossibilities are immense.
A few years later we went as the "board" family:
key board, mother board, flat board, chalk board, white board, black board, out board, in board, etc.
Good luck
October 17, 2012
0

found this helpful
I want to dress up as 3 sheets to the wind for Halloween with my 2 other friends. What would be a good way to do that?
By Cheri
October 21, 2012
0

found this helpful
I would take sheets or guazey fabric put stiffener on it. Then let it dry with something to keep it straight out on one side, maybe using a hanger or stick of some sort and number the sheets 1,2,3. I would love to see your creation if you try it! Hysterical.