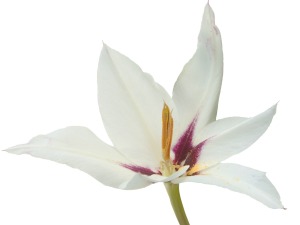 A perennial bulb that is related to the gladiolus, not to orchids. This guide is about growing acidanthera.
Ad
---
Solutions: Growing Acidanthera (Peacock Orchid)
Read and rate the best solutions below by giving them a "thumbs up".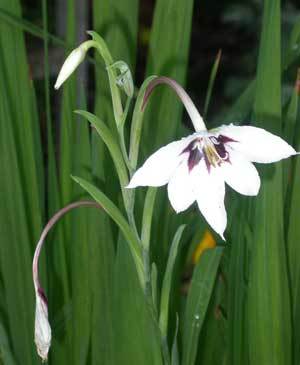 Botanical Name:
Gladiolus callianthis
Life Cycle:
perennial bulb
Planting Time:
spring
Height:
24" to 36"
Exposure:
full sun
Soil:
rich, well-drained soil
Hardiness:
zones 7-11
Bloom Time:
mid summer to fall
Flower:
white hooded flowers with maroon centers; fragrant
Foliage:
green
Propagation:
bulbs
Suggested Use:
beds, borders, cut flowers and mass plantings
Growing Hints:
Plant in clusters of 5-7 for best show. In the spring, Corms should be planted three inches deep and six inches apart. This plant requires a long growing season (up to 20 weeks) and should be started indoors 1 month before the last frost in northern zones. Water regularly while in bloom and cover plants with mulch if frost arrives during flowering. In the fall, bulbs can be left in the ground to spread or lifted, cleaned and stored in sand at 60º F for winter (zones 6 and north should always lift bulbs). Corms need to be dried quickly to avoid soft rot. The small bulblets that form around the main corm can also be separated and replanted.
Interesting Facts:
The peacock orchid is related to the gladiolus, not orchids.
By Ellen Brown
Give a "thumbs up" to the solution that worked the best! Do you have a better solution? Click here to share it!
Questions
Here are questions related to Growing Acidanthera (Peacock Orchid).
Can these plants be potted rather than put in the ground?
By Nikki
AnswerWas this interesting? Yes No
Ad
---
---
Most Recent Answer
By Stephanie M. 1 05/03/20150 people found this helpful
Can you grow peacock orchids in pots?
I have been very successful with the above bulbs. I put some in the ground and some in a pot doing nothing else and all have flourished beautifully and are still flowering. My question is, firstly do I lift them before they have finished flowering and once lifted how do I look after the bulbs over the winter?
By PamelaS [1]
My acidantera did not bloom this summer even though it had gorgeous leaves. I took them out and intend to store in the basement in dry sand at about 50 degrees. I will give them another try and plant them next spring. They look healthy.
Anyone else have this no bloom experience for the peacock lily?
By Carol
I planted these bulbs in the greenhouse two weeks ago, in pots. They are all growing up already. Should I leave them in pots in the greenhouse or plant them out?
By Barbara
I have a Peacock orchid. The stems have grown really tall, but there is no sign of flowers. Is it too late for flowering this year?
By Val