I have a dilemma. I love dill and I HATE buying them from stores. I've tried many many times in the past 3 years to grow them myself, each time meeting utter failure.

I've tried everything they tell you and have read every page regarding dill growing on the internet. Full shade, partial shade, lots of water, less water, fertile soil, ground soil, container and garden growing, etc etc. I've even tried the Chia Herb package that includes fool-proof herb gardening for dill (those never got higher than 1 inch). Even the already grown dill plants I buy from a store end up dying as soon as I bring them home and if I DO somehow get one to grow, it just ends up being a tall stalk with very little foliage (the yummy part). I thought this was supposed to be a "weed" and ergo, easy to grow and cultivate?
What am I missing?
Pookie
February 22, 2005
0

found this helpful
Best Answer
Dill, in my garden, is grown in full sun. Sprinkle the seed on the top of the ground, lightly rake over the area, water and voila...dill. I also let mine self-seed just like Donna Marie does. Dill now comes up in my perennial holding garden each year, an area that I only hand clean not till with my garden tiller.
August 6, 2006
0

found this helpful
Best Answer
If grown in a pot they will also need a "deep" pot as they are taproot plants (around 8 -10 inches).
March 29, 2007
0

found this helpful
Best Answer
What most folk don't tell you is that dill thrives in sweet soil, not acid. You know, all that Ph stuff. Well I don't know from PH levels, but I DO know that I tried to grow dill for years and then a neighbor suggested digging in some garden lime (about 2 cups in a small area) to sweeten the soil. Voila! I had a good crop of dill and I saved the seeds so I expect to have an equally good crop this year after I dig in some more garden lime (Dolomite). Good luck!
March 11, 2007
0

found this helpful
I'd bet you have slugs. Try again with some slug bait around the transplant; be sure to apply the bait before the first night and reapply the bait frequently while the plants are young. Slugs will completely devour young dill and cilantro transplants!
May 12, 2007
0

found this helpful
I started dill from seed in the house and transplanted the plants into my garden, probably about 6 weeks ago. (I live in Texas.) The dill is doing GREAT, despite very weird weather. I had to cover my plants during an Easter snow! The plants are about 8 inches tall now.
We have a mostly clay soil and have had a ton of rain lately which flooded my garden twice. The dill is still thriving! So I would recommend starting them from seed inside and then put the containers outside for at least a few days before planting them in your garden. This gets the plants used to the outdoor climate.
June 5, 2007
0

found this helpful
Make sure you aren't wiggling the taproot when you plant dill plants purchased from a store. Resist the temptation to loosen up the roots! Also, dill is short lived, and generally bolts when it gets hot. I give mine some shade in the heat, to keep its dirt cool.
June 24, 2007
0

found this helpful
Hi,
My dill in a pot is growing tall, i take off the flowery tops, but I am getting alot of brownish yellow shoots, what am I doing wrong?
June 25, 2007
0

found this helpful
I cannot grow dill in my Nanaimo, b.c., canada garden. The seed sprouts and grows an inch or two and stops or grows a foot or two and turns yellow and dies before seed matures. I've tried different parts of the garden and even sterilized soil [slightly better results] but I never get anything worthwhile. It's almost as if there is some poison in the soil but other things do grow well. Other folks in Nanaimo have the same problem with dill.
July 3, 2008
0

found this helpful
I'm in north west NJ, It is my first attempt at growing dill. Everyones advice would be even more helpful if you would tell us what part of the country you are in when having success or failures with your gardening. Thanks for the feedback, it has been helpful. Sonia
August 25, 2008
0

found this helpful
I haven't actually planted Dill in Years, it comes up on it's own by reseeding itself. Black swallowtail catapillars/butterflies love the stuff. oh BTW, it loves full sun and needs very little watering. I get so many that I have to thin it out.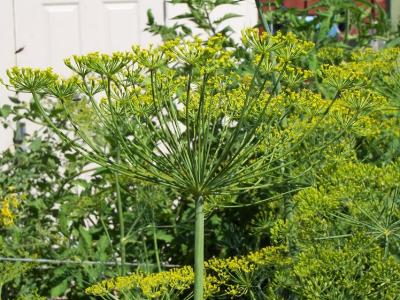 August 28, 2008
0

found this helpful