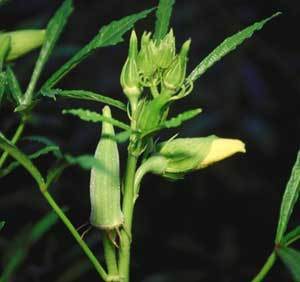 Botanical Name:
Abelmoschus esculentus
Description:
Traditionally a southern favorite, Okra is a member of the hibiscus family that produces, small, slender, edible green pods, with a mild flavor and ridged texture. When cooked, the pods release a viscous substance that is sometimes used as a thickening agent. Prefers warm climates
Planting Time:
Start indoors three to four weeks after the last frost date or sow seeds directly outdoors when soil warms to 68ºF. Warm climates can start a second crop in early summer.
Exposure:
full sun
Soil:
deep, fertile, well-drained soil with a pH of 6.5 to 6.8
Planting:
Plant seeds _ to _ inch deep spaced 2 to 3 inches apart in rows 12 to 24 inches apart. If you prefer, stratify (nick) and soak seeds prior to planting to speed germination. When seedlings reach a height of four inches, thin by cutting extras with a scissors. Transplants should be spaced 12 inches apart.
Watering:
Keep soil evenly moist (not wet) to encourage continuous production of pods. Plants are susceptible to stem rot, so avoid getting water directly on plants.
Maintenance:
Mulch around plants to control weeds and retain soil moisture. Apply an organic fertilizer, like compost tea, every few weeks to boost production.
Harvesting & Storage:
Pods should be harvested when they are young and tender and have reached a length of 1 to 6 inches. Harvest frequently to keep plants producing. Okra is highly perishable and should be frozen, pickled, canned or eaten within 24-48 hours of harvesting. Dry over-ripe pods for arrangements.
Diseases and Pests:
Common okra problems include cabbage worms and aphids. Remove worms by hand and spray aphids with an organic insecticide or spray them with a hose.
August 16, 2011
0

found this helpful
Thanks for printing an article on how to grow Okra. I live in New England, and would like to try it in a few large containers next year. If I use organic soil for potting early started plants, do I need to mix anything else into the soil 1st to ensure an abundant growth when transplanting outside; ie: fertilizer or lime, or some other soil amendment so the PH will be right?
Do I use just plain seed starting soil to start them & do I need to use heating pads or lights? Hope you can answer this in a future article or as feedback on the site. I love southern foods & growing my own foods to save $, but it can get expensive when you invest time, labor & $ & nothing comes up. I'd like to get it right the 1st time. Thanks for any help.