April 7, 2015
0

found this helpful
My Saskatoons are 8 -10 feet tall 6 foot diameter bushes, not trees. Sounds like you need to fertilize and water them. Especially in fall and in early spring you have to water them, or they won't grow.
Once the shoots are 5 - 6 feet produce high and produce lots of berries, let some of them drop. They will produce new shoots and you will soon have bushes. The new shoots carry fruit already the first year after berries dropped . I have never seen any, that didn't.
Maybe somebody sold you Blueberry instead. They are similar, but the berry has a dimple, whereas the Saskatoon has the remains of the blossom.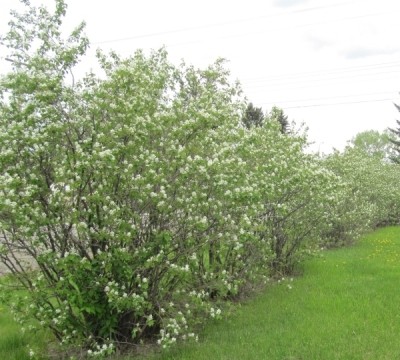 April 7, 2015
0

found this helpful
These are typical Saskatoons, not quite ripe, but you see the remains of the blossom. By the time they are ripe, those remains have shriveled to almost nothing, but are still recognizable.
You see how thick Saskatoon bushes are. Definitely not a tree.