I am growing an Easter egg plant indoors and the flowers come out and fall off, but no fruit have grown. I wonder if anyone has a solution to this problem?
Hardiness Zone: 5a
By Chaundra from NL, Canada
Answers
February 27, 2009
0

found this helpful
Best Answer
Hi, I have one. It has flowered several times(beautiful delicate purple flowers) but mine have never turned to fruit. I assume this is my fault, for not watering consistently. I have had it for a year and its 1-2 feet tall. My cats have also snacked on the leaves...quite a hearty plant :-) I am sure you will do better!
By guest (Guest Post)
February 28, 2009
0

found this helpful
Best Answer
My Grandmother had these all over the house. They require lots of sun and she used to water with cold tea. The eggs eventually turn yellow and fall off. The seeds inside the overripe eggs can now be planted again. They honestly look like a real egg hanging off of a vine.
April 9, 2010
0

found this helpful
Best Answer
I have three Easter egg plants that I started in my Areo Grow. I used three seeds per pod and all three grew, yet I kept the strongest of the three and they are doing well. I have since planted one of the plants in a flower pot with soil. It too is doing well. I am waiting for warmer weather to plant all the seeds outdoor. Just don't put the plant in full sunshine, it doesn't like it.
Now I am just anxious to see the flowers grow and then the fruit. Have fun with these great plants. Karyn
I bought the wonder egg and I feel confident about growing it, but curiosity go the cat. Can anyone tell me how to prepare it without killing myself and what it might taste like? My major method of cooking is southern.
Hardiness Zone: 6b
By AngelMB from Murfreesboro, TN
Answers
March 9, 2011
0

found this helpful
Best Answer
The wonder egg or the Easter Egg plant egg is not edible. This is where the seeds are for your next crop. It is only an ornamental plant.
December 4, 2014
0

found this helpful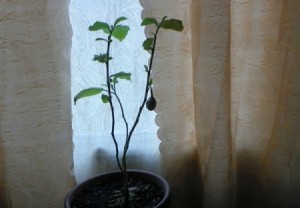 My mom and I have one of these little plants and they are both losing their leaves. I am in South Carolina she is in North Carolina. Are they supposed to do this? They are in pots inside the home.
By M Taylor
January 9, 2015
0

found this helpful
While I'm not sure about this plant, I had a fig tree plant that lost it's leaves and found out it needed movement. I set a small fan on it and soon it was completely fill out. you might try that.
October 26, 2014
0

found this helpful
I received the plant when it was only 10 inches high from a friend that lived on Manitoulin island in Ontario. That was in July of 2014. I replanted it into larger pot with potting soil and fertilizer. I put it in direct morning sun and shade in afternoon. In late September I moved it inside the four season room squirrels were looking at it. It is now 3 foot tall and has 9 eggs on it and three eggs are turning greenish yellow. Was just wondering if any one could tell me when I should pick them to save the seeds for next year. What color should the egg be before you pick to save the seeds?
By Gerry