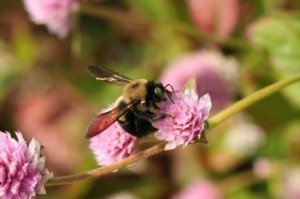 Being stung by a bee can be very painful, and life threatening to a small number of people. This guide is about home remedies for bee stings.
Ad
---
Solutions: Home Remedies for Bee Stings
Read and rate the best solutions below by giving them a "thumbs up".
My son and his friend were playing in the bushes, little did we know there was a bee's nest lurking in there. The kids came out screeching after being stung several times, one was right on the tongue! Ouch!
I used a wet aspirin to rub on their bee stings including the tongue. After 20 minutes you could not even tell they had been stung! It takes down swelling as well as helps with the pain. So it would be a good idea for your first aid kit.
Source: First aid book I read a few years ago. Can't remember which one!
By coville123 from Brockville
If you have a bee sting, you can put a paste of baking soda and water on it. Just mix the baking soda and water together until it is very thick. Apply to bee sting after the stinger has been removed.
To remove the stinger, take a credit card and fling it out. If you use your fingers, you can squeeze more poison out of the stinger into your skin.
By countrydoglover from Southern , IL
For pain relief from bee stings, immediantly put Orajel where you were stung. This is the same thing that babies use when they are teething. Also use with any other stings.
By Summer
For bee stings, my husband's grandmother used to always apply the cut side of an onion she had sliced in half to the bee sting for several minutes. Any pain or swelling, etc., will completely disappear. We have used this with our daughter, and now with our grandchildren with great success.

Source: According to my husband's grandmother, this was an old Indian remedy but we are not sure of any source other than his grandmother, who is long deceased.
By Brendamae from North Richland Hills, TX
Did you know that Afterbite's main ingredient is baking soda? If you make a paste of baking soda and water, it will stop the stinging very quickly. First, however, remove the stinger and then put the paste on.
By Robyn [369]
Give a "thumbs up" to the solution that worked the best! Do you have a better solution? Click here to share it!
Questions
Here are questions related to Home Remedies for Bee Stings.
Snuff is great for soothing bee and fire ant stings. Snuff may be a little hard to find; I use to buy it at the cigarette counter, but it is not longer available in my area. Find a friend in the South and they probably can find it for you.
Immediately, when you get stung, wet your hand, dip it in snuff, and rub vigorously. Reapply several times. This is pretty messy, so use over a floor than can be cleaned or outdoors. The pain goes away immediately. I have used this for over forty years. It has even worked with people who are highly allergic to bee stings.
I learned about this from an elderly pest control man. He had a customer who had been stung by a large number of bees. He went to the hospital and was told to be careful not to get stung again as he would die. My pest control man told him about snuff. When he did get stung again, used the snuff, and did not have an allergic reaction. Please use your Epi Pen for allergic reactions, but this will help too.
By Lucy C. from Marathon, FL
AnswerWas this interesting? Yes No
Ad
---
---
Most Recent Answer
By Lelia Jo Cordell 51 1,936 06/30/20100 people found this helpful
I know several people who are allergic to bee stings, bad enough to go into anaphalactic shock. Thanks for the tip, I'll definitely pass it along!
What is the best remedy for wasp and bee stings?
By Maria from Blue Ridge, GA
AnswerWas this interesting? Yes No
Ad
---
---
Most Recent Answer
By Judy 2 2 07/18/20110 people found this helpful
Household ammonia for all insect bites.
---
Archives
Thrifty Fun has been around so long that many of our pages have been reset several times. Archives are older versions of the page and the comments that were provided then.

I would like to know remedies for bee stings that works. I usually put ice pack and baking soda. Anybody have a good remedy?

Seamstress
Answers:
RE: Remedies for Bee Stings
Years ago when my mom got stung by a wasp, a friend of mine pulled out his pack of cigarettes, broke open the wrapping, moistened the tobacco and put it on my mom's sting. It took both the sting and the swelling out.
Marla
http://www.forgetmenotaromas.com - Our fragrances leave lasting impressions. (08/19/2005)

RE: Remedies for Bee Stings
Try wetting the sting and sprinkling meat tenderizer on it. Almost always works for us! (08/19/2005)

By MsDee
RE: Remedies for Bee Stings
The three ways we handle bee stings are as follows, we all have a different one we like.
1) Try putting some mud on the sting
2) You can get an onion and slice it in half and place the cut side down on the sting.
or 3) make a paste of baking soda and ammonia and apply to sting when it dries rub off dried paste. (08/19/2005)

By yankeesgryl
RE: Remedies for Bee Stings
A lot of these suggestions are good ones and work well.
But if anyone I know gets stung (that isn't allergic), I'm grabbing the vinegar and baking soda to use.
(08/19/2005)
By evlevo85
RE: Remedies for Bee Stings
I have tried and used both these remedies and they both work great. Either a slice of tomato or a slice of onion. Both of these seem to stop the stinging & take the stinger out. Hope this helps someone.
Carol (08/20/2005)

By littlebity
RE: Remedies for Bee Stings
I got stung badly just the other day, the non-stop burning shooting clear up my arm. I put some ammonia on it, and the burning immediately stopped. I also had no swelling.
(08/20/2005)

RE: Remedies for Bee Stings
I use Listerine mouthwash on mosquito and black fly bites. It might work for bee stings too. Just soak a cotton ball and apply to the bite for a few minutes. (08/20/2005)

By Nettie
RE: Remedies for Bee Stings
I would like to say thanks to all who responded. I will try them all as I have a lot of wasps where I live. Each remedy one at a time to see what works best for me.Thanks again! (08/20/2005)

By seamstress
RE: Remedies for Bee Stings
Make a paste of meat tenderizer and water and apply to area. Got this from a doctor. (08/21/2005)

By SNIGDIBBLY
RE: Remedies for Bee Stings
I use Adolf's meat tenderizer. Make a paste and put it on. The enzemes break down the venom. Works great. Then ice to keep the venom from traveling further. I swell up like a balloon from any kind of sting and have found this to work. In a pinch, if you are not at home, just go to the nearest place you can get ice or even a cold soda from a machine. The cold will keep the venom from traveling. Hope this helps. Valery (08/24/2005)

By valery
ouchy wowaaa
I don't know about about you guys but i just got stung by a wasp in the finger. It was sitting on my head and I thought it was a fly so I plopped my hand on my head and BAM! It hurt really bad, my mom put some water, ice, then vinegar and baking soda. Worked, it's magic! Also benedryl cream works wonderful too (10/02/2005)

By Mallory and Alesia
RE: Remedies for Bee Stings
http://www.BeeStingCure.com (03/07/2007)

By Brad
RE: Remedies for Bee Stings
Taking a penny and holding it on a bee sting for 15 minutes causes it not to swell and something in the copper takes the venom out (05/31/2007)

By Cressida

After being stung, make a thick paste of baking soda and water. Pat the paste solution onto the sting area and watch the swelling and pain subside. Another remedy (when more people smoked cigarettes) is to place some tobacco in your lower lip and liquify (make a 'chew') with your saliva; then place the 'chew' onto the sting. It also will relieve the swelling and pain.

By Cajun from Collinsville
Answers:
RE: Remedies for Bee Stings
Believe it or not you can also use antipersprant on a sting. I learned this in a home remedy book and then tried it when my son got stung (he was 2 or 3 at the time) and he immediately stopped crying. (06/09/2008)

By Kathy
RE: Remedies for Bee Stings
I was stung by a wasp six times. I immediately dabbed straight household ammonia using a cotton ball on the area of the stings. The pain disappeared immediately. A neighbor who is a chemist recommended this. He had used it on a neighbor's child when she was stung by a bee. It is also good for mosquito bites. I have been using ammonia for over ten years and it has always worked for anyone who tried it. (06/10/2008)

By Mike
What is the best home remedy for bee stings?
Make a paste for a bee sting of baking soda and water. Rub this over the area where the bee has stung. It will take the swelling down and also the sting and itch associated afterwards. By Kathy