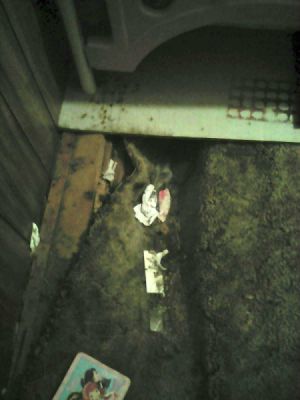 Is there anyone or anywhere I can go to, to get help with fixing my home? I live in a three bedroom 1 .5 bath trailer, with my husband, our daughter, and our animals. We moved in here a few years ago and since doing so our home has been falling out from under us, literally.
Our floors are made of particle board and the gentleman we bought the home from said there were some problem spots, but he assured us he would get them fixed before selling us the trailer, but he did not. Shortly after moving in, our central heating/air system stopped working, and being as we are a low income family we suffered through the summer heat with only fans, and then suffered through winter cold with only blankets for warmth. Please we need help before any of us get seriously injured. We have no money to get it fixed as all of our money goes to bills, food for our animals, and essentials.
The provided pictures show a huge hole in our bathroom, and then where we are walking on nothing but beams and carpet in the bedroom where my family sleeps, and also partial imaging of what's going on under my daughter's bed.