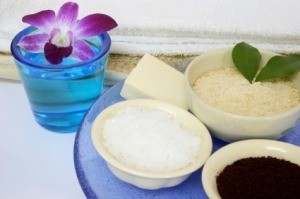 Outstanding exfoliates don't have to be expensive when formulated at home. This guide is about homemade body scrubs.
Solutions: Homemade Body Scrub Recipes
Read and rate the best solutions below by giving them a "thumbs up".
Do you suffer with dry skin, and lotion itself isn't doing the trick? I do and I can't afford to spend lots of $$ on scrubs that come in tiny containers. I recently found a body scrub online that's made from coffee and oils that I wanted to try, but the price is upwards of $30 a bag! I decided to take matters into my own hands and make my own.
I've been mixing my used coffee grounds, I like fine ground for consistency, and brown sugar together. It is the best scrub I've ever used! You can also mix in coconut oil, olive oil or whatever you have on hand. I follow up with my favorite lotion after I scrub in the shower or bath. It's a bit messy, but so worth it! I recommend refrigerating any leftovers and using the mixture within a week or so.
Pour 1/4 cup table salt in a bowl and add enough body wash or shampoo to make a paste. Use as a foot and body scrub. Don't use this on your face, as the salt is too harsh. For a facial scrub, substitute sugar for the table salt.
Source: my grandmother
By Monica from Cortez, CO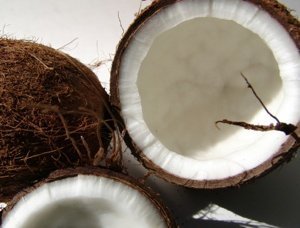 Sadly, I was feeling a little down this week, partially due to this horrible cold/wet summer we've been having. Clearly, it was time for me to do something for myself that wasn't going to cost me a fortune. (I know some people shop or drink a lot when feeling down and that costs money!) I was browsing spa menus online and came across a coconut body scrub that cost $90 at the Spa. I thought to myself "Ok, I can do this myself for pennies!"
Granted, my bathroom doesn't look like a fancy schmancy spa but I tried my best to make it look that way. I lit a beeswax candle! I prepared the following concoctions in my kitchen, which are very easy to do:
Coconut Body Scrub
1 cup sea salt (regular will do if that's all you have)
1 Tbsp organic coconut oil (this can be substituted for any oil or even butter (like shea)
Enough coconut milk to make the salts a little wet.
I didn't measure the coconut milk but poured a couple of tablespoons or so into the mix. You'll get a nice wet-ish consistency. Set aside.
Coconut Clay Body Mask
1 cup kaolin clay (this is the best for sensitive skin but you can use green clay too)
1 tsp. glycerin
Enough coconut milk to make a nice thick paste.
Preparation:
Bring both bowls into your bathroom. Since my bathroom is cold (weather isn't good right now), I brought in a small heater to heat it. Make sure the bathroom is really warm before you start. Stand in your tub and wet your body. Turn the shower off, then use the scrub on your body using a circular motion, avoiding cuts/scrapes or freshly shaved areas. Do not use this on your face. Rinse, then pat dry.
Spread the clay mask all over your body. This can be used on your face but I didn't do that. Sit in your dry tub for about 20 minutes until the mask starts to dry. I found that the parts where I was sitting, the mask didn't dry as well. If you have someone who can help, wrap yourself in a dollar-store clear shower curtain, then with warm towels and lay down. I just sat in the tub as is.
Rinse the mask off, then pat dry. Apply a nice lotion. I used some self tanning lotion that I had bought at the dollarstore. It has a nice coconut smell and was perfect for this coconut spa theme!
After everything was finished, Put on my cozy pants and tank and made myself a nice cup of herbal tea.
Source: Posting from my own blog:
By freya1970 from Halifax, NS
Make a paste of baking soda and any oil (I prefer grapeseed oil). Apply to wet skin using a washcloth or loofa pad. The baking soda exfoliates and the oil moisturizes. Be sure to standing on a bathmat or hand towel because it can get slippery.
By Christi from TX
Instead of spending additional money for a foot scrub, use your body scrub with your foot pumice stone or block. This way you get two for one and don't add additional clutter in the shower. It worked like a charm and ever so smooth heels! Highly recommend as I think that is all the foot pumice products are with a splash of peppermint for soothing purposes.
By SnoopyMax from Cary, NC
This is the easiest scrub recipe around and probably the best. I've made lots of different scrubs and tested many recipes but always come back to the basic one because it works best. Makes incredible gifts!
1 cup sea salt (fine)
1/2 cup light oil (a combination of grapeseed and almond is good)
1/2 tsp vitamin E (you can break open capsules)
1/4 to 1/2 tsp essential oils or fragrance
1 tbsp dried herbs or flowers (optional)
Place everything in a bowl and stir well. Store in glass jars (recycled baby food jars, caning jars, spice jars...) You can use a few drops of food colouring but I like to keep it natural looking!
Ideas:
1/8 tsp. lavender and 1/8 tsp. clary sage with dried lavender for a stress relief blend)
1/8 tsp. cinnamon essential oil 1/4 tsp. orange EO for a circulation blend.
1/8 tsp. Rosemary and 1/8 tsp. Peppermint for an invigorating blend (with dried mint leaves)
1/8 tsp. ylang ylang and 1/8 tsp. patchouli for an aphrodesiac blend (with dried rose petals)
Source: This is my own recipe, as are the EO blends :)
By Lisa from Halifax, NS
The Frugal Holistic
A Day at Your Favorite Spa: Your Own!
(Part 4 of 4 - Homemade Body Scrubs and Wraps)
Well, this is the final article in the series and I hope that you all have enjoyed them. I promised an article on Body Wraps and Body Sugaring . Body wraps are a good way to release stress and toxins from the body. Body Sugaring is a natural method of hair removal that is not as harmful to your skin as wax removal. Body wraps can cost upwards of $300.00 for a good professional wrap. But, I am here to tell you that you can save lots of money doing it yourself. The things you will need, in addition to the ingredients for each wrap, are lightweight sheets, flannel sheets or a lightweight thermo blanket that can be bought at any camping/sporting goods store to cover yourself with, towels and a flat surface to lay on. You can also do this lying in the bathtub. It is not as comfortable as using a exercise mat or lawn chair/lounger though. You might want to think about investing in some rolls of gauze to have a friend wrap you in. If you are going to do a compression wrap, be sure that you wrap snuggly but not too tight and this kind of body wrap should only be done once a month.
First, cover your surface with the towels. Light some candles and put on some soothing music. Make sure you have plenty of water to drink before and after to flush out toxins in your body. Try to avoid caffeine, sugar, fried fatty foods, soda drinks and alcohol for the next 48 hours. Take a warm shower before applying the wrap to open the pores. Get your ingredients together and mix away. I have included some recipes for very basic body wraps. Any facial mixture can be used also. Just make more of it. Many people confuse a sugar scrub with body sugaring so I am going to give you a couple of simple recipes for Sugar Scrubs that can be used before your Body Wrap.
Sugar Scrubs
Brown Sugar Scrubs
1/2 cup brown sugar
2 heaping tablespoons almond oil
few drops of honey
3 to 5 drops of your favorite essential oil
Or
1/4 cup brown sugar
1 tablespoon jojoba oil
1 tablespoon almond oil
2 teaspoons honey
5-7 drops orange essential oil
dash of cinnamon
Here's what you do:
Mix ingredients thoroughly in a glass bowl. In the shower, gently scrub all over body.
Fruit Sugar Scrub
1/2 cup white sugar
3 Tbsp. coconut milk or oil
3 Tbsp. almond or jojoba oil
1/2 cup fresh papaya and guava
Mix sugar and coconut milk or oil with almond or jojoba oil. Puree fruit in a blender or food processor, stir into oil and sugar mixture. Exfoliate with dry brush or exfoliation gloves, rinse off in shower. Pat dry (skin should be damp) and apply mixture from feet to head in circular motions always towards the heart. Rinse with warm water, pat dry, and enjoy silky smooth, sweet-smelling skin!
Body Wraps Clay Body Wrap (for oily skin)

1 cup bentonite or green clay
1/4 cup sea salt
2 Tbsp. olive oil
2 cups water

Boil water and add sea salt until it is dissolved. Add remaining ingredients and stir. Adjust the water if necessary to form a wet paste. Rub the mixture over your entire body and cover yourself with a sheet. Avocado Moisture Body Wrap (for dry skin)

1 very ripe avocado
1 cup of heavy cream
1/4 cup of aloe vera gel
Lots of towels
Plastic wrap

Here's what you do: Blend avocado pulp, cream and aloe vera gel to a thick paste. Place lots of old towels down where you will nap later. Apply paste to body. Wash hands and loosely wrap over masked areas. Lay down and relax for one hour. Rinse. Oatmeal Wrap (for soft and smooth skin)

1 cup of oatmeal not the instant kind
1 cup of warm milk

Mix oatmeal and milk into a paste and apply to body. Rest one hour and rinse off. Removing Extra Hair Body Sugaring is a natural way to remove the hair that you don't want from your body. Basically, you are making a cooked paste out of white sugar and other ingredients that you will spread on your legs and, using strips of cloth, removing the hair. You will need a stove and pot to cook the sugar mixture in and an old sheet to cut up into strips or a couple of yards of cheap broadcloth from Walmart. The strips can be used again by washing in a lingerie bag in your washer. Body Sugar Recipe

1-7/8 cups of white sugar
1/4 cup water
1/4 cup lemon juice

Use a fairly large, heavy pan because the sugar will foam up as it boils. Mix the ingredients in the pan and put on medium heat. Boil gently until a candy thermometer reads 120 degrees C. The mixture will turn an amber color as it cooks. Take it off the heat, let it cool a bit and pour into a container. A wide shallow one works best - if you have a tall container, the paste tends to get all over the stick. When cooled, it should be quite thick.
To use the paste, either microwave it (careful-it heats up fast) or boil some water and let the jar sit in the hot water for about 5 minutes. Be sure to test the temperature *very* carefully before you put a lot on your skin. Test a bit on the palm of your hand where the skin is a little thicker and tougher. Use a craft stick, like a tongue depressor, to spread the paste. The paste works best when it is very warm, it spreads thinner that way.
Take a bit of paste on the stick and spread it on, as thin as you can, in the direction of the hair growth. Put a strip on the paste and press it on firmly. Pull the strip off against the direction of the hair growth. Be sure to hold your skin taut, and pull the strip directly back, not up. You can use the same strip a couple of times. To clean up, all you need is soap and water. You can cream your legs after with a good natural lotion. By Debra from Colorado Springs Co
Editors Note: This is a four part article. Check out the other sections here:
For Mother's Day, I am making my mom and mother-in-law a homemade sugar scrub as part of their gifts. They are easy to make, economical, and much healthier than store bought scrubs. Here is the recipe:
Ingredients
2/3 cup Turbinado sugar
1/2 cup grape seed oil
2-4 Tbsp. honey
12 drops essential oils of choice (I used lemon)
Directions
Mix ingredients and place in a clean, air tight, glass container.
To use: Rub desired amount in gentle, circular motions on areas you wish to exfoliate, avoiding the face. Rinse and repeat if necessary.
You can easily customize this recipe by using different sugars, oils, and essential oils. You can also use salt in place of the sugar.
By Tracey from Hibbing, MN
Give a "thumbs up" to the solution that worked the best! Do you have a better solution? Click here to share it!
Questions
Here are questions related to Homemade Body Scrub Recipes.
Using all those sticky or expensive ingredients for a facial scrub or body stimulator are unnecessary. No need to make special purchases of sea salt, honey, sugar and/or olive oil to do the best job. Trust yourself!
Sit in a warm tub with two cups white distilled vinegar and two cups Epsom salts to soften and cleanse your body without drying or chemical bubble baths, soaps, or artificial additives. While you are unwinding, your whole body is softening and relaxing, naturally. Pour a small bit of Morton's salt into your palms, rub hands together, and then rub them ever-so-gently over your face, hands, legs, arms, feet, and so on.
When you do this, you will sense how much pressure to use on different parts of yourself and will lighten up or apply more pressure, or add more salt to get the softening effect or stimulation results you desire. Afterward, rinse and dry and feel your skin. See how soft?
By Aunt Bonnie from Denver, CO
I just wanted to say many thanks for the help with my soap making using the Melt and Pour. I have made some and they are great, so many thanks for sharing. I have another request now.
I have made a body scrub using brown sugar, baby oil, aloe vera, and vitamin E. The problem I found with this is it is so oily. Can you use water and half oil? Many thanks.
Helen xx
By Helen from U.K
---
Most Recent Answer

By SuzyQ82 [2]09/21/2010
You definitely can use some water! I make a scrub with olive oil, water, brown sugar and a couple drops of vanilla. The water will mix OK even though there is oil. Typically one typically mixes up the scrub a little before using it anyway so there should be no issues with it separating. :)
I read somewhere that one could use Auzki beans (ground up?) for a body scrub. Does anyone know how?

Barbara from Michigan
---
Most Recent Answer

By Marjorie C. Woodworth [82]11/27/2007
http://macro808.blogspot.com/2006/05/azuki-bean-face-lift.html

Spelled Azuki
Archives
Thrifty Fun has been around so long that many of our pages have been reset several times. Archives are older versions of the page and the feedback that was provided then.
If you want to treat yourself, your girlfriends or even your daughters to a special pamper session, then this recipe is for you.

Take your favorite liquid bath soap - 1/4 cup, and supersaturate it with sugar. (Add enough sugar so that the mixture is no longer a liquid).

Set up your table with a basin of warm water, towels and your favorite hand cream. Place hands in the warm water for about 5 minutes, then using the sugar scrub, massage the hands, fingers and even the wrists. Once done, rinse with warm water and then massage hands with your favorite hand cream. (I suggest using a cream with glycerin).

You will see that your hands are so very soft that you will want to share this with all your friends.

By Karyn from Ottawa, Canada
---
RE: Homemade Sugar Scrub
Make plenty of this...get in the shower (before you turn on the water) rub this mixture all over then rinse. You will be amazed how your skin feels. You can also mix the sugar with a thick body cream. (12/04/2007)
By Kay
RE: Homemade Sugar Scrub
I have done this sugar scrub but instead of using body wash I used canola oil. Any oil will do but it makes your skin so soft. It did wonders on my rough heels. (12/16/2007)
By TXBetty
RE: Homemade Sugar Scrub
Hi, After a gardening session I pour a capful of olive oil into my upturned palm then add about a teaspoon of sugar. I rub gently especially around the nails and when I rinse off my hands are very clean and moisturized. (02/12/2008)
By north east england
Does anyone have a homemade recipe for a sugar scrub?
Sabrina from Council, N.C.
---
RE: Homemade Sugar Scrub
I use olive oil and mix it with enough sugar to create a paste. Before adding the sugar, however, I add essential oils to the olive oil. My favorite is a citrus (grapefruit, tangerine, lemon, or orange) mixed with a drop or 2 of peppermint or spearmint. I love the combination, but you could use whatever you like. Be cautious with peppermint, it is very potent. (08/06/2008)
By Tracy
RE: Homemade Sugar Scrub
Make a thick paste using brown sugar and apple cider vinegar. It's a bit smelly, but it makes a wonderful face scrub. I use it every day. (08/16/2008)
By Jocelyn
Are there any soapers out there who make their own body scrubs? Will you share your recipes? Thanks.
Sabrina from Council, NC
---
RE: Recipes For Body Scrub
This can be one of the most inexpensive things you give yourself as a TREAT! I love that you brought this up! I haven't done this myself but it is easy.If you have no sensitivity to regular dollar or so bottles of bath bubbles get one in your choice of scents and pour into an unbreakable cup to take into the bathroom with you. Add a handful of:
raw oatmeal
coffee grounds
epson salts
sugar
or any other items you wish or a combination of any or all.
You just need to add enough bath bubbles to cover this to make into a thick gloppy paste. Do all this as your water in the bathtub runs.
Another inexpensive treat is to buy a can of coconut milk and add about a tablespoon of it + Tbsp of honey and slather this warmed mixture all over while the tub runs water this is allowed to soak in.Dont worry it rinses off easily
Cap the milk for the fridge til next time or use in coffee.
I have looked a several easy recipies online and they tell you items to mix. Google: home made beauty recipes or similar (08/05/2008)
RE: Recipes For Body Scrub
My adult daughter and I just keep a plastic container full of plain Sugar in the shower area to use to exfoliate with. It's not only super-cheap, but it works wonderfully and doesn't leave the shower slippery and dangerous! (08/05/2008)
By Cyinda
RE: Recipes For Body Scrub
Ditto on the granulated sugar! I just lather up my favorite soap and dump about a tablespoon or two of sugar into my hand with the lather. It makes a wonderful scrub, plus you're not putting all the "gunk" from oatmeal or coffee grounds or whatever all over your shower or tub and possibly clogging up your drain. That's why I love the sugar. It just dissolves and disappears after doing the job! (08/05/2008)
RE: Recipes For Body Scrub
My son and I made a wonderful hand scrub for his school's trade fair. The teachers were all fighting for it! In a small jar, combine equal parts Crisco shortening and sugar. Then add a few drops of fragrance oil (we used vanilla found in the potpourri section of Wal-Mart) and stir to combine. To use, rub a tablespoon or so onto dry hands (or anywhere else). Rinse hands with warm water and dry with a paper towel. Everyone loved it so much that we put some in a little basket with a hand towel for teacher gifts at the end of the year. (08/06/2008)
By mom 3
RE: Recipes For Body Scrub
Salt is wonderful to scrub your dry skin with.It not only relieves dry skin but is healing at the same time. (08/06/2008)
By DEBRA
RE: Recipes For Body Scrub
I exfoliate with equal parts virgin olive oil and sugar. The former posters are right, sugar is a great scrubber and the oil makes your skin soft. (08/07/2008)
RE: Recipes For Body Scrub
My daughter is a message therapist and she uses 1/2 Epsom salts and1/2 regular salt, mixed with oils like olive oil, almond oil any kind of pure oil and a drop or two of your favorite essential oil, if you don't have essential oil you can use real lemon's, couple of squeezes. (08/12/2010)
By drrodgers
RE: Recipes For Body Scrub
Don't use baby oil, it contains petroleum and will dry your skin rather than soften it. Use olive, almond, even vegetable or canola with salt or sugar. I like epsom salts. (08/12/2010)
By drrodgers