I heard this on Martha Stewart and thought it was worth passing on to all cat lovers. Vinegar destroys cat odors. The enzymes in vinegar breaks down the cat urine. It works really well. I put approximately 1/4 cup vinegar in a spray bottle. Where ever I think they sprayed, I mist it. Vinegar smell dissipates quickly, and no more cat smell! I have used both white and cider vinegar.
Put vinegar in laundry to do the same thing. Sweetens smelly cloths with stubborn odors (e.g., body odor, pet smells, socks) and you can spray tennis shoes and dry in the sun, for foot odors or athletes foot fungus. Keep vinegar in the cupboard at all times. It's a life saver.
Source: Martha Stewart
By Flintmoonwitch from Flint, MI
Editor's Note: Be sure to test a small area first before using new cleaning recipes to avoid unexpected results.
May 21, 2010
0

found this helpful
Can I spray it in my cat's litter pans
Read More Comments
A while back I tried to adopt a male Siamese cat. He was a very friendly cat, but ended up with a nasty habit. He would not potty in the litter box. I caught him urinating all over the house. I even added a few boxes upstairs and he would still blatantly urinate on the carpet looking straight at you. By the time you got to him the duty was already done. He never defecated on the floor, so I have no idea what was his problem. We kept him a few weeks even taking him to the vet to see if he had any problems to no avail. We ended up having to return the cat to the shelter but we were left with nasty smelling carpets after he left. Not only did we not like the smell, but we wanted to get another cat and did not want that one to think it was OK to use the carpet as the litter box.
I searched all over and this is the recipe that I found to ABSOLUTELY work. You probably have these items in your home already, If not they can be purchased at any store such as Wal-Mart or even the Dollar store.
Supplies:
1 (16 oz.) bottle Hydrogen Peroxide
1 tsp. liquid dish washing soap
1 Tbsp. Arm and Hammer Baking soda
Empty plastic bottle to put solution in once it is mixed up.
An ultra violet black light (to find all the old urine spots that have dried but still smell)
Directions:
Using any plastic container mix the Hydrogen Peroxide, dish liquid, and baking soda well using a plastic spoon. If you have a large area or more than one area to clean you may want to use a bigger bowl and mix enough solution according to your needs. Once it is mixed put into your empty plastic bottle. Always discard unused portion because the oxygen in the peroxide mixed with these other items can make it explode. You have to find all the old stains and odors because they give off an odor to your dog or cat that has them coming back to do their business in the same places. I found this works great for me and you don't have to get down on all fours smelling your carpet.
If you have a black light shut off all the lights in your home and turn on the black light. The urine in the carpet or on the furniture will glow. I did not believe this until I tried it and it really works and let me tell you I could not believe at all the urine spots on my carpet. There were places I hadn't even realized my cat could get to. Once you find the urine spots, then pour the solution evenly on the whole spot, making sure to saturate the carpet and padding under the carpet (you may want to do a spot test on your carpet or furniture first, but it has never left a stain on anything I have used it on).
Once the whole urine area has been saturated block it off to keep people or pets from walking on it until it is completely dry. Do not blot up any of the formula because the area needs to be saturated thoroughly and then dry on its own. After it dried, Vacuum spot to remove any white powder left over from the baking soda.
Scotch-Guarded carpet takes a while to absorb the liquid, but after it sits there a while it will absorb into the carpet and padding. You may have to pour a little extra solution on this type of carpet. It may take a few days to clean room by room but it will be well worth it in the end.
Just remember with older odors saturate really well with the solution and let stand until dry. You can also use this on most anything. This solution has worked on both fresh and old odors. The main ingredient in this is the peroxide because it works the same on the odor as it does on a cut or a sore, it brings the urine to the top of the carpet and it is removed by the oxygen molecules.

Source: I purchased this recipe on eBay
By auntielala12000 from Pekin, IL
June 9, 2017
0

found this helpful
Hello,
I tried this method on my sofa which I found in both urine (81/2 month male cat) and poop after visiting my Mother for 12 days and it still smells, I will try this method once more and wish it will work even better.... or remove odor. I am in Nafplion, Greece and REALLY appreciate this information as my sofa bed is my only form of income with our local austerity problem. Thank you DEARLY.-
I am stymied by all the requests for "help" in eradicating cat urine stains and their "aroma". As any loyal ThriftyFun reader should know by the number of times this solution has appeared, the "only" that works is straight white vinegar in a spray bottle!
I've had occasion to use this many times and, believe me, it is the only thing that works. Spray the vinegar directly on the "fragranced" surface, let sit about 5 minutes, blot with a clean towel and problem solved! Here is the culprit in my home which also has seven other cats who do all their business in their litter boxes.
By Joyce from Gulfport, FL
November 17, 2012
0

found this helpful
I'm amazed that white vinegar alone will do the trick. Next time I have this problem, I'll try it. I've also used Listerine (or copycat store version) mouthwash to launder items that have cat urine odor, and it worked very well. By the way, you forgot to post the picture of your "culprit"!
Read More Comments
I sure could use a homemade urine-be-gone. I have got to say how very pleased I am that this site is on the computer, I go here all the time and find the answers I am looking for.

Thanks so very much.

Jamish from Ranson, KS
July 7, 2006
0

found this helpful
Either straight white vinegar or washing ammonia will do the trick. Ammonia seems to deter cats and dogs.
July 12, 2006
0

found this helpful
Irish posted that she'd had a recipe for urine be gone but lost it. Here it is I'm pretty sure :
Mix 1 tsp of baking soda, 1 tsp of Dawn dish liquid and 16 oz of hydrogen peroxide.
Pour it on the urine, let air dry. Do not blot. This really works!
By guest (Guest Post)
June 13, 2007
0

found this helpful
Doesnt the peroxide bleach the carpet. I have a dark blue carpet in my home, and am a bit concerned that I will end up with light spots on my carpet.
Editor's Note: It's possible the peroxide will lighten or bleach a dark blue carpet. You could try it in an out of the way place or on a scrap to check before using. This is idea for any cleaning method on any fabric or carpet.
By guest (Guest Post)
July 22, 2008
0

found this helpful
Thank you for all your help. This is a great site. Wish I found you when I had rugs. Now I have wood floors and I need to keep them really clean. Thanks again. I hope this works need to clean up where my kitty goes. She is older and diabetic.
October 10, 2008
0

found this helpful
Tried hydroogen peroxide, soap & water mix last night but blotted area with towel. Could still smell cat urine this morning! Company due tonight for the weekend! Aargh
June 18, 2010
0

found this helpful
In response to mygaley, never use ammonia. Urine in loaded with ammonia and if you use a cleaner with ammonia in it the animals tend to go again in the spot again to cover it up. It just becomes a never ending cycle.
June 27, 2016
0

found this helpful
Would this work on clothes??
Read More Answers
January 16, 2012
0

found this helpful
How do I make a homemade cleaning product to get rid of cat urine?
By Athina
January 17, 2012
0

found this helpful
I own a 'green' cleaning company and have found that the absolute best thing for removing any type of urine or poo odor and stain is Dr Bronner's Castille Soap. I prefer the liquid over the bar and it really doesn't take much.
If it's on a carpet:
Blot up what you can, then spray a strong mixture of the soap and water (about 2 tablespoons to a regular size squirt bottle of water) onto the spot, cover with some clean, white cotton rags (old T-shirts without lycra are the best) and leave sit for at least 1 hour. Blot up as much as possible again, then rinse lightly with hydrogen peroxide in a spray bottle (works great for mirrors and windows too). Blot again and then leave to dry. once dry, vaccuum to bring the carpet pile back up.
If it's on a hard surface, just wash with the soap/water mix and wipe dry.
This soap comes in several scents (Lavender also repels fleas) and is extremely mild. you can even use it to bathe the pets and yourself. The reason it works so well is that as a soap and not a detergent, it disolves the dirt. I've even gotten black shoe polish out of a white shag carpet with this and red lipstick out of white shorts. So far there is nothing that I've found that it doesn't clean safely.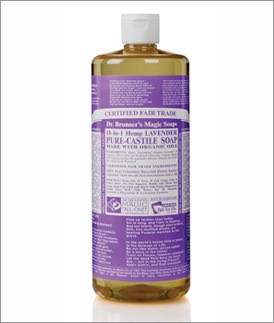 January 19, 2012
0

found this helpful
I mix 1/4 cup of baking soda, 16 oz. of hydrogen peroxide and a couple drops of a mild dishwashing soap. (I found this on the internet. It is called The Recipe.) After blotting up the excess urine, I saturate the urine spot with the recipe. If the spot is bigger or if one application doesn't work, I mix up more and apply. Then I let this dry and vacuum it up. This mixture, due to the hydrogen peroxide, lifts the urine odor out of the carpet or fabric so that the cat will not mark this area again.
Humans might not smell Cat Urine, but cats can smell it. If the fabric and or carpet is thick, the thickness will cause the urine spot to spread out. It, then, might need more applications or a wider application area.