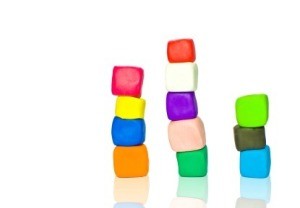 Make your own clay for kids' crafts and your own projects. This page contains homemade clay recipes.
Ad
---
Solutions: Homemade Clay Recipes
Read and rate the best solutions below by giving them a "thumbs up".
Make your own "polymer clay' that is self-hardening over night. Take 1 tablespoon of white glue, add a few drops of acrylic paint or India ink for color, if desired. Mix in a tablespoon of corn starch and 3-5 drops of vegetable or mineral oil. Mix well. If it is not thick enough to model, add more corn starch until it is of the right consistency. Add a few drops of water if it's too crumbly.
If you do not add a colorant, it dries to a lovely translucent white, which can be painted later or left as is.
To speed setting and to prevent drooping, blow dry your modeled object for a few seconds to set the surface. Store leftover clay in an airtight container.
By Penny from Morris, NY
For no-bake craft clay, mix 1 cup cornstarch, 1 1/4 cup cold water, 2 cups baking soda, and food coloring (optional). Combine cornstarch, water, and baking soda in a saucepan and stir over medium heat 3-4 minutes. The mixture should look like mashed potatoes. Add food coloring if desired. Remove from heat, turn onto a flat dish, cover with a towel, and let cool. When cool, knead like bread and store in an airtight container.
By fossil1955 from Cortez, CO
Ingredients
1 cup flour
1/2 cup salt
1/4 cup water
2 tsp. salad oil
Directions
Mix and add color as desired. Can be molded, dried, and painted with water colors.
By Robin from Washington, IA
I've developed an algebraic system for creating a variety of colors for polymer and modeling clay. It's similar to the technique for mixing food coloring. What I do after conditioning the clay (I use the colors red, blue, yellow, black, and white) is form balls about 1 cm. in diameter for each color, making sure to put the unused balls in an air-tight container. I then combine the colored balls using my system. For example 4B+4R means combining 4 blue balls with 4 red balls, 2Y+6R means combining 2 yellow and 6 red balls and so forth. It's much cheaper than buying pre-mixed colors and a lot more fun.

By Angela from Sault Ste Marie, ON, Canada
Give a "thumbs up" to the solution that worked the best! Do you have a better solution? Click here to share it!
Questions
Here are questions related to Homemade Clay Recipes.
Anyone have a recipe for salt based play clay or porcelain cornstarch clay?

Granny Gnome from Oregon
AnswerWas this interesting? Yes No
Ad
---
---
Most Recent Answer
---
I want a recipe for making polymer clay.
Joyce
AnswerWas this interesting? Yes No
Ad
---
---
Most Recent Answer