Kids love finger painting. If you don't have some handy try making your own. This is a guide about homemade finger paint.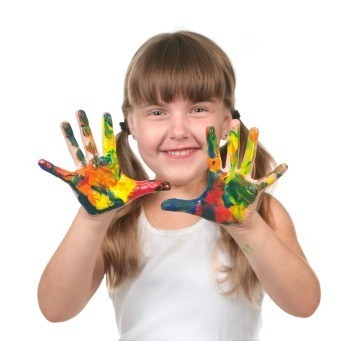 This is a simple tip to use for toddlers and it will keep them busy for awhile. My granddaughter is around two and her mom makes this paint for her. In a muffin tin or ice cube tray, put some shaving cream, then add a few drops of food coloring, mix and there you have it, paint! Also, you can use Q-tips as a paint brush. She enjoys using this on paper. You can also use in bathtub for fun!
By Dorothy from New Creek, WV
This is a washable finger paint. I have had luck cleaning it out of just about everything. That doesn't mean it won't stain some objects or clothing, though. If your kids are small enough you can make an "art shirt" for them out of a plastic grocery bag (or even a thick department store bag). Just cut holes for their head and arms, then have them wear it like a shirt. It doesn't cover their arms, but it will keep them from wiping paint on the front of their shirt.
2 tablespoons sugar
1/3 cup of cornstarch
2 cups water
1/4 cup dishwashing soap
food coloring
Put the sugar and cornstarch in a saucepan and then slowly mix in cold water. Then cook the mixture over low heat for 5 minutes, stirring constantly until you have a smooth gel. Let cool and then add dishwashing soap. Divide into as many containers as you would like colors and then mix in food coloring drops until you have you desired color. If you have colored dishwashing soap that can influence all the colors you try to create, which isn't always a bad thing.
Tip: Use baby food jars to divide and store the paint! They are a perfect size for kids to dip their fingers or brushes into and they can be sealed easily if you have leftover paint.
By Luckyjo 2
To keep a preschooler amused and creative, you'll need a gallon press-lock bag and a couple different colors of finger paint. Put a tablespoon of each color in the bag - the more color, the more fun. Zip the bag closed and show them how to take their fingers and swirl to make designs with hand. Show them how to combine colors to make different colors. The kids will stay at it and come back to it. No finger paint mess!
Flour, water, and food color works as well.
By luckyjo from Scaandinavia, WI
By Ron 181
Ingredients:
1 cup flour
1 pkg. unsweetened powdered drink mix
1/4 cup salt
1 1/2 cup water
1 1/2 Tbsp. oil
liquid dish soap (optional).
Directions:
Please be aware that most drink mixes can stain skin and other items it comes in contact with. Wash hands and anything else the powdered drink mix comes in contact with as soon as you are done painting.
In a large bowl, mix together the flour, powdered drink mix, and salt. Put it aside. Measure the water in a medium size pot and bring it to a boil. Add the oil to the boiling water. Pour the water and oil mixture into the dry ingredients and mix until smooth. Add a few drops of liquid dish soap to your paint mixture and blend carefully so you don't make the mixture bubble. This is optional, but it may help with clean up. If the paint is too thick, add more hot water, a little at a time, until it is the desired consistency. Set paint aside and allow to cool before you use it.
Now you can use this for finger painting on freezer paper or butcher paper.
By fossil1955 from Cortez, CO
If you've got a toddler like mine who likes to put everything in his mouth, just mix some food coloring in vanilla pudding, and let your toddler play! If they put their fingers in their mouth, then there's no harm done. Enjoy!
Ingredients:
2 cups flour
2 tsp. salt
3 cups cold water
2 cups hot water
Food colouring
Directions:
Add the salt to the flour in a saucepan. Pour in cold water gradually and beat the mixture with an egg beater until smooth. Add the hot water and boil the mixture until it becomes glossy. Beat it until it is smooth. Mix in food colouring.
By Chell
3-D finger painting! Perfect for preschoolers and elementary children. Try finger painting with equal parts of washable finger paints and shaving cream (the white, foamy, spray kind). Mix lightly together, then have your little one finger paint on paper. Dries in 24 hours with a 3-D effect. Have fun!

Kerry from Flat Rock, MI