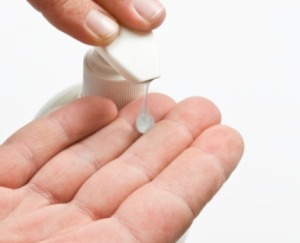 Making your own liquid soap at home can save you money and smell just the way you want it to. This page contains homemade liquid hand soap recipes.
Ad
---
Solutions: Homemade Liquid Hand Soap Recipes
Read and rate the best solutions below by giving them a "thumbs up".
Make your own liquid hand soap or foam hand soap from soap scraps that normally go to waste!

Approximate Time: 1/2 hour plus overnight setting
Yield: one gallon
Supplies:
1 bar worth soap scraps or little hotel soaps to equal one bar for one gallon
1 gal water
pot
mixer
optional: essential oils
bottles to store
Ad
---
Steps:
Cut up or grate scraps of soap bars and add to a pot with one gallon water, heat and let it melt until smooth.
Turn off heat and let cool. I left mine overnight. It will gel up.
I used my mixer and mixed it for about 3 minutes to break down the clumpy gelatinous mass. You may add more water if you want thinner soft soap. I chose not to this time.
If you would like you may add a few drops of your favorite essential oils to scent the soap, or not, your choice!
Then just pour some of the soap into some pump bottles (perhaps your recycling bin?) and save the rest in a larger bottle for refilling!
Note: You may choose to separate some soap to scent while preserving the rest unscented so you can change scents the next time (by mixing in a different scent before bottling it) for use.
It makes a ton!
Extra tip: You may thin down the soap to a 1/4 ratio if you have an empty soap foam dispensing bottle to turn it into a foam soap too!
By Donna [296]
Several years ago after getting a dog I noticed how much liquid hand soap I was using. It was getting really expensive so I knew I would have to think of some frugal way to have an easy way to wash my hands many times a day.

One day, while shopping at my local discount market, I noticed how inexpensive large bottles of liquid bath soap was; it was much cheaper than the small bottles of handsoap. I thought I would see how it was for washing hands and it is great!

My only problem was that the plastic 'straw' inside the pump was quite thick and I used more than I needed each time I pumped the soap. Well, to solve this problem I simple took a regular drinking straw and cut it the length of the container and placed it inside the one that came with the container. Now, I get less soap coming out each time I pump the liquid out and it has become even more economical. Hope this will help all of you 'frugal' gals!

By Lisa from Thessaloniki, Greece
Ingredients:
1/2 cup aloe vera gel
1/4 cup 99% rubbing alcohol
1/2 - 3/4 tsp. bubble gum fragrance oil
Directions:
Mix all ingredient together pour into pump style or squeeze bottle don't like to scent of bubble gum? Just use another scent of fragrance oil instead.
By IMAQT1962 from IL
You can make your own handsoap from one bar of soap. Grate one (1) small bar of any kind of soap and add 3 cups of water. Put mixture in a microwave safe container and zap for 3 minutes. Pour into a handsoap container with a pump when cool. Makes 24 oz.

-sewingmamma
Give a "thumbs up" to the solution that worked the best! Do you have a better solution? Click here to share it!
Questions
Here are questions related to Homemade Liquid Hand Soap Recipes.
I would like to make liquid hand soap. I am looking for a good frugal recipe.
Thank you.
By Laura from NH
AnswerWas this interesting? Yes No
Ad
---
---
Most Recent Answer
By Laura 3 32 03/07/20110 people found this helpful
Great ideas! Thank you. I could check out the dollar store, to see if they have large dish soap or bath soap, and dilute to a good mix.
---
Where can I get supplies for making liquid soap, perfume, and air fresher? Thanks.
By okezie [1]
AnswerWas this interesting? Yes No
---
Most Recent Answer
By Donna 296 315 08/27/20150 people found this helpful
Originally I thought only health food and natural stores would have supplies I wanted for these items (essential oils, particular natural materials like white cider, baking soda, etc) BUT many grocery stores now carry them and I even found essential oils both IN some dept. stores like Walmart (in health and beauty section) and on their online sites and some are the same companies at lower prices!) Happy Hunting!
---
Does anyone know a reliable recipe to make fragrance-free liquid hand soap?
By Kathy H.
I am looking for a recipe for 10 gallons of liquid soap. It used Oxiclean as well as the standard ingredients.
By Mary Anne