Homemade Microwave Popcorn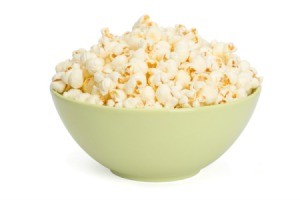 You can save money and control the ingredients by making your own microwave popcorn. This is a guide about
homemade microwave popcorn
.
Solutions
Share on ThriftyFunThis guide contains the following solutions. Have something to add? Please share your solution!
I'd been thinking about buying a popcorn machine for the longest time after I found out just how surprising unhealthy microwaveable popcorn was. It is full of chemicals and preservatives! I had no clue. All you need for some perfect fresh popcorn is some popcorn kernels, a microwaveable bowl, a microwaveable plate that fits on top of it, and, if you so desire, a pat of butter (I prefer coconut oil).
Pour your kernels into your bowl. Here, I did about 1/3 of a cup. Place your plate on top. Put a pat of butter on the plate.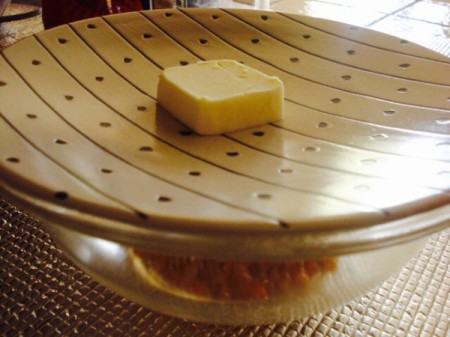 Microwave for about 2 1/2 minutes. You'll notice you have a bowl of popcorn and a plate with melted butter.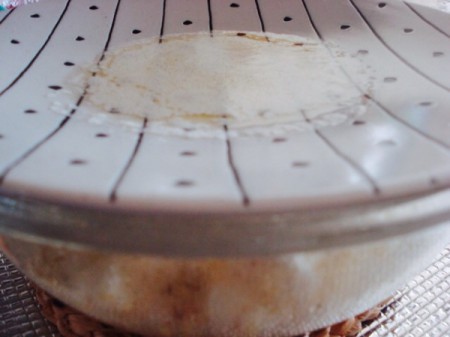 Using oven mitts, take out the bowl and plate, tip the melted butter on to the popcorn (salt if you want), and enjoy! You will probably have some unpopped kernels. Save them for the next round!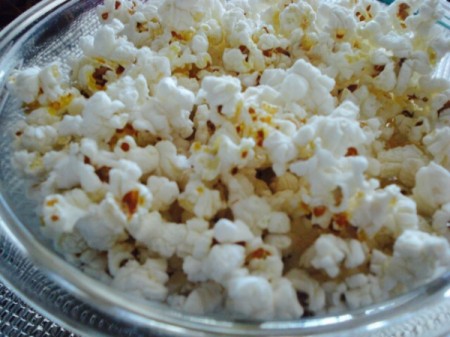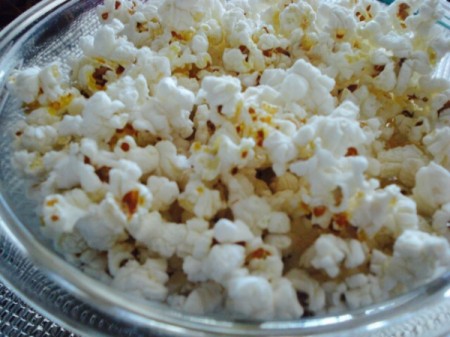 January 28, 2010
13

found this helpful
My loose popcorn microwave method: 1/4 cup corn in 2+ quart Pyrex measuring bowl. I preheat bowl with 2 = 3 kernels corn, covered with saucer.
While preheating, I also heat a mug of water in a separate container, providing a load for the microwave. As soon as any corn pops, I add 1/4 cup corn, and set timer for 1 minute. If still popping at end, I add 1/2 minute.
After pops slow down, I count slowly to 5 after last pop, starting over with each additional pop. I may add another 15 seconds, if still popping at end.
I use the mug of hot water to melt coconut oil (liquefies at 75-80 degrees F) in a small juice glass, and pour over popped corn.
Note: Organic virgin expeller-pressed coconut oil is very beneficial, and is a good source of Omega 3. It has a high smoke point (180 degrees C/360 degrees F), making it excellent for cooking; but no need with popcorn, just liquefy and pour.
USA banned coconut oil in popcorn machines in theaters, but this was a mistake.
Only the processes that chemically treat, or over-heat, or homogenize, cause coconut oil to be unhealthy.
Coconut oil has many benefits when used topically, including dry skin and other cosmetic uses, and has healing & anti-fungal properties.
In the USA, good coconut oil can be found in Spanish markets, Trader Joe's, and some other grocery stores.
By Jason from NY
Instead of purchase of expensive microwave popcorn, I place about 3 Tablespoons of un-popped corn in a brown lunch bag, fold the top over, and microwave for approximately 2 minutes.
It pops wonderfully and there are no artificial flavors or salt. It is much cheaper than the pre-packaged microwave corn. We melt our own butter and add to taste. This makes for a healthier, less expensive snack and the kids love it.
By Kimmi K from Mill Creek, WA
August 17, 2010
14

found this helpful
Why pay the outrageous extra cost for prepackaged microwave popcorn when all you need for this simple and inexpensive popcorn recipe is a paper lunch bag!
Ingredients:
1/4 cup popcorn kernels
salt to taste
1 tsp. extra virgin olive oil, or more if desired
Directions:
Place popcorn in a paper lunch bag. Tightly seal by making several small folds at the top of the bag.
Microwave on high until the popping slows to where the kernels are only popping about every 3 seconds (about 2 to 3 minutes total time depending on the wattage of your microwave).
Carefully open the bag, drizzle with olive oil, close bag, and shake well. Add the salt, close the bag again, shake well, and enjoy your treat.
By Deeli
Simply place 1/4 cup of regular popcorn kernels in a paper lunch bag. Fold the end over a couple of times to seal and place in microwave for approximately 2 minutes. All microwaves are different, so watch and listen carefully! When it's done, carefully open the bag, sprinkle salt if desired and shake it down. No oil or butter is needed for the popping. This method is so much healthier and a lot cheaper than buying regular microwave popcorn.
By Cath from Ottawa, Canada
Editor's Note: Watch carefully to make sure that it doesn't burn. Don't leave your microwave unattended.
Popcorn is a lot cheaper when it is not in little bags to pop in the microwave, so here is a way to do it yourself.
Read More...
Related Content