Editor's Note:
Make sure your pet has proper ventilation in any pet carrier you use.
I get exhausted trying to get my cats into the pet carrier when it is time to go to the vet or getting a picture taken with Santa, etc. It would be easier if I had a larger carrier, but they are expensive. I paid $40.00 for a small one. Finally I found a solution.
I purchased a plastic 18 gallon tote that has a locking lid. You can find them almost anywhere, Lowe's, Walmart, and Kmart. You can find them one sale for around $4.00. I drilled holes in the top and around the bottom part of the container.
I put towels in the bottom for comfort and the pet stays calm since they don't really see what is going on. It also gives me more peace of mind if the pet has an accident, it will not mess up the car.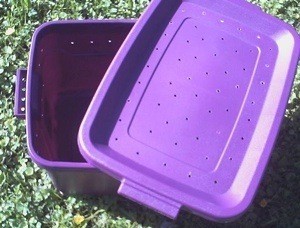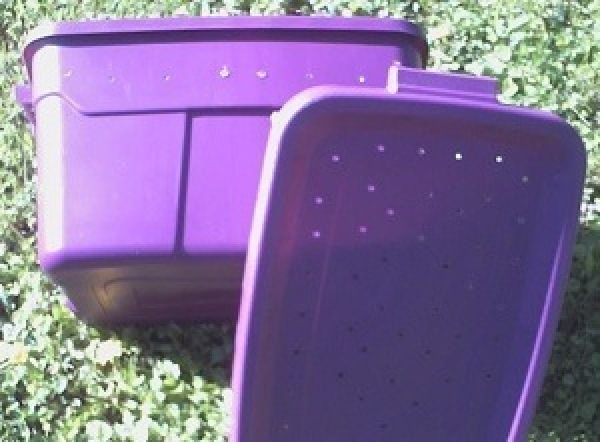 By Karentaulbee from Dayton, OH
June 12, 2012
0

found this helpful
Totes like this one also make great storage for dry kibble. It keeps the food clean, dry, and free from pests. I cut the name/type of food from the bag and tape it to the lid.
August 13, 2014
0

found this helpful
I'm sorry, but I just don't think this is a good idea. Even with the air holes, a bin like that would quickly become very hot and uncomfortable. Animals can quickly become overheated and suffer a heat stroke. I would be afraid for my pet's safety.
I hope that you will think this over very carefully before you put a helpless cat or dog in a plastic bin.
August 14, 2014
0

found this helpful
This is NOT a good idea. These bins get VERY hot! And the snap down lids are not locked! Your poor pet is either going to die from heat stroke, or push open the lid and escape!
August 15, 2014
0

found this helpful
I have to agree with those who don't like this idea. The holes are much too small to provide adequate ventilation. Store bought carriers have much better airflow so you should make much larger holes. ThriftyFun shouldn't endorse this as a good idea.
Editor's Note: The staff at ThriftyFun try to weed out the worst tips and promote or reward the best ones, but there are always ideas that will wind up becoming controversial. Be sure to use the "Thumbs Down" button in addition to sharing your opinion in the feedback to help other readers make an informed decision.
December 2, 2014
0

found this helpful
My kitten, Zephy, jumped in this empty soda box the other day. I need to take her to the vet to get shots soon and thought, "Wow, an instant PET TAXI! Now I won't have to go buy one!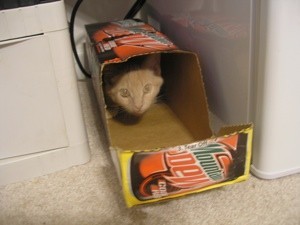 Read More...
My cat stresses severely when placed into a cat carrier for a vet visit. Now she stresses hardly at all when I made my own cheap effective carrier. Two round laundry baskets, place the cat in the bottom, place the other one on to form a dome and tie yarn through the baskets on a few sides to secure. Also with the rounded shape a seat belt fits on perfectly. No more fighting a spread eagled cat to get it into a square box!

By Linda
Answers:
Homemade Cat Carrier
When we had cats, my vet recommended to use a pillow case as a cat carrier. It allowed the cat to breathe, the cat could not see what was happening, and it was very easy to hold the cat. We could hold them as we normally did without any problems. To alleviate stress, it is better that the cats cannot see. The cats never became stressed whenever they had to travel. We did this for all our cats but one since he would get car sick. Just be sure it is a new pillow case without any holes or tears. I would wind the lace a few times and tie tightly using a non-slip cotton shoe lace to tie the pillow case. (09/30/2005)

By mkymlp