Homemade "Piggy" Bank Crafts
Many household items can be recycled or repurposed to make cute piggy banks or you can start with new materials. This is a guide about homemade "piggy" bank crafts.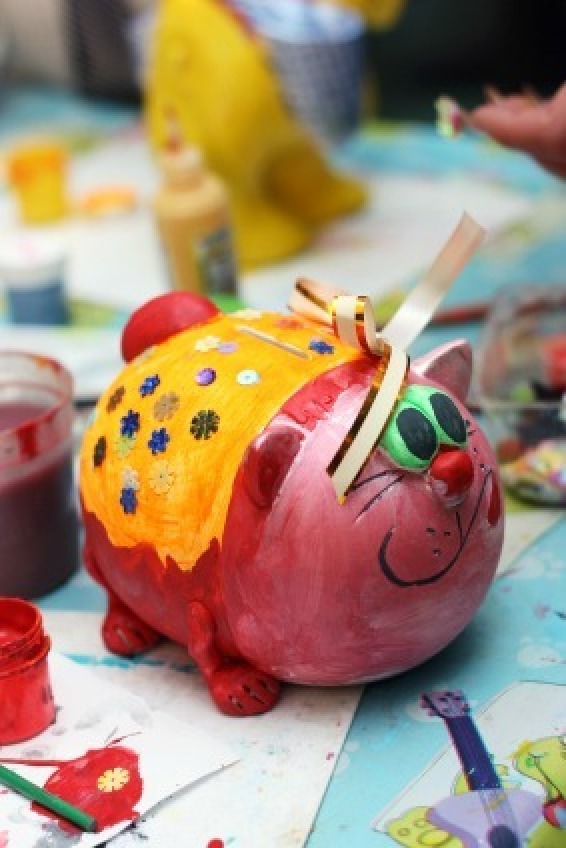 Filter

: All Articles
Sort

: Relevance
Here is a gallon milk jug recycling project to save money $.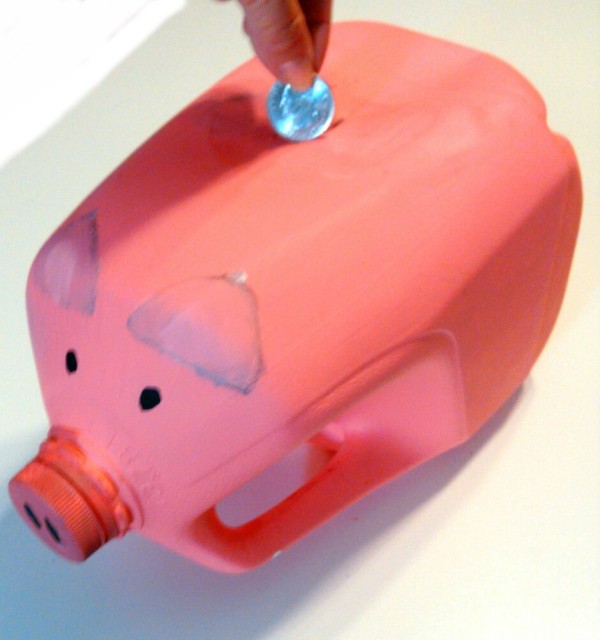 This is a quick easy craft the kids will enjoy making.
Approximate Time: 20 minutes
Supplies:
large plastic soda bottle
detergent bottle cap
four soda bottle caps
2 12 inch pink chenille stems
pink spray paint
scissors
serrated knife
hot glue
tacky glue
two pink card stock scrapes
two 1/2 inch black buttons
two 3/4 inch red buttons
scrap of fabric 4-5 inches by diameter of bottle
Exacto knife
small sharp scissors
Instructions:
Cut off the open end of the bottle back to where the detergent cap will fit up snugly to the bottle. Make a slice in the top of the bottle where you want the coin slot, half way between the front and back. Make a small hole in the top center of the back for the pipe cleaners you will twist into a tail.
Spray your detergent cap pink. You can also paint your bottle caps now too if you want them pink. Since the bottle caps are the feet, you can make them a different color. Trace your ear patterns onto your two papers, cut them out and glue the smaller one inside the larger one with tacky glue. Set them aside to dry while you wrap your fabric around the bottle.
Center the fabric from front to back then glue one end to the bottom of the bottle with the tacky glue. Top that one with the other end and secure it with tacky glue. Turn your bottle over and with sharp small scissors cut the fabric from the coin slot then put tacky glue under the fabric to hold it in place.
With the hot glue attach your bottle caps to the bottom for feet. Twist the pipe cleaners together then wrap them around a pencil for the tail; put a drop of tacky glue on one end and push it through the hole you made.
Make a pleat in each ear and glue in place with hot glue, see picture for placement, glue on the eyes and the snout and start saving your change.
By Ann from Loup City, NE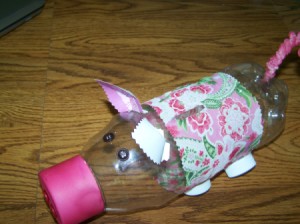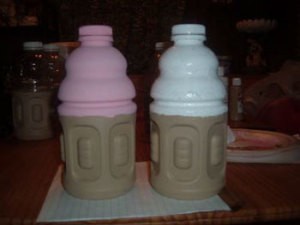 I made these piggy banks for gifts this year for Christmas. I saved my empty Juicy Juice containers (46 oz.), washed them out, cut out a slit in the side for the money, and painted them. Acrylic paint is the best. I still haven't decided if they need sprinkles or a cherry on top yet. Maybe both.
By luv2craft from Normalville, PA
For those looking for crafts from glass jars, this is a bank to store your "MooLa" in. Made from mayonnaise jars, you may use either the pint or the quart size.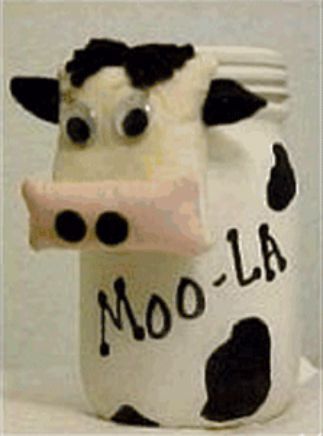 Materials:
mayonnaise jar with plastic lid (pint or quart)
white spray paint (glossy or flat)
black paint (acrylic or enamel)
12 inches black yarn (for bangs)
black felt (for ears)
2 black buttons (for nose/muzzle)
2 15 mm wiggly eyes
eyelashes (optional)
natural color muslin or off white fabric (for head)
pink fabric (for nose/muzzle)
Tools
soldering iron - to melt slot in plasic jar lid (or you may take an old knife and carefully heat it)
hot glue gun
small paint brush
black Sharpie
Instructions:
Remove label from jar and clean inside and outside thoroughly.
Remove cardboard from lid and clean lid thoroughly.
With soldering iron or a hot knife, melt a slot about 1 1/2 inches long across the middle of the lid. Check for size with a quarter.
Place jar (upside down) and lid (top side up) on newspaper, and using white spray paint, giving it two light coats for better coverage. Let dry about 30 minutes between coats, and let it "cure" for several hours or overnight before you handle it.
Check the photo for position, then write Moo-La on the jar, making sure you leave enough room above it for the head.
Use your Sharpie to write and to draw "cow spots" randomly all around the jar. Make them different shapes and sizes (see photo). Then, using black paint and a small brush, fill in the spots.
Cut 2 squares of muslin 3x3 inches.
Fold one square in half and cut a slit across the middle, about 3/4 inch long.
Match up sides of squares right sides together and sew a seam around all 4 sides.
Reach through the slit in back to turn so that seam edges are inside.
Stuff lightly with polyester stuffing.
Cut 2 pieces of pink fabric 3 x 1 1/2 inches. Cut a slit as for the head to enable you to turn the piece.
Sew all 4 sides (Note: if you prefer, you may round the corners when stitching.) Turn and stuff lightly.
With Sharpie, mark the position for the black buttons with a circle just slightly smaller than your buttons. Hot glue buttons in place.
Trace ear pattern (from PDF) onto paper and pin to black felt.
Cut out, cut in half and fold in half, securing with a dot of hot glue. Hot glue to the back of the head.
For bangs: cut 8-10 strands of yarn about 2 inches long. Bundle then and tie them tightly together in the center.
Glue ears and bangs in place.
Hot glue nose in place along bottom edge of head.
Hot glue eyelashes and eyes into position.
Hot glue head to shoulder of jar above where you have written Moo-La.
By Harlean from Hot Springs, AR
Editor's Note: Harlean has also provided a PDF of this craft _click_here_to_download_it.
How do I make a paper mache piggy bank?
By Dorty
March 5, 2012
0

found this helpful
To make a Papier Mache Piggy bank:
Make your armiture:
Start with a balloon the size of the bank you want. Add ears with thick cardboard. For feet I use a very think cardboard tube. Dollar Generals brand of plastic wrap ios usually very strong. Cut the length ou want then tape in place. Make sure the pig will stand straight. Use two cardboard egg cups from an egg carton. Turn upside down and tape in place. I like to use marbles for the eye balls. A pipe cleaner makes a good curly tail.
After the base is done, mix flour and water until you have a gravy consistency. Tear strip of news paper and dip into the flour paste. Squeegee of the excess pastse then start covering the shape. Make sure every surface is covered. Let dry tne add another layer. I like to have at least 4 layers of paper dry between each layer. The more layers, the stronger the finished piece will be. When it is all dry. Paint with gesso. This makes sure the newsprint doesn't show through the paint. Then paint the color or colors you want.
After the paint is dry you can then cut a slot for coins. You can also cut a hole in the bottom to remove the money when you want. You can save the plug you cut out and add a flat rubber stopper. The kind that is about6 inches in diameter. Glue it to the plug. Then you can fold it a bit to get it in the hole and when it straightens out again it will stay in place.
I would like to know how to make porcelain piggy banks.
By Dorothy
January 1, 2012
0

found this helpful
First of all you are going to need a very expensive kiln (oven) in order to fire or bake the porcelain. Depending on how far back you want to go in the process, you will basically have to be set up like a ceramic shop. Your best bet might be check with ceramic shops that offer classes in making things, and see if you can take a class for piggy banks, and basically you would do all of the work there, and pay for using their supplies, and they would tend to doing the firing for you at their site.
Some times these items have to be fired more than once. The only way I know this much about ceramics is that I used to have a friend that had a shop and I bought a few pieces from her, and sometimes visited with her in her shop while she was working and didn't have a class going on..I have occasionally seen kits in the craft department at WalMart that has the piggy bank already made, and it comes with paint to paint it. This is one that doesn't have to be fired or else some of those items can be finished in a regular oven.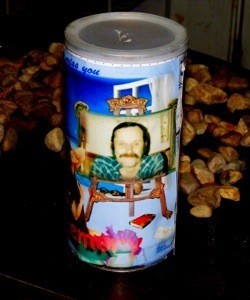 I lost my dad awhile back. I like to have reminders of him throughout our home. I made this memory bank, I used a bread crumb can. I hot glued the picture to the can, on the other side is a picture of me and him. I had to glue the cover on so my kids won't take my change. I wanted to paint the cover blue, but thought of it after I had already glued it on.
By Moonseekerjade from Onset
© 1997-2016 by Cumuli, Inc. All Rights Reserved. Published by
ThriftyFun
.
Page
generated on July 21, 2016 at 11:03:27 AM on 10.0.2.116 in 1 seconds. Use of this web site constitutes acceptance of ThriftyFun's
Disclaimer
and
Privacy Policy
. If you have any problems or suggestions feel free to
Contact Us
.