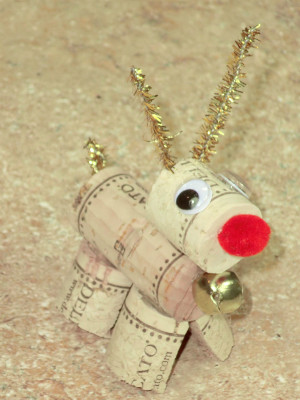 A favorite Christmas ornament motif is Santa's reindeer. This is a guide about homemade reindeer Christmas ornaments.
Ad
---
This decoration/ornament would be a great craft for kids to make this holiday season. In this video you will learn how to make it with step by step instructions. View the full project here: Cork Reindeer
Solutions: Homemade Reindeer Christmas Ornaments
Read and rate the best solutions below by giving them a "thumbs up".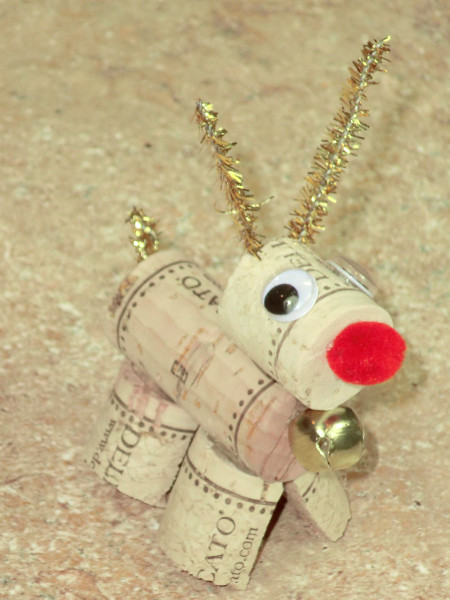 We have a huge bag of corks that we bought at a resale shop, so we have been trying to put them to good use. This adorable reindeer can be used as an ornament or even just set on a table top.
Approximate Time: 30 minutes
Yield: 1
Supplies:
4 corks
1 pipe cleaner (gold or brown)
2 google eyes
1 small red pompom
1 small bell (optional)
knife
glue gun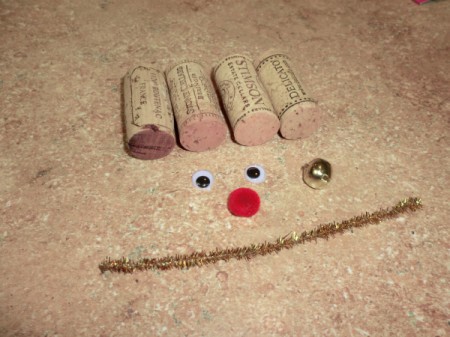 Ad
---
Steps:
Take a cork and find the middle lengthwise. Mark it with a pencil and cut the cork in half. Repeat this with a second cork.
Take two of your cork halves and cut them in half again so that you end up with 4 moon shaped pieces.
Take another cork half and hot glue it to the side of a whole cork. Allow the cork half to hang over the edge of the other cork. This is your reindeer's head.
Now hot glue the quartered cork pieces onto the underside of the whole cork. These are the reindeer's legs.
Cut your pipe cleaner so that you have a piece that is 4 inches long and one that is 2 inches long. Fold the 4 in. piece in half, forming a "v" shape.
Hot glue the "v" shaped piece of pipe cleaner to the back of the reindeer's head to form it's antlers. Then take your 2 in. piece, fold it in half, and twist it together to for a tail. By doubling up the pipe cleaner you have a more rigid wire to push into the back of the cork to form a tail. I recommend using a pen or pencil to make an initial hole in the cork, then apply a small amount of hot glue to the hole before trying to push the tail in. This will help hold it in place.
Finally apply the eyes to the head and the red pompom to the front of the head for it's nose. Then under the head, apply a blob of hot glue and push the bell into it. If you want to make it into an ornament, you can either attach a small eyelet screw to it's back and run a piece of string through, or you could hot glue a ribbon to it.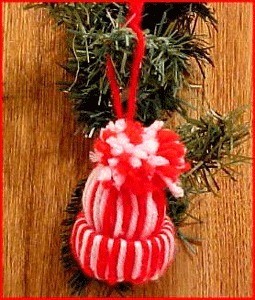 This is a recycled kids craft. The little ones can really get into this craft, and make something pretty to hang on the tree. Supplies are few.
Materials
4 ply yarn of any color or colors.
A ring cut from a paper towel core about 3/4 to 1 inch wide. Also cut a 2X6 inch cardboard template to wind your yarn on.
Instructions
You will need about 50 pieces of yarn. Wrap around the cardboard and cut one end to give you 12 inch pieces. The hat shown is red and white yarn, alternately wrapped. Double the piece of yarn and slip the loop end through the ring, pull the two ends through the loop and tighten them up; then pull the two ends back up inside the ring and out the other side. Work the yarn pieces close together to completely fill the ring. When it is full, gather all the ends and tie them tightly. Use a piece of yarn long enough to make a hanger after tying the bundle.
By Harlean from Arkansas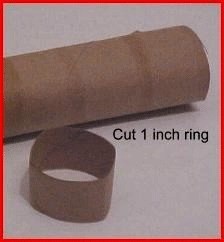 Click Here to download the instructions in PDF format.
By Harlean Greathouse
Easy to make Tootsie Pop Reindeer. My Tootsie Pop Snowman and Santa would not be complete without this cute Tootsie Pop Reindeer! This little guy would be adorable slipped under the ribbon on a gift for someone special or handed out at a Christmas Party!
Approximate Time: 15 minutes
Supplies:
scissors
hot glue gun
pompom, small (red)
google eyes (1/4 in.)
Tootsie pop
pipe cleaners (brown and metallic gold)
jingle bell (1/2 in.)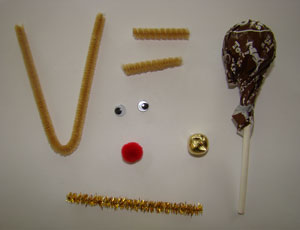 Instructions:
1. Antlers: Cut a 7" piece of brown pipe cleaner. Fold in half. Cut two 1.25" pieces of brown pipe cleaner. Wrap a short piece of pipe cleaner around each side of the longer piece, about 1" down from the ends.
2. Glue the base of the 'antlers' to the bottom of the Tootsie Pop. Bend the 'antlers' so that they follow the curve of the Pop. Glue 'antlers' again at the top of the 'head'. (See picture below.)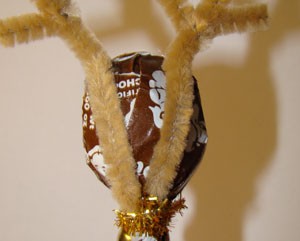 3. Cut a 3" piece of gold pipe cleaner. Thread the bell on to the pipe cleaner. Wrap around the base of the Tootsie Pop. Twist ends to secure.
4. Glue 'eyes' and 'nose' onto the reindeer's 'face'.
5. (Optional) Attach a piece of string to the back of it's 'head' to make him into an ornament.
NOTE: Other than needing to remove the Metallic pipe cleaner, everything will come off with the wrapper. Making this a great treat for even the youngest child!
By Laurel from Port Orchard, WA
Here's a wonderfully easy craft idea for kids and adults alike! You can use it for your tree, a gift to give, or anything you want! All you need are some candy canes, googly eyes, small pom poms, and brown pipe cleaner. One candy cane makes one reindeer.
Supplies:
candy canes
pipe cleaners
googly eyes
glue
small pom pom
Directions:
Simply twist a piece of pipe cleaner around the top of the candy cane.
Then take two smaller pieces of pipe cleaner and twist one around the top of each of antler to give them more of an "antler" look.
Glue two googly eyes to the front.
Now glue a pom pom nose below the eyes and you're done!
They're delightful little reindeer to decorate your tree or house with, or to give away.
By Stacey from Orem, UT
I saw one similar somewhere and took it a few steps further. The kids will really have fun making this quick ornament, a great teachers' gift or how about that neighbor you want to give a little something to.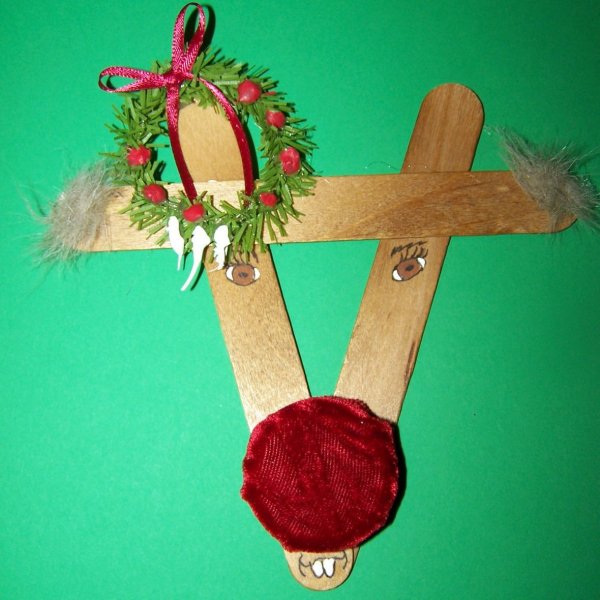 Approximate Time: 10 minutes
Supplies:
1.25 inch wooden wheel or 1.25 inch diameter Styrofoam ball
3 tongue depressors or craft sticks
hot glue
red, white, and brown acrylic paint
brush
pencil
artificial greenery stem for wreath
nippers
scrap of fur fabric
scrap of red fabric
try something with a nap such as velour, cotton velvet, or even fleece
fine black marker
1/8th inch ribbon
optional: red beads for the berries
Instructions:
Paint or stain your tongue depressors brown then glue two of them into a V as in the photo, lay the third one across the top making a triangle.
Cut circles 1 inch larger than your wheel or cut your Styrofoam ball in half and cut a circle from your fabric 1/2 inch larger.
Glue the fabric around to the back of whichever you are using then glue it just above the bottom of the V leaving room to make the mouth.
Draw on your eyes and mouth with a pencil then trace them with your permanent marker and paint them in.
Cut 6 inches for each wreath from your artificial stem and shape into a wreath.
Using your hot glue make drops like red berries in a few spots and then across the bottom make a drop of hot glue then drag it downward to form icicles. You could also glue red beads on the wreath instead. Paint the dots of glue red and the icicles white.
Make a small bow from 1/8th inch ribbon and glue to the top of your wreath then glue your wreath to the top of one of the tongue depressors that make the antlers.
Cut a 1/4 inch piece of fur fabric for each ear and glue on the other two ends at the top which are the ears. Tie on a piece of ribbon to hang your ornament with.
By Ann W. craftingtales.com from Loup City, Nebraska
Give a "thumbs up" to the solution that worked the best! Do you have a better solution? Click here to share it!
Questions
Here are questions related to Homemade Reindeer Christmas Ornaments.
Hi,
Does anyone have instructions to make a reindeer ornament using a green christmas tree light bulb and pipe cleaner for antlers, wiggly eyes and a pom pom for a nose? Would sure appreciate help.
Ad
---
---
Most Recent Answer

By karen (Guest Post)11/26/2006
I saw a beautifulChristmas Angel in a store made w her dress elegantly draped around a wooden spoon and her head being the spoon part - does anyone have directions? thanks! you may email me by karentatpennswoodsdotnet and I HOPE that keeps "creepy robot" away!