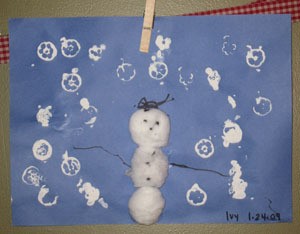 Don't forget to include cute snowmen in your holiday decorating plans. This is a guide about homemade snowman decorations.
Ad
---
Solutions: Homemade Snowman Decorations
Read and rate the best solutions below by giving them a "thumbs up".
Need something to brighten up someone's room, but they don't have shelf space? How about a plant stake? He can also be made to hang on a wall.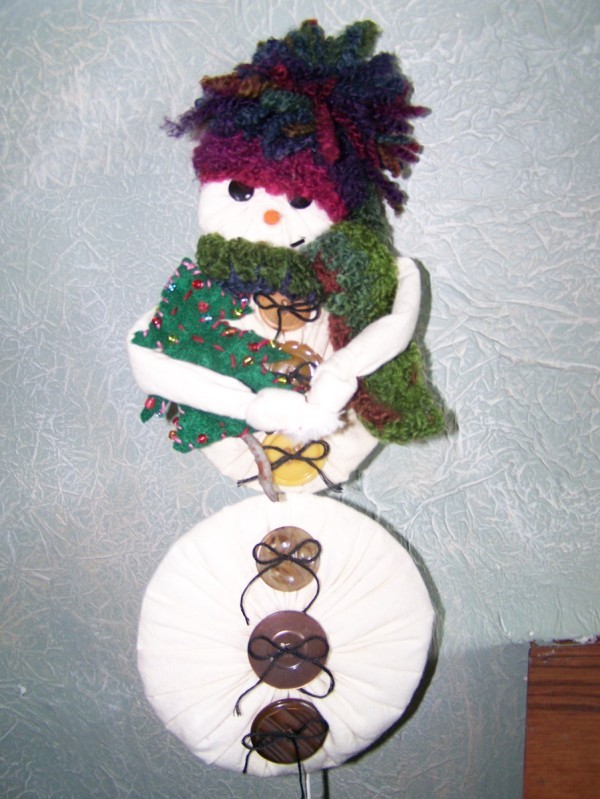 Approximate Time: 2 hours
Supplies:
muslin scraps
3 large buttons
3 medium buttons
2 small black buttons for eyes
beads for mouth
scrap of fabric for scarf or yarn to crochet one
1 inch of 1/4" dowel
orange acrylic paint
corrugated cardboard
scissors
heavy scissors
needle and thread
black and red floss
colored beads
wire hanger
wire cutters
hot glue
green felt scrap
quilt batting scraps
Instructions:
Cut three circles from your muslin, one each 10.5 inches, 8 inches, and 5 inches.
Cut three circles from your cardboard one each 5.25 inches, 4 inches, and 2.5 inches. Cut them out with the heavy scissors.
Cut out a circle of quilt batting to match each of the cardboard circles and glue it around the edges to the matching cardboard. Stitch a running stitch close to the edge around each muslin circle and gather it up around its matching cardboard, covered with quilt batting, with the batting toward your gathers.
Before you tighten your fabric around the cardboard circle make a mark on your fabric where the tunnels in the cardboard run from one side to the other; (see illustration) you will need to know this to slip your hanger into when you assemble your snowman. If you forget you can use a pin to find it later.
For the arms: cut two strips of muslin 2 inches by 9 inches, sew each of them into a tube and turn them right side out. Cut a piece of your batting 2 inches by 9 inches and stuff your arms. Refer to photo for my tip on how to turn and stuff the arms.
With the floss sew on three of the largest buttons to the largest circle, the next largest to the middle size circle; use plenty of length so you can make a loopy bow.
Sharpen your dowel in a pencil sharpener if it is long enough or cut it to a point with a knife otherwise, paint it orange and lay it aside to dry while you prepare the face. Sew your eye buttons on or hot glue them on, attach the mouth beads by sewing or glue. Just below your gathered center on the face circle make a slit in the muslin, then make a hole clear through the circle with a large needle or crochet hook; you will later push the dowel nose through this hole from the back.
For the tree, cut two felt shapes just alike, place a line of glue down the middle and lay a stick in the glue, apply glue on the stick and add the other tree shape. With floss stitch the edges together adding a bead now and then.
Now you are ready to assemble your snowman. Cut the hook off of your hanger, straighten out the first bend then cut off the hanger a couple of inches past the next bend. This will keep your snowman from turning when pushed into a plant.
Locate your marks on each of the circles where the tunnels go straight; make a small slit on both edges. Slip your hanger through the large circle, then the medium, and then the small circle. Don't come out the top of the head. Put a drop of glue on each of the holes between the circles to hold them in place.
Glue or stitch the arms at the top of the middle circle where you would expect the shoulders to be with the seam on the underside; point them slightly downward and tie the other end in a knot for hands. Bring them around to the front and glue them together. Slip the tree under one arm; glue the tree to the body in a couple of spots.
For the hat and scarf on my snowman I crocheted a strip approximately 15 inches long by 1.5 inches wide by first making a chain then double crocheting two rows. I then made a pom pom by wrapping my yarn around my cell phone 40 times, tying a piece of the yarn around it, and cutting the loops. I didn't trim the loops but left them shaggy. I then wrapped the scarf around the front of the head starting at the side I wanted the scarf to appear knotted at and went around the back. I pinned this in place. Then with needle and thread I stitched the top edges together, hot glued the bottom edges to the head, then glued the pom pom to the top back edge completing the hat. With the rest of the scarf I wrapped it around the neck and tied a knot bringing the tail down one side where I glued it in place under the arm. You could certainly use knitted material such as an old sweater and fashion a cap and scarf the same shape as my crocheted scarf or just go with a scrap of fabric tied around the neck.
What self-respecting snowman would go around without a nose? Push the snowman's nose through the hole from the back, add a spot of glue around his nose (on the back) just before you have it all the way through. You now have a snowman on a stake to enjoy or give a way.
By Ann W. from Loup City, NE
With just a few scraps of fabric from an old polyester blanket and a few household craft supply items you can create this adorable snowman door stop for your home or as gifts to give for the holidays. Just as his sign states "He is full of beans". His bottom inside is filled 1/4 of the way with beans to hold him in place to create your holiday doorstop.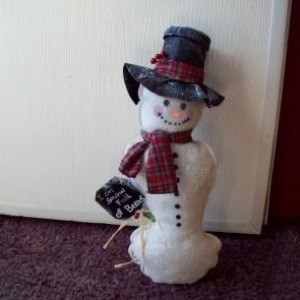 Approximate Time: 1 hour or less
Supplies:
old polyester blanket fabric scraps (save old blankets that get holes in them or rips and put them to cute holiday craft use).
any type dried beans to fill his inside bottom 1/4 full so he will sit up straight and be a weight for the door to stop in place (I used pinto beans in mine)
polyfill fiber batting for the remaining inside of his body and head
scissors to cut your fabric pieces
sewing machine using a straight or zigzag stitch to sew up his body and head
fabric scraps for his scarf and matching trim around his top hat
old leather or black fabric scraps to cut out his top hat
cardboard tube cut the length for his top hat's middle section
mayonnaise lid for his top hat top to add weight and added charm
glue gun and glue sticks to glue his 2-section body pattern together after it is stuffed, also to glue your top hat pieces together and onto his head
acrylic paints (white, black, pink, and orange) to paint his facial expression and to add white paint dabbed onto his body and hat for "snow"
craft paint brushes; thin liner brush for face, old tooth brush or stencil brush for snow effect
small square of black poster board for his sign and a Popsicle stick for the sign post
Instructions:
Cut your old fabric scraps for his body into the size you want him to be simply by cutting an hour glass shape pattern in into 2 pieces.

Also cut 2 circle pieces of the same fabric for the head, this should be a bit smaller than the top half of his body.

Sew him up on your sewing machine on his body by starting at one end and coming all the way around, but leave the top part across his shoulders left open for now so you can fill his body with both the beans then the polyfill.

Lay him aside and do the same thing sewing up his head also leaving the bottom of the head un-sewn so you can fill it with polyfill.

Now stuff the snowman by putting 1/4 of his body full of dried beans and then stuff the remaining body and head tightly with lots of polyfill making him fat full and round.

Now hot glue his head to his body with his head on his upper body around the shoulder section, let that set up and dry good so it does not come off.

Set him aside to make your top hat by cutting out 2 pieces from fabric scraps (his hat's edge should be floppy only the middle brim and top will be the firm part). For the hat's underbrim part, cut out a circle a bit bigger than his head's top size around. Cut a piece of the same fabric in a long narrow rectangle shape which you will glue around a paper roll (I used a paper towel roll cut to my desired height of 3 inches).

At this point cut the large circle for his hat's brim in the center just a bit by slicing it into pie sections of 8, about 1 inch inside so you can fold it back into the middle section of the top hat's tube and glue it with your glue gun.

After you have painted your mayonnaise lid black with your paint and it is dry, glue it to the top of your paper roll so he has his top hat's top on his hat.

Now glue it to his head with hot glue. Then you add the finishing touches by putting a fabric scrap around his neck and hat's brim to match his scarf by gluing those on and tying the scarf onto his neck.

Use your paints and paint on his facial expressions and his sign to hold and dab the white paint over his body and hat and sign to simulate snow added.
To add his sign, I cut a small slice into his body's side fabric and put some hot glue on his stick's bottom. Then just stick it half way in. After it dries it will remain there.
He is now ready to add charm to any door as your holiday doorstop.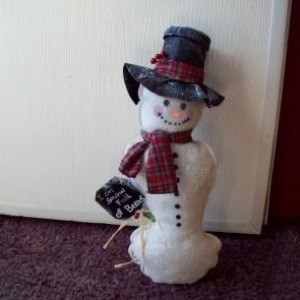 Happy Holidays!
By Julie from TN
This snowman can hang on a wall indoors or on an outside door instead of a wreath. It's very easy to make.
You will need:
a straw hat (any size you prefer)
craft paint in blue, white and pink
pompoms in 2 sizes, small for the face, large for the earmuffs
chenille stem
snowflake embellishments - I bought mine in the ribbon department by the yard, you can also use the sequin type or self-stick foam cut-outs
ribbon or material for a scarf
Paint the raised part of the hat white, as well as a section of the flat part; paint the sky blue; give him/her pink cheeks; glue on black pompoms to make the face; glue two large pompoms on either side of the face for earmuffs and glue on the chenille stem to go over the head; glue on snowflakes around the face and add a ribbon or material to serve as a scarf. I then hot-glued some string on the back for hanging.
By Toni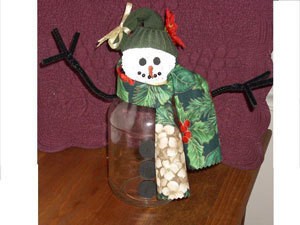 Create cute snowman jars from canning jars or mayonnaise jars. These are great for giving layered cookie mixes, party mixes, or any homemade goodies.
Materials
32-oz. jar with lid
2 1/2 inch diameter styrofoam ball
Serrated knife
5x18 inch fabric strip
Black felt or fun foam
1 inch length of orange paper twist
6 straight pins
6 small black beads
Two 6 inch long twigs or 2 chenille stems
Baby sock (for hat) - dye with Rit Dye
Three inch diameter black buttons or 3 large circles of fun foam
Glue
Instructions

Use knife to cut 1/2 inch from one side of ball, forming a flat surface for bottom of head. Glue bottom of ball to top of jar lid.
For nose, cut a 1x3 inch length from paper twist that has been untwisted. Roll paper twist into a 1 inch long cone shape. Use a pencil to make a small indention at center of ball for nose. Glue nose to head. (You may substitute an orange chenille stem for the paper twist.)
For eyes, cut two 1/2 inch diameter circles from felt or fun foam. Glue eyes to head.
Inset pins into black beads and insert below nose to form mouth.
For arms, insert twigs or chenille stems into the lower part of the styrofoam ball.
For scarf, tie fabric strip around bottom of ball, covering rim of lid.
Turn cuff down on sock and insert small amount of fiberfill into end of sock. Tie a ribbon around end of sock just below fiberfill. Slide sock over the head.
Glue buttons or fun foam circles down front of jar.

By Momof1 from Wilkesboro, NC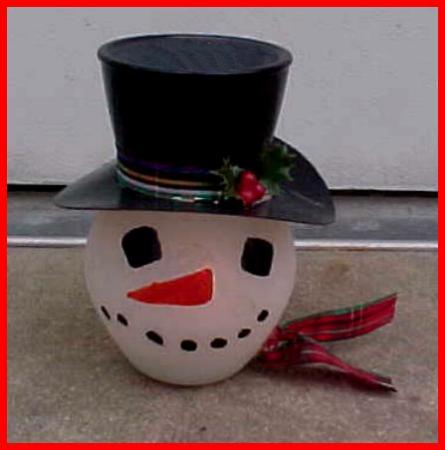 This is a snowman that holds a votive candle. He is made from a frosted glass vase with a flared top. You could also use a clear glass vase in the same shape.
Approximate Time: about 1 hour
Yield: 1
Supplies:
1 5 or 6 inch vase with flared top...clear or frosted
2 2 oz bottles acrylic paint: 1 in orange and 1 black
12 in Christmas ribbon
1 votive candle
4 X 4 inch square of light cardboard
1 small holly or poinsettia for trim
1 hot glue gun
Ad
---
Steps:
Paint just the flared top of vase with black acrylic and let dry. Also paint the cardboard square and set aside to dry.
Paint the face, using photo 2 as a guide.
Trim the corners of your 4 inch square to form a circle for the hat brim, then cut about a 2 inch hole in the middle. Slit it as shown in photo.
Slip it into place at the bottom edge of the black section you have painted. Then tape the slit on the underside to hold it in place.
Cut about 5 inches of the ribbon for his scarf and tie a knot in the middle. Hot glue just above the bottom edge of the vase to the side of the face.
Cut a piece of the ribbon to size and hot glue just above the hat brim. Hot glue the trim in place.
Drop the votive candle into the vase.
If you choose a clear vase, you may want to omit the votive candle and fill the vase with peppermints
By Harlean
Make Jimmy, the swagger snowman, for your window sill and spread some Christmas cheer this festive season!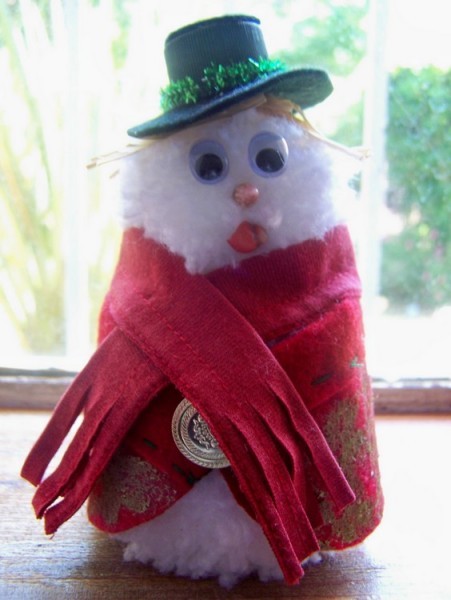 Approximate Time: 45 minutes
Supplies:
piece of firm cardboard
white wool
felt in the following two colors: black and red
one pair of wiggle eyes
small brown trumpet shell for the nose
small red shell for the mouth
a few strands of raffia for the hair
one small black bottle cap
one green glitter pipe cleaner
one golden button
one old red T-shirt
lumierre-colored acrylic paint
thin paintbrush
pair of standard scissors
pencil
pair of compasses
needle and green thread
quick-drying glue
a sheet of newspaper
Instructions:
From the cardboard, cut two matching circles sized 2.6 inches and draw a 1.3 inch circle in the middle of both of them. Cut the inner circles out and use these to make the bigger pompom for the sno