A whole new spice rack from wooden pallets.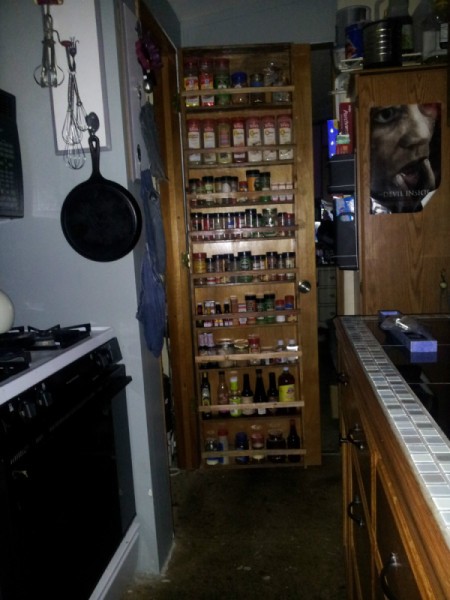 Total Time: about 2 weeks
Yield: 1
Source: Ana White: Closet Door
Supplies:
3 pallets ($free)
45 each screws ($6.00)
1 bottle wood glue ($5.00)
1 bottle wood stain ($6.00)
Steps:
Take apart and remove nails from pallets. Let them dry for a few days, if needed. Wet wood will not sand or cut well!

Measure your door length, width, and depth. I used 78x19x4.5 inches. Make sure to make room for door handle and make sure it is at least 4 inches from where the door shuts (not hinge side), so it can close.

We used a planer to make all the boards the same thickness. They were run through 4 times (18 mm, 16 mil, 13, and 10), as well as the 1.5 inch boards at a half inch thick so the bottles don't fall out.

All were sanded with 60 grit, 150 grit and finally 220 grit. Smooth as a baby's butt! lol Finish with 3 coats of a good poly-stain or your choice. Pallets are a dry wood.

We used our drill for the pocket holes (great invention), 1.25 inch #8 screws (45 pieces), wood glue, as well as a brad nail gun (1 inch brads 18 gauge).


And last but not least, 2 2.5 carriage bolts with 1 washer and locking nut (through the door) to hang on the top of our hollow door, and 2 screws at the bottom for stability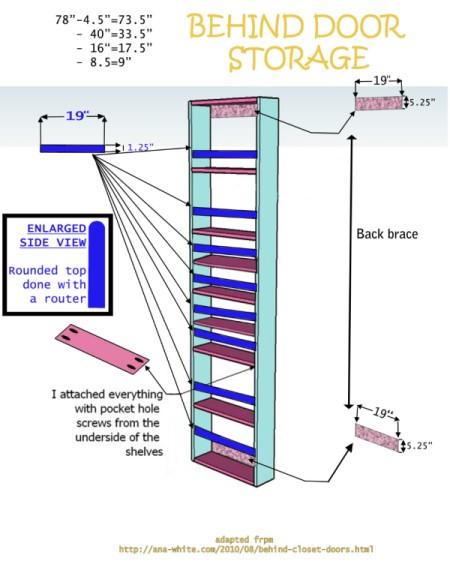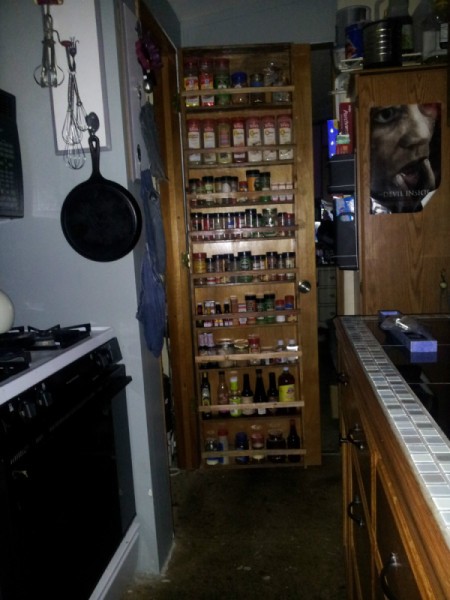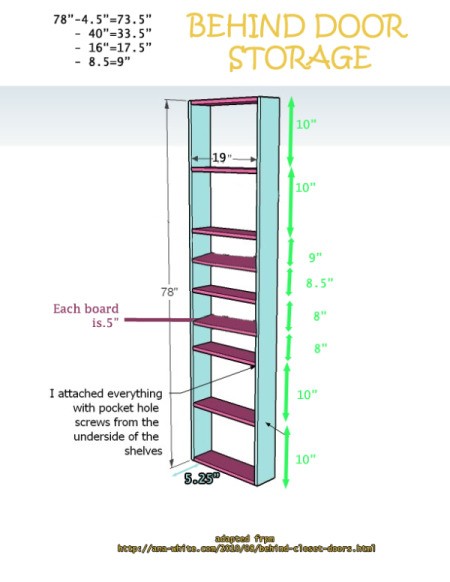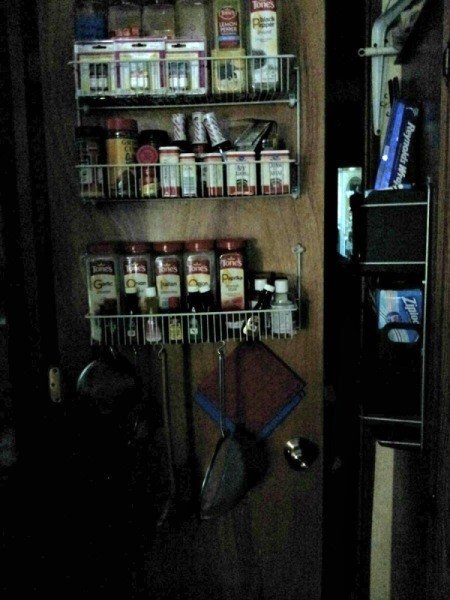 September 16, 2013
0

found this helpful
Wow, I need this. Looks easy to do. I now have a project for hubby. Looks great too.
April 23, 2015
0

found this helpful
Thank you, for the idea. Now I got some more "to do" work on my bucket list lol :)
My entire kitchen is blue and white. I really wanted a spice rack, but white is hard to find. I ordered a brown paper towel, saran wrap, foil dispenser from Lillian Vernon and had my husband paint it white. Then I went to Bed Bath and Beyond and bought empty glass spice jars, made labels off the computer, and am happy with my white spice rack.
By freedombelle2001 from Bellevue, NE
April 18, 2011
0

found this helpful
What a great idea. I would have never thought of this, and very nice also. I would definitely do this for my kitchen.
April 18, 2011
0

found this helpful
How cute granylou. I also love your spice rack. I am 4ft 10 in, and I have to get a step ladder also to reach things that I need, right now I have my spices stacked in a small plastic basket in the cabinet and I have to dig through them to find them, and it takes a while to find what I am looking for, so I will keep all the ideas here in the spice rack content.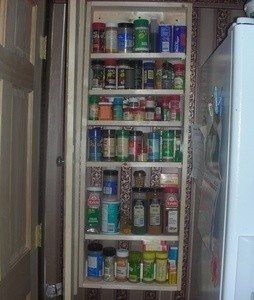 I needed somewhere to keep my spices, they took up too much space in my cabinet. My husband used some wood we had and built a frame. He then added shelves and a door. Now I have a spice cabinet. I really like this and it's so convenient. No more hunting spices, they are all in one place.
By my-secret from Clairton, PA
January 4, 2009
0

found this helpful
Your husband did a great job, that looks great! I'm sure you love it, it's very organized.
I purchased two door/wall mountable spice racks at a hardware store and my hubby attached them both to the inside of one pantry door so I could see all my spices at a glance. I don't have nearly as many as you but I love the convenience plus they don't take up any extra space being attached to the pantry door :)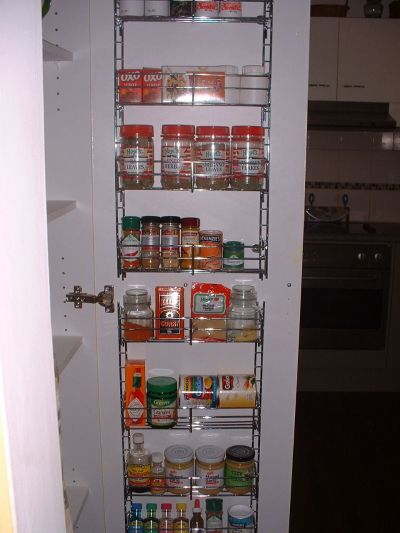 January 5, 2009
0

found this helpful
Where did you get the door-mount spice racks? Was it a big chain hardware store (so I can find one here in my neck of the wood)? What brand/company put out the rack? I'd love to get a couple of these myself.
January 5, 2009
0

found this helpful
Hi Chayil, I'm in Australia, and I'd seen these at both BigW and Bunnings stores. Both were selling them for under $15 each (well worth it for the convenience and organization). The shelf heights are adjustable also, we worked with the internal pantry shelves.
Depending on where you live I'd suggest you try the largest hardware type stores. I hope you can find something similar, I love them :)
By guest (Guest Post)
Flag
January 5, 2009
0

found this helpful
I love this! Great job, by your hubby. You think he can come make me one? ha ha
January 6, 2009
0

found this helpful
You are indeed blessed to have a wonderful husband what will do this for you.
I'm a widow and would just love to have someone like that to do this nice job for you.
Enjoy it, and you deserve it....have a great day.