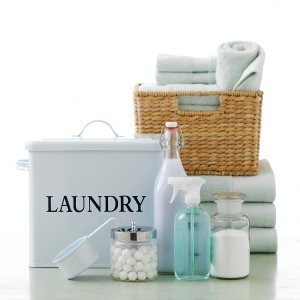 Making your own stain removers is easy to do at home. This page contains homemade laundry stain remover recipes.
Ad
---
Solutions: Homemade Stain Remover Recipes
Read and rate the best solutions below by giving them a "thumbs up".
If you mix 1 part Dawn dish washing liquid with 2 parts hydrogen peroxide you have the best spot remover! This is probably the only cleaner you will ever need. Either spray or pour on the spot and watch it disappear. Some stains you will need to leave on for awhile. Rinse when it disappears. Love it, it really works.
By Dorothy W. from New Creek, WV
Use 2/3 cups of dish soap, 2/3 cups of ammonia, 6 tablespoons of baking soda, and 2 cups of warm water. Mix everything into a spray bottle and shake well. It works really well, it even got a chocolate stain off my child's shirt. Spray the stain and let it sit awhile then launder as normal. Always shake well before using.
By coville123 from Brockville, Ontario
To make a pre-wash stain remover, mix 1/3 part non-sudsing ammonia, 1/3 part dish soap and 1/3 part water. Pour into clearly labeled spray bottle. Apply to stains and allow to sit only 5 minutes, then wash ASAP.
Source: Heloise
By Monica from Cortez, CO
Small squeeze bottles of dish-washing liquid are wonderful substitutes for the high priced stain removers when prepping your shirt or blouse collars for laundering.
Wet the collar area and squeeze a small bead of the liquid along the collar line from end to end. Rub the areas of the collar line against each other. You will see the oils and "dirt" actually lift in your hands. Rinse the area and check for any spots missed. Then launder your shirt or blouse as usual. The newer dish-washing liquid with bleach can be used in the same manner on white apparel and is great. Use care not to grab the bleach containing bottle for colored clothing. Your collars will look great!
By Trisha from Ventura, CA
To remove a stain, mix 1 tsp. Dawn dish detergent, 3-4 Tbsp. hydrogen peroxide and a couple of Tbsp. baking soda. Scrub with a brush.
By linlee00 [1]
I found this a few years ago and have been using it ever since. It works great and is inexpensive: Fill a water bottle with warm water and add about a quarter cup of inexpensive shampoo. Mix and keep in laundry room to pretreat stains before washing.
By T-scriber from WA
Make a spray for the stubborn stains that your kids or your better half like to leave on their clothes.
Supplies Needed:
1 empty spray bottle
1 1/2 Tbsp. washing soda
1 Tbsp. Oxy Clean (I use the store kind)
Water to fill almost to the top
Directions:
Mix in bottle. Wait a while before you put the top on because it will expand a lot then before you use it.
Shake well first and then spray on your stains.
My husband got grease all over his shirt and pants, so I sprayed his shirt and let it set about half a day or until the next load of laundry is done, and pop it right in the washer with everything else. When you spray it make sure you do it really good.
By Heather E from Brooker, FL
Make a paste with water, white vinegar, and sugar to pre-treat spots on clothing before washing. Rub on stain leave alone for about 10-20 minutes, rinse, then wash in cold water. Do not put it in the dryer until you check and make sure the stain is gone! If it is still there repeat.

I bought a hand cleaner found at Walmart in the automotive section called Goop. I decided to try it on a stain one day, on my child's clothes, and it worked. Now I use it all the time. It even works on set in stains.
Just wash your item then apply Goop to the stain and work it in. Let it sit 2-3 hours, stubborn stains maybe 3-4 days. Wash again and stains are gone. It's non toxic, and safe for pets and children.
You will need to combine equal amounts (meaning 1/3-1/3-1/3) of:
non sudsy household ammonia
dishwashing liquid (that you use to hand wash dishes)
water
Put these ingredients into a clean spray bottle and shake to mix. Be sure to clearly label the bottle, to use this pre-wash just spray on the stained area of clothing and wash immediately. Do not let set for more than 5 minutes. It will take out almost any stain.
Source: My Mom
By Lynda from Kearny, NJ
I recently had gotten cherry stains on a off-white cotton top. I tried many things and the stains did not come out. I finally found this recipe and soaked the shirt for 30 minutes and all the stains were removed. I would think this would work for all type of fruit and other natural stains.
My Oxy-clean
Ingredients
1 cup hot water
1/2 cup baking soda
1/2 cup hydrogen peroxide
Directions
Make this recipe as you need it. Do not save any for later use. Any leftover would lose its' potency over time.
Mix ingredients. Add clothes and soak for 20 minutes to overnight. Rinse; wash as usual. Makes 2 cups.
If possible, try to test an area of the clothing in case any discoloration occurs.
Source: A friend.
By mkymlp from NE PA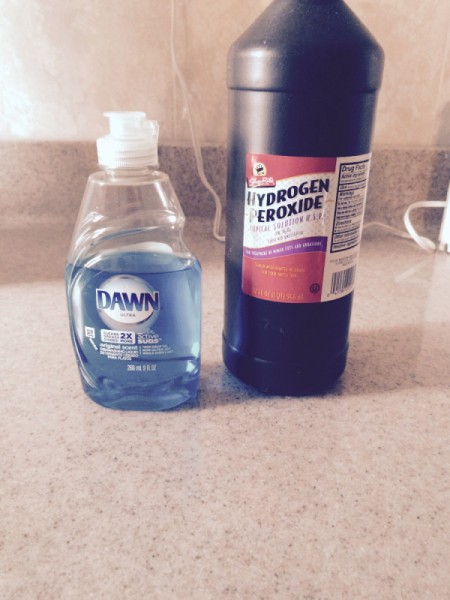 Mix 1 part hydrogen peroxide and 1 part original blue Dawn dishwashing liquid. Brush on stain. Wash as usual. Note: I let it sit half an hour.
This works wonders on stains, even if you have put the item in the dryer.
By Judy [18]
Use spinach water for removing sweat stains and ring around the collar. Try blanching fresh spinach. Reserve the water for stain removal.

It doesn't matter if the water is hot or cool. The green water has some type of iron element in which works on the stains. I guess it is the same iron oxide used in antiperspirants.

Swab it on with a toothbrush. It sometimes take out the stains that nothing else would. It is safe for almost any kind of fabric.

By Tim from Science Hill, Ky
Stain Removal Guide
How many times have you found a stain, whether it be on your favorite shirt or on your brand new carpet or on your favorite easy chair, and wondered "How am I going to get this out?" Well, I have put together a chart that you will be able to print out and laminate and put next to your washer for the next time you need instructions or things to try to remove that stain. But first, we will need to go into some basic principles that pertain to any stain you might encounter.
First, you need to not let a spill become a stain because the longer that it sits there, the harder it will be to remove. Most spills can be cleaned up with a white towel used to blot at the stain. You do not want to rub or scrub as this has a tendency to spread the stain. Work from the outside in as this will reduce the chance of a ring effect. Rinse with a white rag with cool water. Again, blot the water on and then, using another clean white rag, blot the water and spill back out again.
For carpet or upholstery, weight down a white towel with a book or other heavy object to help absorb the water. Then fluff carpet when dry. For textured upholstery, gently brush with a soft brush to fluff the fibers. To test for colorfastness to liquid chlorine bleaches, mix I Tbsp. of bleach with 1/4 cup of water. Use an eyedropper to put a drop of this solution on a hidden seam or pocket edge inside the garment. Let it stand two minutes, then blot dry. If there is no color change, it is safe to use the product. Powdered bleach packages have directions for doing colorfastness tests.
Always use the gentlest method first and then work up to the more powerful cleaning agents. Also, remember that jus