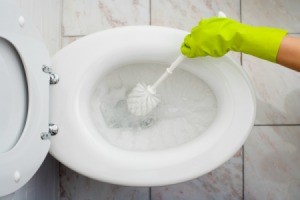 Over the counter toilet bowl cleaners can be expensive and full of harsh chemicals. Wouldn't you like to know what's in your toilet bowl cleanser as well as get it clean economically? This is a guide about homemade toilet bowl cleaner recipes.
Solutions
Share a solution for this guide today!
Questions
Here are questions related to Homemade Toilet Bowl Cleaner Recipes.
How do I make a homemade toilet bowl cleaner?
By Samantha
---
Most Recent Answer

By Mary Lou11/22/2010
Believe it or not, one of the best cleaners I've found for a truly grubby, stained toilet bowl is between 4 and 8 Polident denture tablets(or any discount brant that has the same foaming action). Drop them in one at a time, let them do their foaming thing for about half an hour, scrub with toilet brush, then flush.
I am looking for a recipe for cheap homemade toilet bowl cleaner. Does anyone have one?
By Will
---
Most Recent Answer
By Angela Michels09/19/2011
Try Borax! It is a great toilet cleaner, and works great as a cleanser. :)