Homemade Tote Ideas
Totes have many uses from grocery shopping to carrying your craft supplies. This is a guide about homemade tote ideas.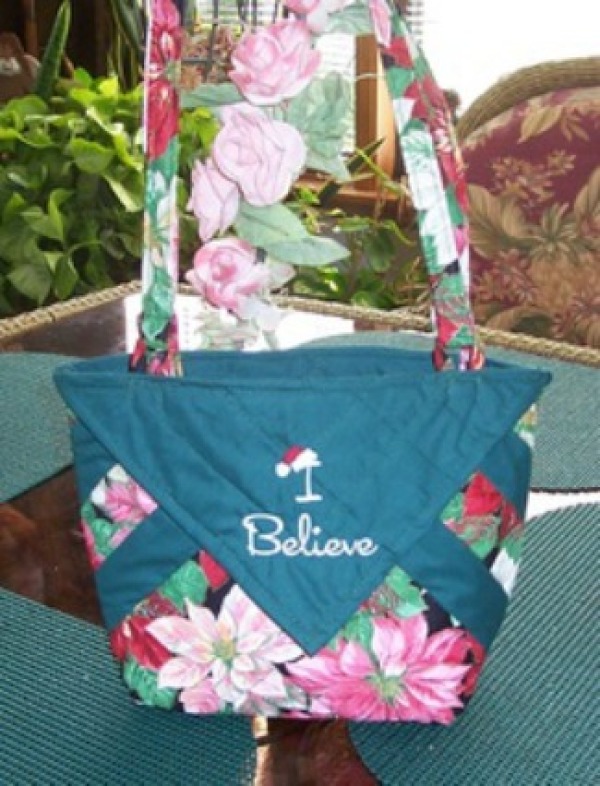 Filter

: All Articles
Sort

: Relevance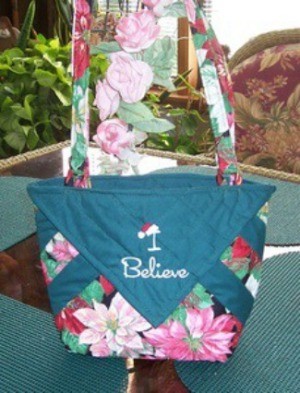 This is a Christmas tote bag made of quilting scraps. I made this tote bag from two squares of 30 by 30 inch material with batting in the middle. You then quilt them together and put a binding around the raw edges. It's like making a 30 by 30 quilt square or you can use the pre-quilted material, just add your binding.
You then lay face down, fold the two opposite corners to the middle, overlapping each other. This, you will see, will give you a square in the middle. Sew around the square in the middle, this will give you the inside pockets.
Then flip wrong sides together and sew up your sides. Take the bottom and sew 2 inches from the corner point across, this will give you a boxed bottom. Do this on each side. Then cut off point and discard. Make sure you zig zag across where you just cut. Turn this to the inside. You are now on the outside of your tote. Fold down your outside flaps, sew across the top of tote about a half inch.
You are now ready to make your handles. Cut matching material into 2 - 4 inch by how ever you long you want your handles to be. Fold the material, each side to the middle and press. Then fold once again and sew on each side of strap. Do this to both pieces of material. You should now have two straps ready to sew on your tote.
Measure 1 1/2 inches from the top corner of the tote, pin your strap in place making it a good inch down in the tote. Sew across the strap several times to secure. So this for both side of handle. You then take a piece of sew on velcro and sew at top between handles on both sides.
This is was not my original pattern but I have modified it to my own liking. The embroidery patterns used are from the free embroidery pattern section of sew forum and I take no credit for them, they are gifts from the wonderful digitizers there. I only embroidered them on to my tote bag. Oh, the inside pockets are at an odd angle but this is the way it is made. Don't worry, things will not fall out of the pockets as they are quite deep.
By Madeline from Jacksonville, Alabama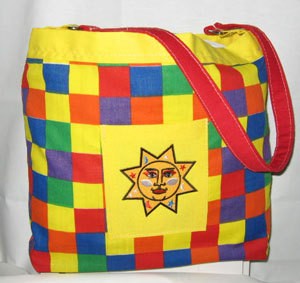 I make cakes, make quilts, and now I decided to get into purses and totebags. I take the fabric and cut into squares, four squares any measure. I do the same thing with the inside lining. Sew the front and back together as well as the lining. Make the handles any length you like and sew it to the top of the purse or totebag.
You can add pockets in the inside or outside, simply cut a small square and stitch to the bag front or inside. You can also add embellishments and voila! Show it off as you wear your creation.
I am very good at making tote bags, but not very good at the handles. Any tips or instructions?
By peaceloveparise from MO
July 22, 2009
1

found this helpful
Don''t bother turning the handles inside out. Sew them right the first time. Use wide strip and fold raw edges in pin and sew shut. I stagger seam as photo shows, but this comes with a price. I sometimes miss the under fabric and must seam rip. Best wishes. Here's the first step photo: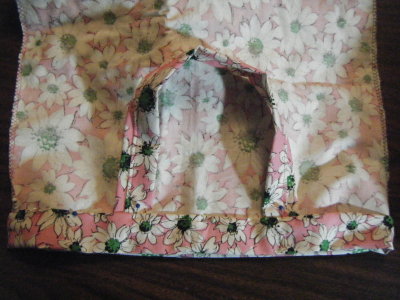 July 24, 2009
0

found this helpful
If you plan to carry a lot, you can make the straps all the way around the bottom, using just a longer strip of fabric. If you lay the fabric of the bag down and pin the straps around the entire fabric and sew them when the fabric is flat.
You can even out the load with the extra support from the bottom.
July 24, 2009
1

found this helpful
When I make handles, I fold the outer edge in to the center on both sides (the raw edges then meet). This is done down the lenth of the handle. Then the whole thing is folded in half, and stitched --close to the edge. Now all the raw edges are hidden, and you have a nice sturdy handle to sew onto your bag that is already right side out!
Pat in Michigan
July 28, 2009
1

found this helpful
If you want a more sturdy handle with a little cushioning,here is the way I make handles for my nicer tote bags and for purses: Cut your fabric strips 4 inches by the length you want for a narrow handle(1 inch.)For a wider handle cut it 6 inches by the length you wish( 1 1/2 inches)Next you will need iron-on fusible fleece. This is not very thick but is dense. cut two strips for each handle a little shy of 7/8"wide for the narrow handle and 1 3/8 wide for the wide handle. Follow manufacturers directions and fuse a strip to wrong side of fabric on each outer side of your fabric strip.Next fold both sides to the center and press,fold in half and press. Edge stitch down both sides. I hope this helps.I also make the standard handles like the previous ladies described. Judy from Alabama
Read More Answers...
A tote makes a quick homemade present for anyone!
Materials
two identical rectangles of fabric
needle and thread or sewing machine
embroidery thread or fabric pens
ribbon for handles
Instructions
Embroider or write your slogan or picture onto one of the rectangles of fabric, roughly in the centre.
Turn over the top of both rectangles and sew to make a hem.
Sew on two pieces of ribbon to the top for handles.
Place the two rectangles right sides together and sew the remaining three sides.
Voila!
By Beth from England
Our church ministers to residents of a nearby nursing home. We are looking for a pattern for a tote bag with compartments that can be placed between the box springs and mattress.

Betty from Mesa, AZ
August 15, 2007
0

found this helpful
I took some quilted fabric (bargain table at fabric store). Use quilt binding for a neat edge. Make pockets to fit remotes, cell phone, pens or note pad etc. One larger pocket could be for a magazine ot TV schedule. I used peel & stick velcro to attach ... Put one side on the box spring or even on the bed skirt. Match the other side to the back of the pocket holder. If you use a flat pice of quilted fabric with the pockets attached it will hang down beside the bed within easy reach with no bulges.
By guest (Guest Post)
Flag
September 27, 2007
0

found this helpful
Use two placemats: Fold one almost in half (3/4) and sew this to the other placement. Now you have two pockets, sew vertical strips to create pockets for glasses,tissues etc. The long end of the placemat gets tucked between the mattress and box springs. Hope this makes sense to you.
By guest (Guest Post)
Flag
February 10, 2008
0

found this helpful
Can I get a denim school bag pattern roughly 1 foot tall and 9 inches wide?
Read More Answers...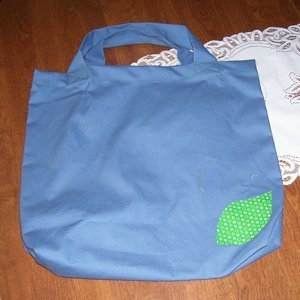 Since we are celebrating "going green" I thought I'd share yet another tote idea. I made these totes (5 in all) for our church fair last fall. Someone generously donated the denim fabric. I added the little green leaf applique before sewing the totes together. I used Aleen's fusible web and followed the directions and then cut out the leaf shape and fused it on. It worked great.
By Jan Lee from L.I. NY
We all try to "go green" and one good way is by using tote bags instead of plastic. Depending on what kind of bag you choose, most can be purchased for $1.00. I recently found 3 brand new material totes at a thrift store for 25 cents each. If you craft, thrift stores are a gold mine and I never seem to leave one empty handed. Totes can be used in many ways and I decorated these for my two daughters in law for Mother's Day.
Approximate Time: 1-2 hrs.
Supplies:
canvas or material tote bag
felt
trim for decoration
letter beads
key ID tags
Instructions:
You can make any animal you choose on any material tote. I like the canvas ones best. They seem to be the strongest and I enjoy painting on them, but I couldn't pass these up. I have included a picture of a few other animals I made. Simple shapes work best in this project so you don't have to be an artist. Coloring books are a great source for pictures. Since I was making these for mothers, I decided on a "My Peeps" theme and chose to make chicks. One has four children on it and the other has one.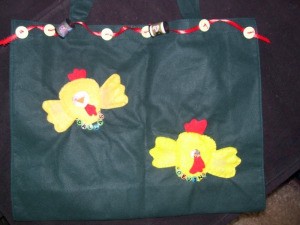 Cut out a simple animal shape from felt. You will need two for the body. Cut out a circle in one which will be the face (front). The circle size will depend on your photo. You want only the face to show. I used double backed tape and attached the photo to a piece of thin cardboard, cut to fit inside felt.
Assemble your animal on the tote and use pins to hold. Hand stitch on to tote. Glue on tiny beaks, if desired.
Decorate the bag however you desire. I decided to fill in the areas on the one with only one child using his hand prints. I colored each with fabric paint. If using paint, be sure to slip cardboard in between and leave until dry. On this one, I added "My Peep" above the chick using letter beads and also the child's name below. I attached photos of him at all different ages on to round metal rim key ID tags. I punched holes and sewed one onto each hand. I also added more of them at the top of the bag, along with ribbon and buttons.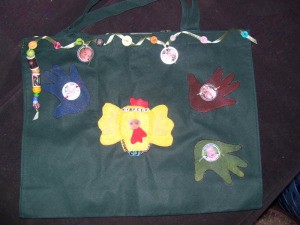 On the one with the four children, I put two on each side. I spelled their names out under each chick using larger glow in the dark letter beads. I added a hanging decoration using letter beads that reads "Mom's Peeps".
They are inexpensive to make and you will have a lot of fun doing so. This would also make a great project for kids to make for their mom or grandmother for Mother's Day. I would recommend using canvas bags for the them to decorate. You can usually find smaller ones at Dollar Tree. They can use paint, markers or crayons and create their own masterpiece! Any Mom would be tickled to receive one.
By Mary from Palm Coast, FL
I'd like to make tote bags with fringe from some blanket material and old suede jackets I have. I've never made one. Can someone help?

Karen from Ontario, Canada
February 19, 2009
0

found this helpful
I love the place mat idea! I like to use my old beautiful sweaters. Or patchworks from the pieces of favorite embellishments from worn out jeans or shirts. I hate to get rid of pretty decorations.
Did you know you can recycle Tyvek into a waterproof and durable lining for fabric projects. Tyvek can be found in jumpsuits/coveralls for industry work. This type of Tyvek is very soft and fabric-like.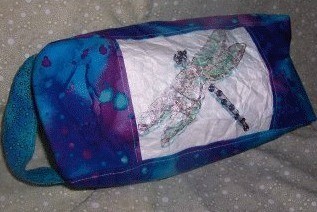 You can also recycle Tyvek from mailing envelopes. This Tyvek is medium weight, but not suitable to use with light colored cover fabrics as the printing will probably show through. Tyvek used to wrap houses in new construction is also useful. This is very stiff and paperlike, but softens when you crumple it. It will stay wrinkled though.
Tyvek should not be ironed or put into the dryer.
The tote in the picture is a cosmetic tote made using jumpsuit Tyvek on the inside. The handle allows it to be hung from a locker hook or wall hook in a bathroom, and the inside can be easily wiped out.
For fun, I write a message on the Tyvek with a Sharpie before assembling the project, so the recipient sees the message each time they open the bag.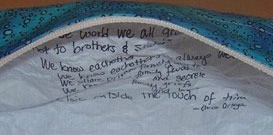 By Regina from Rochester, NY
I love making creations out of everyday things. I would really like to know other people's ideas on how to make great purses and tote bags from material and objects that people might not think of to use. They can be any size or shape! Any suggestions?

Natasha From Ontario
Answers:
Making Tote Bags From Recycled Items
Try denium jeans, you could make regualr purses, using a "pocket" for cell phone. Use the leg part of the jeans for a small shoulder bag. (06/27/2005)

By Patricia Shook
Making Tote Bags From Recycled Items
All I can think of is fabric: old clothes, sheets, blankets, quilts, towels, curtains, apholstery. If you use clothing with pockets, the pockets can come in handy.
If you crochet, you can cut plastic grocery sacks into rings (cut strips going across), attach the rings together by looping each one into the next, and then use a large crochet hook. (06/28/2005)

By Debbie
Making Tote Bags From Recycled Items
Last summer I stumbled onto the idea of making totes or purses from fabric place mats. I just folded one in half right sides together, sewed up the sides, then turned it right side out and added handles made from webbing or ribbon. I've embellished them with fringe, beads, silk flowers, you name it. They make great small gifts and can even be used as a gift bag. It's so easy to find really cheap place mats on clearance shelves. Hope you like this idea! (06/28/2005)

By barb