When we arrived to our vacant honeymoon farmhouse in the wine country of France, we were shocked to discover this massive beehive attached to the window of our bedroom. It was about 4 square feet in size and filled with thousands of bees. Unfortunately, it was trapped between the window and the storm shutters which could only be opened from inside our room!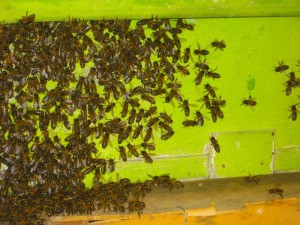 Rather than call an exterminator (which we didn't want to do because of the scarcity of bees in Europe), we were able to find a local father-and-son beekeeping team who were able to transfer the beehive, the queen bee, and all the other bees to a new, safe location for no cost at all.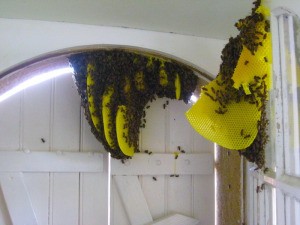 Although we had to spend one night sleeping in the room with the bees, the terrifying situation had some bright sides: We learned a lot about bees. At the same time, we were forced to learn more French from these guys, who spoke not a drop of English. Oh, we were also given two huge pots of fresh honey in exchange for our bees! We will never forget our buzzing honeymoon!
By attosa from Los Angeles, CA