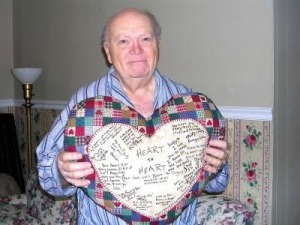 Deciding on just the right gift for someone in the hospital can be a challenge. This is a guide about hospital gift ideas.
Solutions: Hospital Gift Ideas
Read and rate the best solutions below by giving them a "thumbs up".
We have had several family members in the hospital lately and I have learned a few things that are good to have on hand for visitors or if a person stays with the patient. Now, when I hear of someone in the hospital, I deliver a "goodie basket" to their room. The contents of the basket are often found more useful to family, especially if it is a serious situation where family is camped out at the hospital.
Many of the items can be found at the dollar store. Items in my basket sometimes are adjusted if I know of diet restrictions or younger children, but basically contain the following:
boxes of granola or breakfast bars
apples, oranges or bananas (3-4 of each or more if a large family)
crossword puzzle book
notebook and pen
pre-made individually wrapped snacks
couple of magazines or newspapers
juiceboxes
board game (checker, etc. can be found at the dollar store)
By April from MO
Flowers are always welcomed, but sometimes you may have a person in the hospital with no relatives close by. A telephone calling card will be appreciated, since hospitals and rehabilitation centers will charge long distance calls to your hospital bill.
While you can call them, sometimes they want to call you with updated information, etc. This came in handy for my mom who was having elective surgery in another state.
Note: This is assuming the patient is not too ill and they can use the telephone.
By Ms. Syd from Dunkirk, MD
Give a "thumbs up" to the solution that worked the best! Do you have a better solution? Click here to share it!
Questions
Here are questions related to Hospital Gift Ideas.
What can you give a friend whose husband is in hospital. He is now paralized from waist down. His wife has stayed by his side for the past few weeks. What kind of gift can I give her to use/enjoy while staying in hospital with him and what can I give him that he may be able to use?

Erin
---
Most Recent Answer

By Galso05/13/2010
Here is a list of 10 gift ideas for wheelchair users:

http://www.squidoo.com/wheelchairgifts
I am taking my children to visit children in the hospital. I would like suggestions of FRUGAL ideas for goodie bags that my children may hand out to those in the hospital. I am on a very tight budget but believe in teaching my children the importance of thinking of others-- this time of year kids often want, want, want! And I want them to realize the needs of others.
Any suggestion would be very welcomed. -Lisa
---
Most Recent Answer

By coville123 [320]12/12/2011
Go in the dollar store in the birthday section you can buy party type favours with more than one in a package like crayons, necklaces, activity books, etc. Small stuffed animals are good as well. Good idea I might do the same!
I need ideas for a patient who is 21 and had a head trauma case and is now in rehab and needs things to make his stay better

Paula
---
Most Recent Answer

By chris concannon02/28/2008
Hi! There is a website called raspberrybee.com that has adorable designer hospital gowns. I bought one for my neice after her back surgery and she loved it. They have 2 styles and they have lots of different prints to choose from. I bought one in a Lilly Pulitzer fabric and it was totally adorable. The link for the hospital gown website is http://www.raspberrybee.com The lady who took my order said that they will be making children's hospital gowns soon.