House Trained Dog Peeing Inside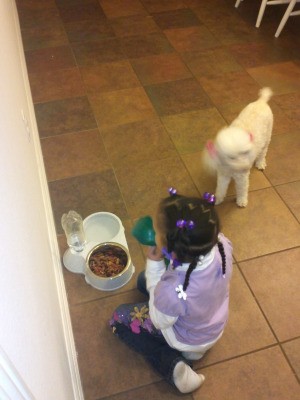 I have an 11 year old miniature Poodle, sometime last month, or the month before last the dog started peeing in front of the front door and in the formal living room. The front foyer is stone, the formal living room is wood. She has a doggie door which she has used for more than a year without fail.
We have since gotten rid of the rug that was in the formal living room due to the fact it was soaked in urine and had been defecated on so many times. After the rug was removed, the defecating stopped, however the frequent urinating is still going on in those two places. My father is not a fan of animals. He put up with her because she was housebroken. He is now livid, seething, furious, and has contemplated throwing her over our back fence to the coyotes. I need help. I don't know what to do. She I has been on the same food for forever. I love my dog, but I don't know why she is doing this to stop her. Anybody help?
By Dani
Answers: House Trained Dog Peeing Inside
Read answers for this question below.
Sounds like the same symptoms that my sister's poodle had and she found out the dog has diabetes; please take her to a vet.
Sounds like your dog has a medical issue and needs to see a vet,could have a UTI or be diabetic. If you cant take the dog to the vet please find an animal shelter to take her to, she is too old to just be thrown over the fence
Answer This Question
Add your voice to the conversation. Click here to answer this question.
Related Guides
Related Posts