March 15, 2017
1

found this helpful
You could tell her you bought her a lesson at a stable, and then when she gets there, she will see all her friends, and they will shout, "Surprise!"
You can then have a horseback riding party for her and her friends.
March 15, 2017
1

found this helpful
Currently, photo booths are very popular. They provide a good opportunity of interactions between guests. All you need is a backdrop ( like a tablecloth over a door) add in some fun accessories: a halloween wig, a grass skirt, cowboy hat, mardi gras beads (you can also choose the props based on the party theme ) You take pictures of singles and groups and download them to a computer for printing.
A good theme to go with this is HOLLYWOOD. Movie ticket invitations. Marque Use stars, gold and silver mylar balloons, and black streamers to decorate. Have a red carpet. Have an autograph table, supply markers ( buy inexpensive notepads for everyone.) You can have a makeup room so girls can be camera ready. You can have a wardrobe robe with costume accessories. A birthday cake that looks like a movie marquee.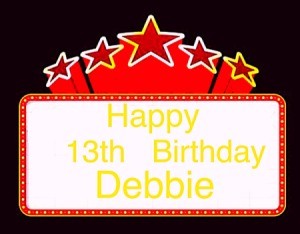 March 16, 2017
1

found this helpful
OMG, thanks so much, this would be a perfect theme to do!!
thanks
March 15, 2017
1

found this helpful
Yes I do teens like to not be embarrassed so do something small like go see a scary movie with some of her close friends
May 8, 2017
0

found this helpful
teens do love surprise b day partys. i should know that as I'm one myself xx