Ideas for Thrifty Any Occasion Wreaths or Centerpieces
Answers: Ideas for Thrifty Any Occasion Wreaths or Centerpieces
Read answers for this question below.
I just made this yesterday and put it on my door.

Take a wicker or straw wreath form and tie scraps of fabric strips to it. I used fall Plaids, but you can make all kinds of seasonal colors like Spring, Summer, and the Holidays. I made sure that all the fabric was two sided, as knots tend to turn the fabric in both directions.
I made the back look nice in case a person might want to hang it in the window and the view is still nice. Embellish with buttons, table scatter from the Dollar Tree or thrift shops, and hang.

Easy Peasy and really pretty if I do say so myself!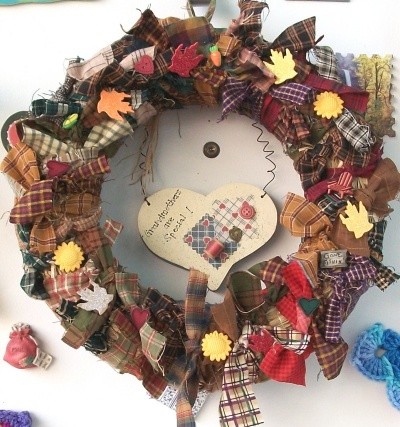 Answer This Question
Add your voice to the conversation. Click here to answer this question.
Related Guides
Related Posts