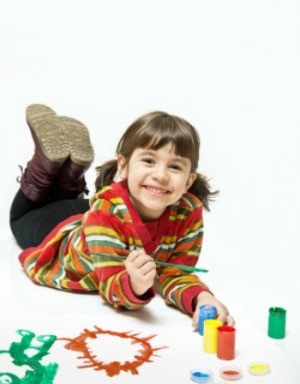 Most kids love to craft, so keeping supplies and project ideas on hand is a good idea for impromptu activities. This is a guide about inexpensive kid's craft ideas.
Ad
---
Solutions: Inexpensive Kids' Craft Ideas
Read and rate the best solutions below by giving them a "thumbs up".
When I was a Girl Scout Brownie troop leader, our little troop didn't have much money to spend on supplies for the "making art" segment of the meetings. One of the ideas that I came up with was not only very thrifty, but ended up being one the favorites.
I bought a few bottles of Elmer's white glue, a 1 lb. bag of dried beans, and 3 packages of different shapes and colors of dried pasta. I also purchased a ream of multi-colored construction paper. Each girl brought an oversized old shirt from home (most were one of Dad's old tee shirts) - this solved the problem of messing up their uniforms.
We covered the table with newspaper for easy clean up, put all of the supplies in the middle of the table, and they made beautiful works of art. We expanded this theme by adding in fabric, buttons, ribbon, etc. The possibilities are endless.
By Jacklyn from Victorville, CA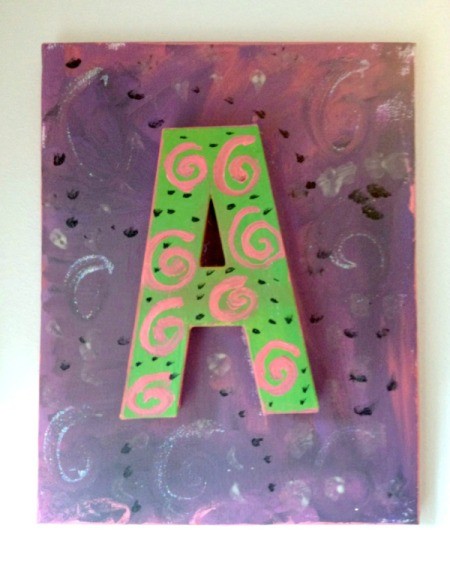 My son made this as a gift for his sister. This is a very easy kids' project and would make a great Mother's day or Father's day gift. With just a few supplies they can make a custom gift that will surely be cherished for years. The possibilities are endless to personalize a similar project.
Supplies:
acrylic paints
paper mache letter
canvas
paint brush
hot glue gun
glitter, optional
glow-in-the-dark paints, optional
embellishments, optional
Ad
---
Steps:
Paint the canvas and allow to dry.
Paint and decorate the letter and allow to dry.
Glue the letter onto the canvas. Enjoy!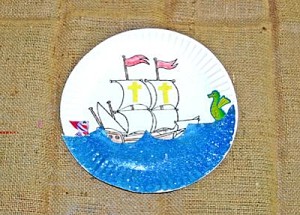 This craft would work for any sea or ship-themed program or party. I used it for preschoolers at Vacation Bible School. You could use it with primaries, letting them cut out their own project.
Approximate Time: 20 minutes, plus play time.
Supplies:
plain, white paper plates
simple coloring page of ship
thinned white glue
blue sand or glitter
foil-wrapped chocolate coins*
twine or yarn for hanging
sea animal/fish stickers
*If chocolate or sugar is an issue, use goldfish or whale crackers, or allow them to string plain Cheerios on yarn for "jewelry" to hide in the plate.
Instructions:
Pre-cutting: Trim around ship and glue to the paper plate. Punch hole in the top. Draw a wavy line resembling the sea across the center of a another plate and cut out.
Allow the kids to color or paint the ship. Let dry, if painting. Add stickers to look like they are swimming alongside the ship, as shown in the photo.
Spread thinned glue on another plate. Let the kids paint the wavy paper plate and sprinkle with sand or glitter. Let dry.
Staple the blue waves on top of the ship, so it appears to be floating on the water. This makes the hiding place.
Allow the kids to put their coins in the "secret" compartment.*
Attach twine for hanging.
*Older kids could write the Bible verse on a little rectangle cut from a map and rolled around a pencil, to resemble a "secret treasure map."
Activity: Encourage the kids to share a coin with someone. Talk about other ways to share.
By Cindy from Waynesburg, PA
Give a "thumbs up" to the solution that worked the best! Do you have a better solution? Click here to share it!