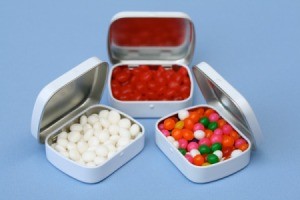 A small reminder of your special occasion doesn't have to cost much. This guide contains inexpensive wedding favor ideas.
Solutions
Share a solution for this guide today!
Questions
Here are questions related to Inexpensive Wedding Favor Ideas.
I am helping with table favors for a friend's wedding. Originally there were supposed to be about 100 guests, now it looks like it may be 200+. Any ideas? The colors are pink, white, and black.

Debbie from Shallotte, NC
By
---
Most Recent Answer

By wed_planner (Guest Post)05/05/2008
Don't know if you still need it, but since there are so many guests I would do pink and white favor boxes filled with candy, the boxes shouldn't be that expensive, I put a link of some boxes, and if you call the company they would probably give you a discount since you are buying so many.
http://www.giasweddingstore.com/ser ... ?$catalog.Oem=Tins%2C+Bags+%26+Boxes
Our son is getting married this July. (2008) Does anyone have any ideas for wedding reception table decorations/favors? We've done the Hershey Kiss long stemmed roses and personalized fortune cookies with our own fortunes. Since we'd like to do 300 or more, we'd like them to be affordable but memorable.

I'd like people to leave the wedding saying, did you see what they did for Tobey's wedding? Or that was the cutest thing I've ever seen for a wedding favor. Thanks in advance for the ideas.

Sandie from Curtice, OH
By
---
Most Recent Answer

By jenthehen77 (Guest Post)08/14/2008
We are getting married this October and what we are gonna do is make compact disks with our wedding music on them.
Can anyone tell me where to find cheap wedding favors? Silver color preffered.

Omayra from NY
By
---
Most Recent Answer

By melody_yesterday01/20/2008
i just found this today - seemed like a nice idea : origami wedding !
http://www.origami-resource-center.com/wedding.html
let me know what you think !
I am wondering if anyone has any good inexpensive (of course), not too time consuming, and fun ideas for wedding favors?

Jen from Des Moines, WA
By
---
Most Recent Answer

By courtney (Guest Post)01/02/2007
try a candy bar.

get bags or boxes colored with the wedding theme and the bride & groom's names on the bags/boxes. then, the guests can fill their bags with whatever candies they like...

have maybe 5-6 candies to choose from that fit within the theme of the wedding.
I am looking for ideas for wedding favors, novel ideas, and ofcourse, within the bride's budget. I know your readers have great experience in sharing their novel ideas.

Thanks,
Nancy from Denham Springs, LA
By
---
Most Recent Answer

By northwoman11/11/2010
I purchased simple wine goblets in bulk, and tied a handmade tag, with mine and my husband's names and our wedding date printed on them. I tied the tags on with raffia. The guest were told the goblets were theirs to keep. I got pretty little plastic goblets for the younger kids. Everyone there was thrilled with the idea of using their goblets to toast the bride and groom, and then taking them home.