Installing a Window Air Conditioner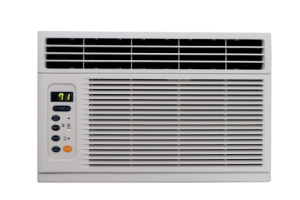 Summer has arrived and the temperature is rising. If your house is too warm inside it can be unpleasant during the day and difficult to sleep comfortably at night. This is a guide about installing a window air conditioner.
Solutions
Share on ThriftyFunThis guide contains the following solutions. Have something to add? Please share your solution!
With temperatures expected to reach 100 degrees F this week, we needed to find a way to install our old Air Conditioning unit in our brand new vinyl casement windows without damaging the window or frame. Most of the ideas we found online involved screwing things into the window sill, window frame and/or a large amount of plywood (which we wanted to avoid). After a lot of brainstorming, we put together several ideas and came up with a way to install the air conditioning unit by building a frame that doesn't require any screws into the window, then installing the AC unit into the frame. We used plexi-glass to keep the air conditioner as subtle as possible.
Since it doesn't damage the window frame, this method would also be great if you live in a rental and can't install into the window frame. We have vertical slider windows and a casement style AC unit, but this option would work for other types of windows and air conditioning units too.
Total Time: 1.5 hour
Yield: 1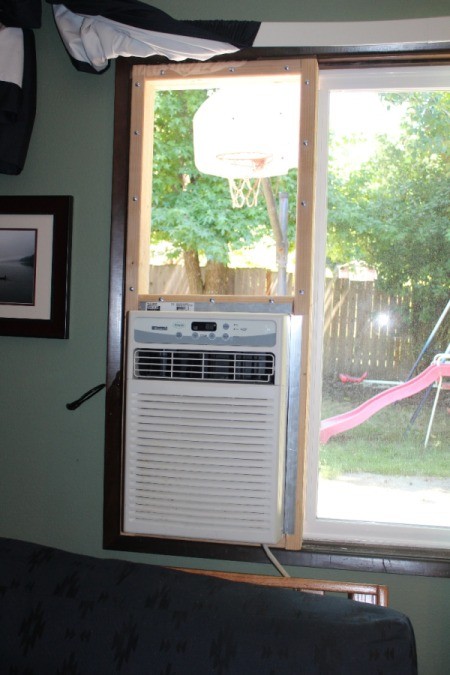 Supplies:
2 8 foot 2x4 (if your window sills are narrow, you can substitute narrower lumber) ($10)
12 deck screw ($2)
3 aluminum L brackets to fit around the AC Unit ($10)
1 sheet Plexiglass (purchase after you frame is fitted in window to verify measurements - many hardware stores will cut to size) ($22.67)
14 Screws for attaching plexiglass (We used 14 Phillips mod truss, lath self-drill screws) ($2)
weather stripping ($5)
1 wood trim pieces, if needed ($5)
Drill and drillbit
Chop Saw (for 2x4s)
Steps:
If your air conditioning unit has side brackets like the ones show below, remove these side brackets, which have a lip for sliding in an attachments that is designed hold a cheap plastic board is supposed to cover the exposed part of your window that is not covered by the air conditioner (it is my experience that these boards are not terribly effective, so we wanted to replace it)
Measure and cut L brackets to fit around the sides and tops of the air conditioning unit, pre-drill and screw into air conditioner. This will allow you to install the air conditioning unit flush to the frame you are building.
Measure the height of the air conditioner unit box. This measurement should not include any extra lip on the face of the air conditioning unit
Take a new measurement of the width making sure to include the extra width of the portion of the L bracket that is against the unit. This measurement does not include any extra lip on the face of the air conditioning unit.
Measure height of the window frame (measure right up against the window sill).
Cut 2 - 2x4s to fit your window frame height and 3 pieces that match the air conditioning unit width. Pre-drill and screw the two short pieces of 2x4 to the inside ends of the 2x4 piece that will go on the window frame side of your window using 2 deck screws at each join. Dry fit the air conditioning unit into your partial frame. If all fits, screw in the final side piece (we only tightened these screws half-way choosing to tighten the screws once all was installed in the window).
While the air conditioner is "dry fit" in the frame, place the third 2x4 AC width board across the top. This will go along the top of the AC unit, so mark the height of the air conditioner unit in your built frame and screw this piece in (see picture in step 10).
Our window frame had an inner wood trim piece they had to add when the new windows were installed. We added some thin trim of the same height to give the frame a level surface.
Remove screen from window and get ready to fit your AC unit frame.
Insert your air conditioning unit frame into your window frame (no screws needed).
Insert Air Conditioner. Check fit and tighten screws. If your window frame is not square you can use shims and weather stripping to fill in any gaps. Close Window up to the frame and check fit. *If you want to stain your AC Unit "frame" remove and do that now. I will be staining ours after we remove it at the end of the summer.
Measure the empty portion of your window frame for the plexiglass piece. Most home improvement stores will cut the plexiglass piece to your measurements when you purchase it - take advantage of this service if possible. We were lucky enough to be able to use a stock size piece. You can use an inexpensive piece of plywood here instead, but I think the plexiglass looks nicer.
Predrill holes in plexiglass and screw into your frame. We screwed the bottom of the plexiglass into the frame through the L bracket. (you should remove the pricing stickers from the metal L brackets first - oops! We'll be taking care of this in the when we take the unit out for the fall too.). We did not screw the other L brackets into the frame, but you can.
Use weather stripping to seal any gaps in the bottom of the unit and to help form a seal where the sliding window meets the frame.
Cut piece of wood to insert into the window sill on the other side of the slider to help secure the window so it can't be opened.
As you can see the air conditioning unit does not make contact with the new vinyl window sill and since nothing is directly installed into the window the frame is not marked or damaged (great if you are in a rental). The built frame can be removed and stored in the off season and you can even take it with you if you move.
I just recently had my window air conditioner installed by a friend. There is always a gap that needs to be taped or something every year. Today, I did the living room one with the self sticking plastic. It came out perfect and hardly showed.
Read More...
Questions
Ask a QuestionHere are the questions asked by community members. Read on to see the answers provided by the ThriftyFun community or ask a new question.
I have a window air conditioner that measures 20 inches in width X 14 inches high. However, the window I anticipate using for the installation is only 14 1/2 inches wide. What problems will it cause if I install the air conditioner vertically (sideways) instead of horizontally?
By Virginia from Brownsville, OR
January 3, 2010
0

found this helpful
Best Answer
You risk your compressor failing. It is a balanced mechanism and having it side ways will eventually cause problems. This may not be true with newer model AC units (I am not familiar with any technological break throughs, if there are any).
I wouldn't chance it. If I was in this situation I would try to trade with someone who has a smaller unit that could utilize a larger one or I would buy a smaller unit and attempt to sell the larger one to get the money back for the smaller.
January 4, 2010
0

found this helpful
That's exactly what I was wondering about, that you so much for helping me!
Related Content