Is Peanut Butter Okay for Dogs?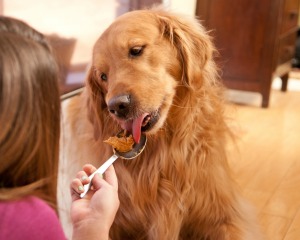 It is pretty common knowledge that most dogs love peanut butter, but many pet owners wonder if it is OK to feed it to them. This is a guide about
"Is peanut butter okay for dogs?"
.
Questions
Ask a QuestionHere are the questions asked by community members. Read on to see the answers provided by the ThriftyFun community or ask a new question.
Is roasted honey nut peanut butter OK for my German Shepherd to eat?

By Millie from Yucaipa, CA
April 6, 2011
0

found this helpful
Best Answer
Yes, peanut butter is fine for dogs. As long as (as some of these people have said) the dog has no allergies to it or its ingredients. Also I wouldn't give him a whole lot of it. I used to have a Golden Retriever and he got no more than one full teaspoon a day. I used it to give him his arthritis and vitamin pills. I now have 2 Dachsies and they each get no more than 1/4 teaspoon a day. But for them it's not every day since they take their pills easily without it. I use it as an "extra special" treat.
You didn't ask, but I'll say I also give it to my cat, no more than 1/8 teaspoon a day. Again, for my cat it's only used as an "extra special" treat.
The SPCA lists several things that are perfectly OK for dogs, as long as it's given only in small amounts and/or only occasionally.
Garlic is one thing. Most of us down here in the south have discovered the benefits of giving our dogs and cats a small amount of garlic in their food daily because it keeps the fleas and ticks off them.
So the main thing is, contact several agencies and people including vets in your area. Make sure they are in your part of the country because some of the advice will change depending on where you live. But don't depend on just one source either. Contact many sources, and then use your own best judgment.
One thing tho you do need to check on is what plants, both indoor and outdoor that are toxic to pets. Don't forget that!
September 7, 2012
0

found this helpful
Are peanuts good for small dogs like a Chihuahua?
By AVI from Bethesda, MD
September 9, 2012
0

found this helpful
Just one now and then would probably be okay but peanuts (including peanut butter) can potentially cause bladder problems in dogs. If you do treat your fur baby with a couple please make sure they are unsalted. Same thing with cashews.
A huge word of caution about nuts is to never feed dogs walnuts or macadamia's because they are toxic.
September 10, 2012
0

found this helpful
Peanuts might be a choking hazard. Most dogs like peanut butter and a little is OK for them.
August 9, 2012
0

found this helpful
Is honey peanut butter OK to feed to my adult dogs as a treat? I would give no more than 1 tablespoon of it.
By Kathleen
August 10, 2012
0

found this helpful
Yes, peanut butter is fine for your dog as a treat now and then. I have found crunchy the best for hiding medicine. The dog doesn't notice the difference between a peanut or a pill. The only drawback is whenever I open the jar, my dogs come running.
August 10, 2012
0

found this helpful
I would say yes! My 9 year old loves pb & honey... sparingly, as you said. I alternate his treats. He loves a variety!
Archives
ThriftyFun is one of the longest running frugal living communities on the Internet. These are archives of older discussions.
April 4, 2011
0

found this helpful
Is it alright for a Lab dog to have peanut butter?

By Sandra from West Monroe, NY
Answers:
Is Peanut Butter Okay for Dogs?
Yes it is! Tons of benefits come from it, and plus(+), dogs love it. I've done research on it, and a dog trainer mentioned it. (01/20/2011)

By Pate18
Is Peanut Butter Okay for Dogs?
One teaspoon a day would be okay, but I would make sure it's sugar free peanut butter because animals can get diabetes just like humans and actually are more prone to it. (01/20/2011)

By Deeli
January 15, 2011
0

found this helpful
How much peanut butter can I feed my Chihuahua on a regular basis?

By Pilla from MO
Answers:
Is Peanut Butter Okay for Dogs?
A lot of humans have allergies, some deadly to peanuts and peanut products, but I have yet to learn of a dog that is allergic to such. (Please don't take my word for this and do your own research with web sites, vets, and vet hospitals.) That said, my dogs love peanut butter! And choosy (skin) mom's choose Jif peanut butter for their (fur) babies! (I prefer the name brands as, in recent years, they seem to avoid recall issues that the slightly less expensive brands have faced, but that's just my personal experience.)

My dogs are English Mastiffs: their heads, alone, are at least twice as big as your Chihuahua so I'm overly hesitant to suggest amounts. None-the-less, assuming there are no allergy issues, I can't imagine a teaspoon or so of such a day would harm your pup. Again, do talk to your vet about this before you proceed. One of our dogs needs daily medication and a pill coated with peanut butter goes down smoothly!

Seriously, dogs that can tolerate peanut butter truly love the stuff! But just like humans, too much of a good food can cause unwanted weight gain for dogs, so proceed with caution. Good luck! (12/11/2010)

By KansasCindy
Is Peanut Butter Okay for Dogs?
I would not feed any pets peanut butter, but for a professional opinion I would contact a vet. (12/11/2010)

By foxrun41
Is Peanut Butter Okay for Dogs?
We have used it for years both as a treat and as a way to get our dogs to take their pills! Peanut butter on 2 graham crackers with the pill in between, one happy dog! And our cat loved to lick the peanut butter from around the edges, she still does. (12/13/2010)

By Lisbet
Is Peanut Butter Okay for Dogs?
Always everything in moderation! As was mentioned already maybe one small teaspoon a day, but I would make sure it's sugar free peanut butter because animals can get diabetes just like humans and actually are more prone to it. (12/13/2010)

By Deeli
Is Peanut Butter Okay for Dogs?
I have a really easy peanut butter dog teat recipe. If you would like it contact me. (12/18/2010)

By leekelly
December 11, 2010
0

found this helpful
Is processed peanut butter good for dogs?

By Philip from Slidell, LA
Answers:
Is Peanut Butter Okay for Dogs?
Absolutely not! Not any kind of peanuts, or strawberries, or chocolate, or raw meat. (04/04/2010)

By dolphinfreak
Is Peanut Butter Okay for Dogs?
I have given my dogs, both current and past, peanut butter for many many years with no problems at all. I don't, however, give them a lot of it. It's great for getting pills down them. But other than that, they might get a half teaspoon a couple of times a month. When I do give it though, it is the creamy type, never crunchy.

If someone's dog had problems with peanut butter, that was just that particular dog. Like people, some dogs have different reactions to some things that are perfectly fine for most dogs. There are exceptions to every rule. If you want to try, but are leery about it, try giving your dog just a little bit once a week or so and watch your dog closely. If it has any reaction whatsoever, discontinue the peanut butter immediately. But if not, then you know the dog is OK with it. (04/04/2010)

By Cricketnc
Is Peanut Butter Okay for Dogs?
Yes, it is safe in moderation, otherwise you would not find treats made with peanuts or peanut butter, and it is a common practice too, per the ASPCA, to stuff Kongs with peanut butter.
Just be aware though that dogs are like humans that some might have reactions to foods others may not. (04/06/2010)

By Jron7667
April 4, 2010
0

found this helpful
There are so many people telling me that peanut butter is great for dogs. Are you saying that that isn't true?

Kassie from Robstown, TX
Answers:
Is Peanut Butter Okay for Dogs?
This list is available on aspca.org:
Foods to Avoid Feeding Your Pet
alcoholic beverages
avocado
chocolate (all forms)
coffee (all forms)
fatty foods
macadamia nuts
moldy or spoiled foods
onions, onion powder
raisins and grapes
salt
yeast dough
garlic
products sweetened with xylitol

Warm Weather Hazards

Animal toxins from toads, insects, spiders, snakes, and scorpions
blue-green algae in ponds
citronella candles
cocoa mulch
compost piles and fertilizers
flea products
outdoor plants and plant bulbs
swimming-pool treatment supplies
fly baits containing methomyl
slug and snail baits containing metaldehyde

Medication

Common examples of human medications that can be potentially lethal to pets, even in small doses, include:

pain killers
cold medicines
anti-cancer drugs
antidepressants
vitamins
diet pills

Cold Weather Hazards

antifreeze
liquid potpourri
ice melting products
rat and mouse bait

Common Household Hazards

fabric softener sheets
mothballs
post-1982 pennies (due to high concentration of zinc)

Holiday Hazards

Christmas tree water (may contain fertilizers and bacteria, which, if ingested, can upset the stomach.
electrical cords
ribbons or tinsel (can become lodged in the intestines and cause intestinal obstruction, most often occurs with kittens)
batteries
glass ornaments

Non-toxic Substances for Dogs and Cats

The following substances are considered to be non-toxic, although they may cause mild gastrointestinal upset in some animals:

water-based paints
toilet bowl water
silica gel
poinsettia
cat litter
glue traps
glow jewelry
(12/17/2006)
Is Peanut Butter Okay for Dogs?
We bought a Kong toy and put peanut butter inside of it, and Tobey loves it. He spends hours (literally!) trying to get the peanut butter out. I have been told it is very safe and enjoyable for him. (03/18/2007)

By Leslie
Is Peanut Butter Okay for Dogs?
My dog just had a fatty tumor removed from her shoulder and another one from her leg. Fat deposits in dogs (and cats) are really common, especially in older animals (10+ years) and it's called a lipoma. Most of the time, they are benign, but high fat diets (like a lot of peanut butter) can cause an increase in a lot of unfavorable outcomes, including tumors. They don't store fat quite like we do, so be careful. They won't just get fat, they can get deposits the size of basketballs which can attach to muscle and be hard to remove. (03/30/2007)

By McTigerlily
Is Peanut Butter Okay for Dogs?
Peanut butter is OK to feed dogs, but the best thing you can do to your dog is to feed them organic virgin coconut oil. One teaspoon for small size dogs and double for larger dogs. The coconut oil is very nutritious and cures and prevents many diseases in humankind and dogs. My dog suffered for a long time from allergies that led to skin problems and constant scratching.

I found research on the website about virgin coconut oil that said we can also use it to treat allergies and as a supplement in dog foods. The result has been a dramatic improvement in the past few days. I just started a few days ago and can see a huge benefits on my dog, the next day after the first feeding of coconut oil.

I got the oil from the wholefoods store and it's virgin cold pressed and organic. It does not cost too much (7 dollars for a jar of 16oz.) and that saves on vet bills. Now my dog is completely scratch free and happy and pretty with shiny coat and sparkling eyes. Anyone who wishes to have info about this go on the website of organic virgin coconut oil to learn more about this, not only for dogs, but it can help you to improve your health. (12/06/2007)

By Pearl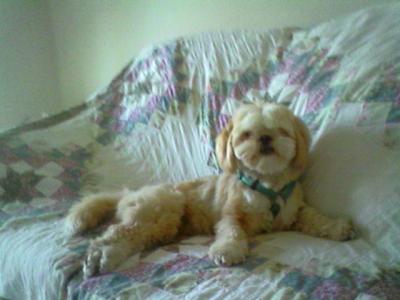 Is Peanut Butter Okay for Dogs?
When I eat peanut butter myself, I eat the natural kind. The harmful things in popular brands of peanut butter (Jif, Peter Pan, etc.) are the hydrogenated and partially-hydrogenated oils. These are bad for humans, let alone for dogs. Fats are not inherently unhealthy. There are many good fats, such as those found in peanuts. Also, sugar is not added to the natural peanut butters. It's simply what it says on the label with minimal other ingredients, if any at all. (01/22/2008)

By Katie J
Is Peanut Butter Okay for Dogs?
Like everything else, moderation is the key. Peanut butter is not bad for your dog in any way other then the fat content. So in moderation like everything else, it is a great treat and I never seen a dog not like it. (03/08/2008)

By Jeff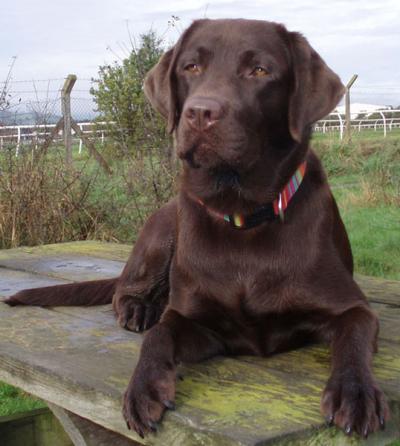 Is Peanut Butter Okay for Dogs?
I have to give one of my dogs a pill everyday and I give it with peanut butter. They love it, I have asked the vet and he said it is okay. We give them treats of peanuts too which they love, that is only on certain occasions. We do it as a treat. I have 3 dogs and they all wait by my cabinet where the peanut butter is everyday after work so they can have their "medicine" as I call it. (03/20/2008)

By skl
Is Peanut Butter Okay for Dogs?
I work with vets and in a holistic pet bakery and rehabilitation center, and we have a lot of treats with natural peanut butter in them. It is fine to give dogs peanut butter in moderation, but some dogs are allergic to a lot of things (including pnut butter) so you should test it before investing in a whole batch of treats. (05/23/2008)

By Lindsay
Is Peanut Butter Okay for Dogs?
I took my chocolate Lab mix to vet yesterday and he told me to give her the meds he prescribed with peanut butter. (08/14/2008)

By tinaangel
Is Peanut Butter Okay for Dogs?
Peanuts are a legume that grows underground not a nut. I think peanut butter should be fine. (09/27/2008)

By Diane
Is Peanut Butter Okay for Dogs?
Of course it is. I'm training to be a vet and I feed it to my dog all the time. She seems to be happier and more adventurous. Every other day is fine to give it to your own pup. They may seem younger even. (02/28/2009)

By Jacky
December 11, 2006
0

found this helpful
Is it OK to put peanut butter in my dog's food? It's the only way she eats it and if I don't put it in she won't eat for days, so I usually give in. Is this unhealthy and is there anyway to make her eat food without peanut butter?
Read More...
Related Content