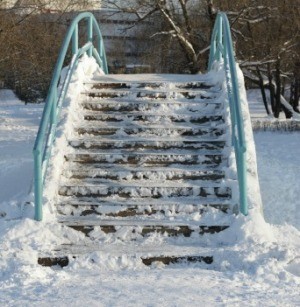 Solutions: Keeping Ice Off Steps and Walkways
Read and rate the best solutions below by giving them a "thumbs up".
Last minute company coming and you have a icy sidewalk? A fast way to make it not slippery is to use cat litter or fireplace ash if you have a fireplace. Just spread either along the sidewalk and your guests will have better traction.
By Debbie N from Tacoma, WA
I came home during a freezing rain storm on Sunday Night. My cement steps were treacherous and I was out of Ice Salt and table salt. I racked my brain to think of what I could use and went to make myself a pot of coffee then I thought of the used coffee grounds. They don't disintegrate so I tried them on my steps. They are still there and have not frozen over and are doing a fine job of keeping my stairs free of ice and snow. They don't seem to track in either.

By Katie from Sault Ste Marie, Ontario, Canada
Give a "thumbs up" to the solution that worked the best! Do you have a better solution? Click here to share it!
Archives
Thrifty Fun has been around so long that many of our pages have been reset several times. Archives are older versions of the page and the feedback that was provided then.
Here's an idea for a cheap salt bucket. If, like me, you occasionally purchase one of those large tubs of ice cream - the one gallon plus one quart size with a handle and a lid - save at least one tub to fill with salt for winter ice. It's the perfect size to carry out to the front or back walk. Since it has a lid, you can store it in the house without fear of kids or pets getting into or spilling it.
By Marie from West Dundee, IL
---
RE: Reuse Ice Cream Bucket as Salt Spreader
Added thought, put an extra one in the trunk of the family car, just in case you get stuck somewhere. I will be doing this myself, thanks for the original thought. (12/01/2008)
By papajan
RE: Reuse Ice Cream Bucket as Salt Spreader
Great Idea. I use mine as a Sun Tea maker. I made Sun Tea in the winter on my sister in law's glass enclosed porch. The sun was shining although it was very cold outside, made nice Sun Tea. When I left, my great-nieces asked their Mother for more "Tea in the Bucket". She finally figured out it was my Sun Tea in the Ice Cream Bucket! (12/12/2009)
By blondie29697
RE: Reuse Ice Cream Bucket as Salt Spreader
I don't eat buckets of ice cream but my mom gives me a lot of them. I use them for painting, gardening, to carry my tools, play buckets and on and on. (12/13/2009)
By melmarr
RE: Reuse Ice Cream Bucket as Salt Spreader
We buy 25 lb bags of dog food and rather than keeping it store in the kitchen, I put it in a big plastic trash can in the utility room. I take one of those ice cream buckets and fill that so I have some close at hand to feed the dogs. It just takes up less space for me. (12/13/2009)
By bettsnbob