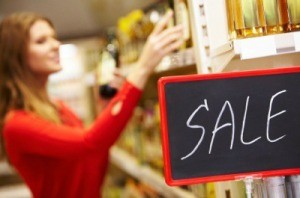 This idea takes time and planning to set up, but will save lots of money on the grocery bill. All the stores seem to cycle their sale items. Track some of the items that you use, and you may see them on sale often, You might even want to keep notes.
I have been doing this for several years, and with many of my staples, I NEVER pay full price. I have come to know that when peanut butter is on sale, if I buy 6 jars, it will last until the next time it comes on sale.
Last week Kroger store had eggs for $1.00 a dozen. Regular price was about $1.62. I bought 6 dozen. They keep quite a long time without going bad, and by the time I need eggs again, they will be on sale again.
Frozen vegetables that are regularly $1.29 to $1.35 are another item that cycles about every couple months. They will be on sale for 10/$10.00, and I buy at least 10. Cereal is another item that this works with.
If you start studying the sale ads, you will find the list just gets longer and longer. I have not paid over $5.00 for a large can of coffee for over 4 years. Of course, I am never loyal to one brand.
By Harlean from Hot Springs, AR
February 9, 2011
0

found this helpful
I do the same with meat. Pork is always on sale in the winter, steaks on certain holidays etc. I have a food saver sealer ( bought it in 1995 ) and we bought a small freezer for less than $150 so I package everything into meal sized portions. I reuse the vacuum bags and have never had a problem. Check prices online often because of fuel prices going up. Amazon.Com alerted us of the vacuum bags going up by $ 3.00 So I ordered them now and they will last me 2 years or more. I bought 3 pack of each size for $48. One roll at Walmart is $12 plus tax( may be more now) so it would have cost me $72 plus tax, got free shipping too. Since I live 30 miles from town that saves me on fuel also.
Read More Comments
August 4, 2006
0

found this helpful
Maintain a notepad with sale items you need so it's handy when you go shopping.
By Lesliew
By guest (Guest Post)
August 5, 2006
0

found this helpful
Several times the store clerks don't know what I'm searching for, so by showing the picture in their ad
I get what I'm after. Also, if there are savings coupons I might have missed in the flyer/ad, I have
them near and handy when I learn of them at checkout. It all saves a LOT of disagreement because a picture is worth a thousand words...
Read More Comments