Keeping a Dog Warm at Night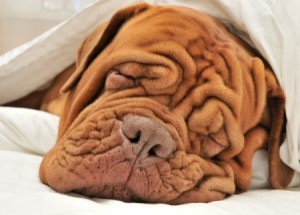 Many dog owners look for ways to keep their pets warm and cozy at night when the temperatures begin to drop. This is a guide about
keeping a dog warm at night.
Questions
Ask a QuestionHere are the questions asked by community members. Read on to see the answers provided by the ThriftyFun community or ask a new question.
How do I keep my dog's blanket on at night? She's 16, we get up 2 or 3 times at night to go outside, but I have to check on her every couple of hours at night because she also gets up to get a drink of water or nibble on her food. Then she goes back to her bed and gets cold sitting on top of her blanket, until I wake up and cover her up again. I love her dearly and need to figure this out. Thanks very much to all.
How can I keep my two dogs warm at night? They're outside dogs, both short haired, and both chew blankets to shreds and pull each others jackets off. Help!
June 6, 2017
0

found this helpful
You could build a doghouse. You also should feed your dog extra calories so it can keep itself warmer at night.
June 6, 2017
0

found this helpful
Eek, how cold does it get there? They must be kept warm. They should have a sheltered area with warmth. Try these as well, they don't need electricity:
June 6, 2017
0

found this helpful
Do you think a heat lamp will be useful? Even though they're outside dogs, can they be moved to the garage so it is a little warmer?
June 7, 2017
0

found this helpful
You do not say if they have a sheltered area or doghouse but if it gets very cold I feel sure that is where you would have to start. If the area is a smaller enclosure even a light bulb in a protected wire cover would help but I think you should talk to other pet owners in your area and see how they are coping with their outside dogs.
Most people with dogs would be glad to help you find a way to do this as they probably care about how their dogs fare in the cold weather.
Maybe the humane society could give you some pointers or give you names of someone to ask.
June 7, 2017
0

found this helpful
I feel your pain. We also have a dog that does this and does not like a dog house or heat lamp. Some things that we found to help considerable: To feed them extra and also to provide an open roofed shelter that is enclosed on at least 3 sides and maybe even part of the 4th, But a place they can get out of the weather, and provide them a pile of straw to burrow into. They also will sooner go into a straw bale cave than a dog house. Not sure why?? Maybe they still feel like they can get out quick and do their job. I dunno. But it works.
October 17, 2012
0

found this helpful
I have a Poodle age 9, she sleeps inside on a heated dog bed at night. Should I put a dog sweater on her also, or will that make her too hot? How hot is too hot for a dog? I turn the heat in the house down to around 58 at night.
By Kay
Related Content