Laurel's Egg Salad Sandwiches
This may very well be the best egg salad ever!
Approximate Time: 5 minutes
Yield: 4 sandwiches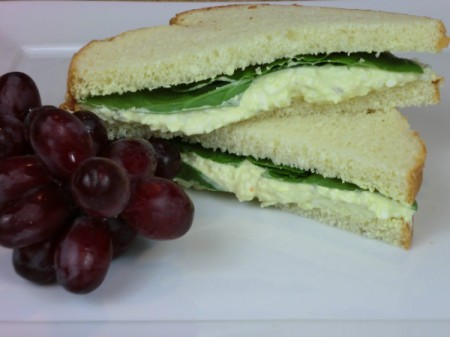 Ingredients:
6 hard boiled eggs, peeled
2/3 cup mayo
1 Tbsp spicy brown mustard
1/4 tsp garlic powder
1 tsp dill relish
baby spinach leaves
potato bread (or your favorite)
Steps:
Peel, rinse, and dry the boiled eggs.
Slice them and put them into a bowl.
Using a potato masher, carefully mash the eggs until all of the egg whites are cut up and the yolks are totally crumbled.
Add mayo and stir well to combine. I added the mayo 1/2 cup at a time so that I could adjust the creaminess.
Then add the relish, mustard, and garlic powder. Mix well.
Approximately 1/2 cup is enough for one sandwich. After putting the egg salad onto the bread, you can add spinach leaves for extra nutrition. Enjoy!
By lalala...
Feedback
Read feedback for this post below. Click here to post feedback.

By
10/11/2012
I will make this egg salad sandwich, sounds great. I think it was thoughtful to put the pictures to make it fun and the recipe even easier to follow for beginning cooks out there.

By
10/11/2012
While some users may not need additional photos, many users have found this new format helpful. We now have a "print without images" option. For an even "greener" option, you can select Follow on a post to bookmark it within your account. No wasted ink or paper. :)

By
10/11/2012
Looks interesting. I'll probably add some chopped onions for crunch and flavor. Ditto to the previous commenter's suggestion. Please use fewer photos. No one needs to know how a peeled boiled egg looks. Nor an egg carton or bottle of mustard. I'd much rather save ink and paper. One photo of the final dish is enough, and maybe some unusual ingredient. A good example of a recipe listed well is "Chinese Hot and Sour Soup." One photo of the cooked soup and one photo of an unusual ingredient.

http://www.thriftyfun.com/Chinese-Hot-and-Sour-Soup.html

By
10/10/2012
What's the matter did you get up on the wrong side of the bed bryguyf69? If you don't look at her recipes, but obviously you do, why bother leaving a snarky comment. Your comment may have been meant to be constructive but it is not.

By
10/09/2012
I agree with BriannaN from another of your recipes: Please keep the photos to a minimum, and only to what is necessary. For example, showing the ingredient packaging is useless since what's available in our local supermarkets will look different. Having so many photos not only waste a lot of ink and paper, but makes following the recipe difficult online because we have to constantly scroll down. That's not good while your hands are dirty when cooking.

Furthermore, storing hard copies of your recipes takes more space because of all the useless pages. With other recipes, I can print the entire recipe on 1 page or even an index card.

The best cookbooks only show the finished dish, unusual techniques (i.e. how to fold a pastry) and unusual ingredients (i.e. Chinese shredded jellyfish). Otherwise, the text speaks for itself.

As things stand, I usually ignore your recipes when they come up because there are so many other similar recipes that are sensibly listed, aka without useless photos. That's a shame because they look delicious. Go green!

By
10/02/2012
YUM! Will try this as I have half a carton of eggs in the fridge and can't afford groceries. This will be great for using what I have :)
Post Feedback
Add your voice to the conversation.