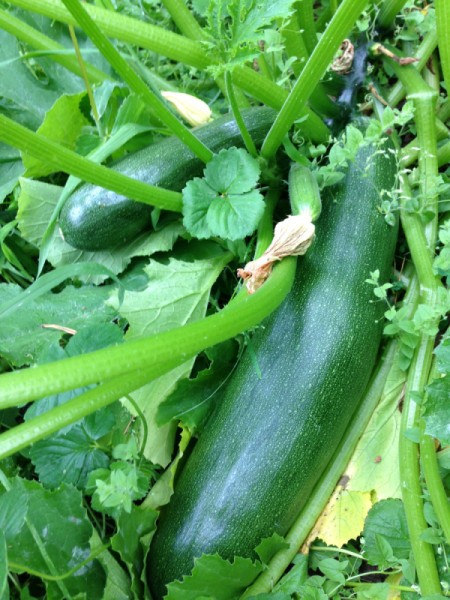 Yes, it is the time of year we long for during long, dark winter nights, the time of warmth and plenty. Trouble for some of us is that plenty can quickly become a bit too much as the glut of produce arrives more and more zucchini and vegetable marrows are pressed upon us by harassed harvesters who put a few too many plants in 'just in case'.
I never turn anything down; even when my husband, eyebrows raised, gently hisses 'what are you going to do with more of this stuff' as our hostess joyfully fills another bag with zucchini (or their awkwardly overgrown siblings, big, green, teenaged vegetable marrows) I don't know about you, but seeing the relief in the eyes of the gardener with a glut when someone will willingly take even just a little of their irresponsible over-production out of their sight, is worth a bit of puzzling over what on earth to do with it all once you get it home!
The secret of my survival is that I was blessed to be brought up in a family with its head in a book and its feet planted firmly in the land. I learned to dream and imagine, but I was also taught to cook and create usefully with my hands. There is a family story still dutifully told to our groaning children about how my brother, sister and I once fashioned a game from acorns and an egg carton, but we really did; not because we had to, but because it was fun and it made us laugh together. So as their eyes roll and they return to whatever electronic pacifier they are ruining their thumbs on, ours meet and we smile again at the binding memory.
Now we all have that miracle of the modern age, the cornucopia busting font of all knowledge the internet. I still think it is so amazing to be able to have half a dozen recipes for summer squash disposal literally at my fingertips and, thank my lucky stars, I have the skills to fearlessly use them, even to change them to suit our own tastes and use whatever is in the store cupboard.
So when I return to my beleaguered friends, wild eyed with the guilt of those who have had to compost something someone, anyone, should have eaten, I smile and serenely place a jar of my prized Marrow Ginger and Cardamom Jam, or Marrow Pickle on their table and anticipate the grateful gold rush that is bound to ensue!
By Sussan E 4 18 08/15/20130 people found this helpful
I loved your article because I too hate to have anything go to waste. I also have a husband that rolls his eyes whenever I accept someone's "gift" or hand-me-down. Do you share your jam recipe? It sounds amazing! Many thanks.
By yomama1971 3 38 08/19/20130 people found this helpful
To try to share bounty? Very responsible. The only irresponsible thing about it is to not have found someone who needs and would appreciate it more than you. Or, you could blow the lid off irresponsibility by just flat out letting it go to waste like I did this year.

I am inspired by your friends to find someone who needs it next season.
By Annette 4 12 08/19/20130 people found this helpful
Another suggestion for what to do with an overabundance of produce: Take it to your local food pantry. We ask backyard gardeners to grow an extra row for the hungry. They bring it to us to give away. If we have any left over, we either save it for the next time we are open or take it to the homeless shelter. There are always folks who will be grateful for the fresh produce. Thank you for thinking of others who are less fortunate.
By Linda 1 86 08/20/20130 people found this helpful
I was thinking that some people may freeze the squash for winter months. I had a neighbor once that froze green peppers. And when he pulled them out they looked like they were just cut fresh right from the garden. I didn't believe they were frozen. But he proved it. He showed me his freezer. He sliced them and put them in zip lock bags that also contained water. Some how with the water the slices looked fresh when taken from the freezer.

Possibly the same could be done with squash. Also I saw on TV that people use ice cube trays for garden spices such as Mint, Rosemary, and other herbs. They also ad water in each individual ice cube section right over the chopped up spices in each separate space. I would imagine that once they were frozen they could put a few in zip lock bags with out them all sticking together.

Imagine having what looks and taste fresh right from the garden in the middle of winter. A great way to make due with the extras we seem to accumulate in life leaving a little extra change in our pocket.