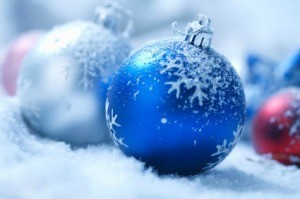 Making realistic, artificial snow for displays and crafts can be fun. This guide is about making artificial snow.
Ad
---
Solutions: Making Artificial Snow
Read and rate the best solutions below by giving them a "thumbs up".
I was looking for a way to jazz up some Christmas decorations, etc. and found this quick, easy artificial snow recipe.
Ingredients
1/2 cup granulated sugar
1/2 cup talcum powder
Directions
Mix together. Sprinkle mixture over any area you want to decorate after it has been spread with liquid starch or a mixture of 1/2 glue and 1/2 water. Let dry.
Hint: The more sugar, the more sparkle.
By Chris M. from Oshkosh, WI
Give a "thumbs up" to the solution that worked the best! Do you have a better solution? Click here to share it!
Questions
Here are questions related to Making Artificial Snow.
Does anyone know what I could use for fake snow on glass Christmas balls? I need it to be permanent and frugal as I'm making several dozen. I'll post a pic when I'm done with them, IF I get done LOL. Please help!

Sandy from Pittsburgh
AnswerWas this interesting? Yes No
Ad
---
---
Most Recent Answer
By kathleen williams 76 1,662 03/10/20090 people found this helpful
Search for"how to make fake snow for snow globes"good luck.
---
How do you make Craft Fake Snow Paste? I researched this web site throughly to find out how to make some fake snow paste for using in craft projects on wood and metal surfaces. I put in lots of key word phrases but only found two that I could find. One said to use Epson salts, Elmer's glue and a tiny bit of water, that was a total loss for it turned to goop.

I need it to be pasty and gritty so I can spread it with a wooden craft stick and then when it dries it ends up hard. Walmart no longer sells this type snow paste in there craft department at all. And I need to finish a lot of wooden snowmen and Santa figures using it on them by next week. So if any one has the recipe for this can you please tell me asap?

JC
AnswerWas this interesting? Yes No
Ad
---
---
Most Recent Answer
By Julie 49 565 11/17/20070 people found this helpful
I want to thank all of you kind people who sent me ideas and info. After a lot of testing, this is the one I went with that gives good texture and sparkle. I took the advice of the post who suggest spackle. I had a whole bucket in the garage.

I mixed it with a little water and added regular table salt to give it grit. I spread it as thick or thin as I needed it. Then on the top of it while still wet, I sprinkled salt. On some of it i added a tint of light blue acrylic paint to give some of the snow a blueish tint. Below are two of my hand painted wooden items with the paste applied in certain places.

I plan on putting little felt snowmen I made to sit in each corner of the rocker & add a folk checkered rag bow ribbon to the top ot it. The other is an old window I hand painted on. The tiny red Santa was made from brown paper bags, cut in that shape hot glued together, filled with poly fill fiber, then hand painted with paints & the paste I came up with. They were drying, so I took a picture of them to show you all how they turned out. So thanks everyone I appreciate your fast replies! :) Julie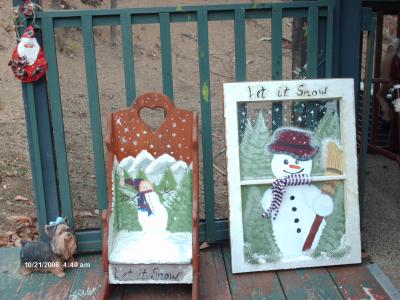 ---
How do I make "snow" from Ivory flakes?
By Sue from Waukegan, IL
AnswerWas this interesting? Yes No
---
Most Recent Answer
Archives
Thrifty Fun has been around so long that many of our pages have been reset several times. Archives are older versions of the page and the comments that were provided then.
I read somewhere about using joint compound for "fake snow".Does anyone have info on this.This stuff you buy is so expensive. And I use a lot of it. Any ideas would be helpful.
Thanks,
Anita from Pritchett, TX
---
RE: Making Fake Snow
I don't know what you are using the fake snow for so this may not work for you; I used the canned spray foam insulation for what I needed and then painted it with white craft paint. I was able to form what looked like snowdrifts and the foam expands as you spray it. This was for a permanent craft so I wouldn't recommend it for something temporary. (12/01/2006)
RE: Making Fake Snow
I've heard that you'd make it up a bit thinner than usual and use electric beaters to "whip" it up. (12/01/2006)
By Cyinda
RE: Making Fake Snow
If you go to www.google.com and type in... "using joint compound for fake snow" there will be all kinds of ideas. I have seen it used just to coat styrofoam balls in to make them look textured. I hope this helps. (12/01/2006)
By Michele
I want to know how I can make cheap fake snow for a tv comercial. Someone is going to hold it in his hands, so it has to look very real but it can not be ice because it will be shot in a dessert in the Dominican Republic. I need ideas.
Thank you,
Giselle
---
RE: Making Fake Snow
Try instant mashed potato flakes. They will drift through the air, and you could experiment with mixing up the potatoes to different consistencies to form snow balls. (01/08/2007)
By jean
RE: Making Fake Snow
I don't know if they still make Ivory Flakes Soap for clothes or not, but I remember we used to get it, and add enough water to make a paste, and whip it with an electric mixer to make snow. You could put it on your tree, or wherever you wanted "snow". (01/08/2007)
By Jennifer
RE: Making Fake Snow
The stuff you buy in the fabric store for stuffing pillows might work. Or maybe shaving cream. (01/08/2007)
RE: Making Fake Snow
Thank you, I will try your ideas, I think the Ivory Flakes Soap might work cause I need something that would let me do whatever I want with the "snow". (01/08/2007)
RE: Making Fake Snow
I heard somewhere when they were discussing using snow in a commercial that using shredded plastic, white of course...like white garbage bags, try a "shredder " to shred paper to see if it gives you what you want...just a thought ?) (01/09/2007)
By jeanne
RE: Making Fake Snow
My mother and I used to make candles to achieve a snow effect we would melt paraffin wax and an use an egg beater while it was cooling, for a sparkle effect we would use a shimmer glitter in the cooling process while using the the egg beater. Also using by grating it after gives "flakes" of snow that glimmer in the light. (01/14/2007)
By easycrafter
RE: Making Fake Snow
Hi! I'm also looking for ways to make snow! I'm decorating a hall (and outside the hall) for my Yr 13 Ball... I'm the Chairperson of the Student Council and have got stuck with making the snow! lol any ideas would be greatly appreciated (our ball is in July so its cold then anyway!) (04/29/2007)
By Dana
RE: Making Fake Snow
Try Sodium Polyacrylate. (A.K.A, a powder that turns into fake snow). Just mix with water and BOOM instant snow! (11/21/2007)
RE: Making Fake Snow
In studio photographers pay top dollar for shredded Styrofoam. You could always collect your own scraps and shred them yourself. (11/24/2007)
I need fake snow that will stick to people for about 10 minutes for a church play. Any ideas? Thanks.
Dale from Springfield, MO
---