I moved out to the country and they do not provide trash-pick up as a part of the water bill. It costs $25 a month for that service. So I wanted to come up with more ways to reduce and reuse. I normally do anyway but now it is even more important. I can burn trash but the weather hasn't been all that great.
Backing for Patterns
As I open food boxes from the kitchen, I flatten them and use them as a backing for patterns I trace off the internet. I use my lighted PC screen as a light box. I transfer these tracings onto the flattened boxes so they last longer.
Cardboard Foot Stool
The biggest problem has been cardboard boxes, which I have solved! I cut a stack about 18 inches high and dinner plate sized circles. I pieced several 1/2 circles together when the pieces got to small for whole ones and taped them together. Then, I taped several small stacks together for easier handling. I got an old clothing item, cut the hem off and made a strong tie and tied the ends together securely. Previously I crocheted a round rag rug that I put a drawstring of crocheted rag chain to form a bag. I slipped my stacked cardboard down into the bag and hooked it shut securely. Now, I have a very comfy footstool and plan on making a few more but larger around. These could also be made into a booster seat just the same way and covered with your choice of sturdy fabric or whatever. Make them whatever diameter you need!
Soup Cans
In addition to that I save some soup cans, rinse them out to use for meat drippings. I have a few covered ones for catchalls and pencil holders. Of course the cans could be used for basically crush resistant mail tubes too. My son had a teacher who recycled hers for cute little gift buckets when there was a class party filled with goodies and candies! Normally she painted a theme on them!
Crochet With Plastic
I crocheted an appliance plastic, which was pretty good size into a nice patio rug and added blue fringe made from a new blue trash sack.
Paper Beads
I also make paper beads from other papers I accumulate! I love it.
Source: I came up with these ideas while trying to keep from paying for trash pick-up service! It's working!
By melody_yesterday from Otterville, MO
By guest (Guest Post)
Flag
February 11, 2009
0

found this helpful
I live in Costa Rica in an area that does not have garbage pickup. Fortunately a nearby town does take recyclable plastic, glass, tin cans and aluminum cans. But I have discovered that I like to keep and clean some glass jars to use for leftovers to go in the fridge. I like them better than tupperware or the like because you can see what is in them and we tend to actually use the leftovers more this way Also, I have used Styrofoam as a pin cushion. Styrofoam will never decompose in a land fill, and is harmful to burn. I save the Styrofoam "plates" which come with some fresh meats and wash them well and reuse them for working with crafts. You can put paint in them, or glue which can easily be washed out and reused again. I even used one once to make a doll bed and covered it in cloth. I am still trying to find ideas for used wine bottles, so anybody got any ideas?
October 26, 2009
0

found this helpful
angeltrumpet: the wine bottles: use for tapered candle holders,
cut them & invert them sand off the edges & they can become wine glasses (goblets) I saw those on eHow or Instructables, I saw really cool rings that were made from the necks of alcohol bottles : they were cut just below the top.
Here are several things you can do with empty wine bottles : http://www.instructables.com/tag/?s ... ype%3Aid=on&q=melted+wine+bottle
Here's a video HOW TO for melting a wine bottle in the toaster oven:
http://www.youtube.com/watch?v=Ubnpp6FbXgg&feature=player_embedded
but if you look on eHow or Instructables there are written tutorials too.
the cheese plates they make sell for $26 - $30 on 2 different sites I looked at!
So, maybe that's a little extra income for someone ! ;) Google : bottle jewelry.
I love the bottle rim rings.
August 24, 2013
0

found this helpful
We have had active recycling since 1991 in our county (Swift/MN). It it picked up weekly at our doors (town/rural). We don't have to sort it out, just one bin. Our compostible and and NON compost garbage has proper procedure as well. Non-compost must be tied in a bag, the other, left open or not bagged, but in trash container.
I recycle all the time. We cannot buy eggs in styro, packaging from many things have changed to reuse/recycle friendly. Many of use use our own bags to shop with, (even those must be remembered to be washed). Many places are available to drop off your unused household/clothing items for free. Law mandates recycling of car oil/batteries. Plenty of places recycle metal/steel, etc.
My husband's work place has computers doing goofy print outs in error and so he gets the paper to bring home for the grandchildren and neighboring daycare to use for art paper.
My neighbor gal went back to college and asked for our kids to draw pictures and send to her. She will hang as decorations on their dorm walls. She is the RA. Besides getting mail from home!
When I get new technology 'stuff' I find someone who can use the 'old'. Whether updated computers, etc. I have been able to help older citizens stay in touch in the 21st century. And kept the computers out of the landfills. My son does this for free. And we help keep them in antivirus status...most often with a $10 name brand protection.
We have a local swap/shop on Facebook which moves everything and anything around in the community. Like a garage sale online. From cars/tools, clothing, baby items, books, household, etc. It is set up with tight rules and you must get an invitation to join the group. No spam, no trash. Coordinator a busy mom and everyone abides by the rules.
McD pop cups became my plants in the garden wrap around this spring. I cut the bottom off, slit up the side and stuck in the ground to protect the young plants. When plants sturdy enough, tossed into the recycle bin for pickup. Have used 3 lb margarine containers the same way. Also, you can cut their bottoms out, stick in ground and have your planter ready to go in the garden. Contains flowers, keeps weeds out.
Laundry bottles are used in garage for oil drainage containers, carried to the recycler.
Just some of the things off the top of my head.
August 24, 2013
0

found this helpful
Forgot one of the neatest things seen and have done. Taking old VHS or audio cassettes. Take screws out, unwind the tape. If you crochet, get to it. People also use plastic shopping bags and cut them into strips and crochet summer beach purses. They sell awesomely at craft fairs.
October 21, 2013
0

found this helpful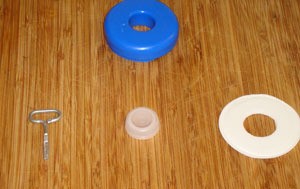 Does anyone have any ideas of what I can do with these objects? I've saved gobs of them. A description of the objects are as follows:
One is a key that opens a can of corn beef hash.
The white Styrofoam circle and the small clear plastic cap are both inserts to the blue object that is a top for a water cooler bottle.
I wanted to make a cool game or craft project for my step children when we all visit together. The large blue piece makes an excellent stack toy, but the other pieces I have no ideas for them. Please share your ideas.
Thanks.

July 22, 2008
0

found this helpful
What do the keys sound like when they are clinked together? Could you use them as components in a wind chime?
The white styrofoam piece could hang down to "catch the wind" or be used as the top ring to hang the other items from.
July 22, 2008
1

found this helpful
Make a big checkerboard on any solid color fabric, painting in the alternating color with fabric paint or Sharpie colored pens so it'll be permanent. You could mark the squares, guided by a ruler, then let the kids paint them in so they get some quiet crafting time. You could let the kids mark or paint on the colors, or even have them glue the white styrofoam circle onto them for the other color, and you have a big set of checkers! Because they stack, it would be easy to 'king' the checkers. Since you have a lot of these anyway, wouldn't matter if they lost a few. They could even play outside with them.
July 23, 2008
1

found this helpful
The first thing I saw was an angel. Glue the key to the back of the smaller plug like piece as a halo. With a permanent marker, draw eyes and mouth the opposite side of the plug (might have to sand and brush off surface if it is slick or the markers won't take). Gather the white ring in the middle to make the wings. Glue to back of the small plug allowing to hang down below the bottom edge. Attach plug with halo on the top edge center of the blue ring.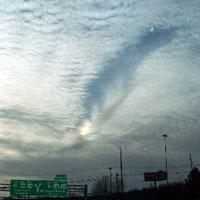 July 24, 2008
0

found this helpful
Depending on the ages of the kids, one of the most fun, entertaining and interesting things you could do, would be to simply lay out the pieces, and let the kids decide what to make with them! Kids are so creative, you'll have a blast watching what they can come up with!
You could even make a contest out of it. Precede as above, but tell the kids that it is a "Hot Summer Invention Contest" and give prizes. You can create several categories (maybe, coincidently equal to the number of kids there are?!?) such as "Most Useful Invention", "Most Creative Invention", "Prettiest Invention", "Silliest Invention", etc.
Just have fun with the kids, that's the most important thing!
By guest (Guest Post)
Flag
August 29, 2008
0

found this helpful