Many of the items that often end up in the trash or the recycle bin would actually be perfect for use in many recycle crafts. This is a guide about making crafts with recycled items.
I moved out to the country and they do not provide trash-pick up as a part of the water bill. It costs $25 a month for that service. So I wanted to come up with more ways to reduce and reuse. I normally do anyway but now it is even more important. I can burn trash but the weather hasn't been all that great.
Backing for Patterns
As I open food boxes from the kitchen, I flatten them and use them as a backing for patterns I trace off the internet. I use my lighted PC screen as a light box. I transfer these tracings onto the flattened boxes so they last longer.
Cardboard Foot Stool
The biggest problem has been cardboard boxes, which I have solved! I cut a stack about 18 inches high and dinner plate sized circles. I pieced several 1/2 circles together when the pieces got to small for whole ones and taped them together. Then, I taped several small stacks together for easier handling. I got an old clothing item, cut the hem off and made a strong tie and tied the ends together securely. Previously I crocheted a round rag rug that I put a drawstring of crocheted rag chain to form a bag. I slipped my stacked cardboard down into the bag and hooked it shut securely. Now, I have a very comfy footstool and plan on making a few more but larger around. These could also be made into a booster seat just the same way and covered with your choice of sturdy fabric or whatever. Make them whatever diameter you need!
Soup Cans
In addition to that I save some soup cans, rinse them out to use for meat drippings. I have a few covered ones for catchalls and pencil holders. Of course the cans could be used for basically crush resistant mail tubes too. My son had a teacher who recycled hers for cute little gift buckets when there was a class party filled with goodies and candies! Normally she painted a theme on them!
Crochet With Plastic
I crocheted an appliance plastic, which was pretty good size into a nice patio rug and added blue fringe made from a new blue trash sack.
Paper Beads
I also make paper beads from other papers I accumulate! I love it.
Source: I came up with these ideas while trying to keep from paying for trash pick-up service! It's working!
By melody_yesterday from Otterville, MO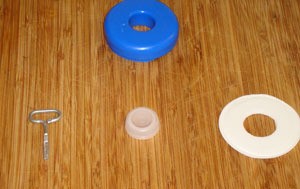 Does anyone have any ideas of what I can do with these objects? I've saved gobs of them. A description of the objects are as follows:
One is a key that opens a can of corn beef hash.
The white Styrofoam circle and the small clear plastic cap are both inserts to the blue object that is a top for a water cooler bottle.
I wanted to make a cool game or craft project for my step children when we all visit together. The large blue piece makes an excellent stack toy, but the other pieces I have no ideas for them. Please share your ideas.
Thanks.

Answer
Was this helpful?
Helpful?
Yes
By guest (Guest Post)
Flag
Hi, wow great idea to make a game. Perhaps it could be something your Grandchildren and you do together. The pieces that you've shown could be board game pieces and you could play it outside with chalk squares so that each time they play it could be "new". Enjoy.
Reply
Was this helpful?
Helpful?
Yes
Read More Answers...