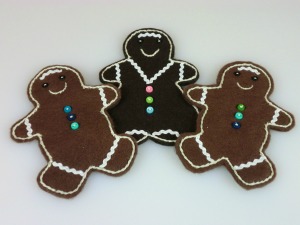 These simple Christmas decorations can be created with the kids in your life. This guide is about making felt gingerbread man ornaments.
Ad
---
This video shows the steps to making your own Felt Gingerbread Man Ornaments. This ornaments make great gifts. View the full project here: Felt Gingerbread Ornaments
Solutions: Making Felt Gingerbread Man Ornaments
Read and rate the best solutions below by giving them a "thumbs up".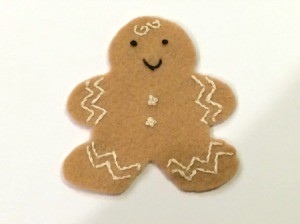 This little gingerbread man would look adorable on anyone's tree for Christmas.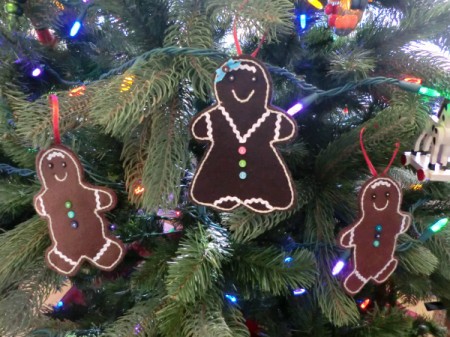 When I was little my mom made me a felt gingerbread ornament. I decide to make some new ones for my kids this year. They are easy to make and you can decorate them any way you want.
Approximate Time: 1-3 hours
Supplies:
gingerbread cookie cutters
brown felt
small rick rack trim
white embroidery floss
tiny buttons
ribbon
sewing needle and thread
Ad
---
Steps:
Start by tracing a gingerbread cookie cutter onto the brown felt. You will need two for each ornament. Cut them out.
Next, stitch the two pieces together with embroidery floss using a back stitch. Go around the entire outside.
Next, stitch the mouth onto the gingerbread man.
Cut pieces of rick rack to decorate the gingerbread man with. I chose to do hair and the edges of a shirt and pants. For the gingerbread woman I did more of a dress design. NOTE: I recommend melting the edges of the rick rack with a lighter to prevent unraveling.
Stitch the rick rack pieces on with embroidery floss.
I found tiny buttons at the craft store. I used black ones for the eyes and colored ones for their clothes. For the gingerbread woman, I added a bow to her hair too.
Cut pieces of ribbon to make the hangers. Make a loop and stitch them to the back of the ornaments.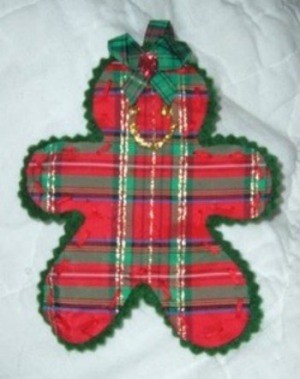 Felt and shiny plaid gingerbread ornament with topstitching, glitter face and ribbon bow.
Approximate Time: 30-60 minutes.
Supplies:
felt of your color choice
plaid or any fabric you choose
glitter pen or tube
crochet thread to match color scheme and large needle
ribbon of your color choice
crimping scissors or regular depending on the effect you want
mix of 3 parts glue, 1 part water
foam art brush
I don't recommend you use the cheapies for painting. The porousness needs to be pretty dense.
cookie cutters or stencils
Instructions:
Choose the cookie cutter shape you want. It can be a gingerbread man, woman, snowman or woman, Christmas tree, angels, or any other holiday shape. This one is about 4 inches tall by about 3 inches wide. On a plastic surface like a cutting board, lay the fabric you choose out flat, ironing if necessary.
Mix your glue well. Not mixed well, it will be too watery and ruin the effect. If your fabric has a nap, such as flannel, glue the back of it. If it's shiny, the front is fine.
Hang the fabric up with clips from a hanger to dry, about 15 minutes or so. Make sure you don't drape or change the shape of the fabric. You can't press it after it is stiffened. If you plan to make multiple ornaments, stiffen all the fabric at once. This saves time.
When completely dry, lay back down on the flat surface and trace around the shapes you have chosen.

NOTE: Felt markers may bleed! I recommend a pen or pencil as long as you can see it.

Stiffened fabric cuts like paper and doesn't unravel. So, to save fabric, you can cut multiple shapes pretty close to each other.

Cut out the shapes. Lay them on the felt you chose, and cut around them with a bit of room to crimp closer later, at least 1/2 inch.

Learn from my mistake! I used a double strand of crochet thread to top stitch it and it twisted. Use just one strand and it will look cleaner. Top stitch the fabric shape to the felt backing. Once it is centered and you are done sewing, you can crimp around the edges.

You don't have to top stitch it. You can make dash lines with colored fabric paint if you want to speed things up, or if your hands can't handle sewing. If you do this, just put some regular, undiluted glue on the back of the stiffened fabric and glue it down onto the felt. Weigh it down and let dry.
You can either glitter pen your face on now, or do all the cutting, all the top stitching and then all the faces at the same time.
I used some pretty plaid fabric for the body and alternate but matching color for the ribbon. You don't have to do the ribbon at all, but if you do, I dropped a bit of red glitter to the center for a nice touch.
If you did angels, for instance, you might want something like gold or silver glitter for the halo, a black felt top hat for the snowmen, etc.
If you chose a really country plaid, you may want to give him a few little buttons on his chest, or choose puff paint and just drop two or three where buttons would be.
Be creative, have fun and remember that you are being thrifty. If the first time doesn't work out, you might be losing about .25 of stuff.
N-JOY!
By Sandra from Salem, OR
Give a "thumbs up" to the solution that worked the best! Do you have a better solution? Click here to share it!
Questions
Here are questions related to Making Felt Gingerbread Man Ornaments.
I had a pattern for a snowman ornament that was made out of brown felt with a gingersnap for the face and another gingersnap for the stomach area. A face was attached to the face cookie and a red ribbon bow was attached to the neck. The pattern fit store-bought ginger snaps and was a darling decoration for gifts and for a tree. If anyone has this pattern, I would really like to get a copy of it. Thanks to any who might have information about this.

Marty
AnswerWas this interesting? Yes No
Ad
---
---
Most Recent Answer