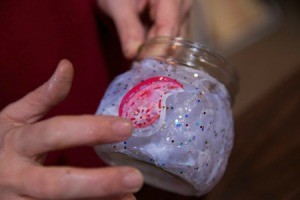 This craft supply can be made inexpensively at home. This guide is about making homemade mod podge.
Ad
---
Solutions: Making Homemade Mod Podge
Read and rate the best solutions below by giving them a "thumbs up".
Make your own Mod Podge for decoupage. I just covered the lid of a jewelry box I got for $.50. The inside was a lovely red satin and velvet, but the top was down to the cardboard. It was white leatherette, and I found a 50s vintage fashion photo in Bazaar, just the right size, and used my homemade mod podge (which is just white glue thinned with water) to decoupage the top. Now it looks as if it's always been that way and is quite stylish, all for $.50, a magazine photo, and some white glue!
Source: me and a craft activity I saw at a fair years ago where they used this white glue solution.
By Pam from Los Angeles, CA
Give a "thumbs up" to the solution that worked the best! Do you have a better solution? Click here to share it!
Questions
Here are questions related to Making Homemade Mod Podge.
What is the water to glue ratio to make decoupage glue, and can I use this recipe on fabric to tin and plastic?
By Kathy from Frankfort, IL
AnswerWas this interesting? Yes No
Ad
---
---
Most Recent Answer
By Phyllis Smith 2 47 10/28/20100 people found this helpful
I have used equal parts of water and regular white glue to decoupage paper to something else. For a recent project where I was adhering cloth letters to wood, I used the decoupage glue and did not water it down. I "painted" 2 layers to make sure they stuck!

Tin and plastic should work. I did cancelled stamps on tin plates once. I would be careful to wash the plastic in Dawn to be sure there is no grease on the surface.
How do I make Mod Podge with South African products?
By Anne Marie from South Africa
Can you use fabric glue for decoupage?

By Betty
I want to place decals on a painted wood surface. Will the mod podge recipe work and be clear when dry so the decal will not show cloudiness?
By Tom C.
Archives
Thrifty Fun has been around so long that many of our pages have been reset several times. Archives are older versions of the page and the comments that were provided then.
Does anyone have a recipe for decoupage glue like mod podge? It is so expensive.
Thank you.
Dameemag from Rothbury, MI
---
RE: Decoupage Glue Recipe
You can add a little bit of water to white school glue and use it the same as Mod Podge. (11/30/2006)
By Michele
RE: Decoupage Glue Recipe
It is possible to make a type of Mod Podge by mixing equal parts of white Elmer's glue and water. It isn't as shiny as Mod Podge, but does work. The other solution I found is a product called "Miracle Podge" at my local dollar store.
cailifouhn (11/30/2006)
RE: Decoupage Glue Recipe
Mixing 3 parts glue to 1 part water is closer to actual Mod Podge, both in texture and shine. (12/26/2007)
By mrsdam
I am looking for the best recipe to make Mod Podge that is clear when it hardens and is easy to rub down with a 220 grit sand paper. Thank you.
By A. S. from South Africa
---
RE: Decoupage Glue Recipe
I buy wood glue at my local hardware shop. It is white, just like Mod Podge, but comes in a large 1kilo bucket and is very cheap. It is thick so it must be thinned down and I use the 3:1 ratio as the person above suggests. I have been using this for years and it has worked out very well for me and saved me so much money! (03/14/2010)
By Lisingreece
How do I make decoupage out of white glue?
By Carla from Garland, TX
---
RE: Decoupage Glue Recipe
I have used the regular Elmer's Glue-All mixed with equal parts of water with great success. Just be sure to allow your work to dry thoroughly between layers and after you've completed your piece. Then you can add a coat of clear varnish (water type) or shellac to protect your finished object. Do not use the school glue for these projects as I don't think it's really thick enough to begin with. My husband bought a gallon of Elmer's Glue-All to use in his own work, and it's the most economical way to go if you're going to be doing a lot of decoupage work. I've covered entire bookshelves in decoupage and it worked great. I wouldn't hesitate to use it on large items that were not going to be getting damp or treated roughly. Good luck and take a picture when you're done to share with us. We'd love to see it. (09/12/2010)
By PookaRina
RE: Decoupage Glue Recipe
You can use school glue just with about half water to amount of glue. Check it out for yourself on a small piece, let completely dry and see for yourself if its going to hold well. (09/15/2010)
By micksgirl