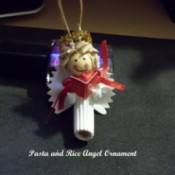 While looking for an old post of mine, I found requests for instructions on how to make the Macaroni Angels. I am so sorry I didn't see them before last night. I have taken pictures with the list of materials needed and if the instructions are not clear enough please email me and I will answer any questions. Again I apologize for not answering sooner.
Editors Note: We have set Vi's submission up as a craft project, including her photos with accompanying instructions. We have also recreated a materials list and instructions separate from, but in addition to, the photo notes and lists. Thanks to Great Granny Vi for providing the answer to your feedback. Enjoy.
Materials:
wooden beads 16mm - some already have faces painted on them
craft paint - white and hair colors (black, brown, tans, etc.)
pasta - bowtie (farfalle) for wings, small elbow (arms), and rigatoni (body)
rice for the hair
gold thread for hanging
gold chenille stems or gold wedding bands for halos
narrow ribbon for the bows
cardstock or any scraps from old greeting cards that are colored on one side for song books
tacky glue or hot glue and glue gun
The "heads" had the faces painted on already. I painted the rice "hair" after it was glued on. On some, I used hot glue. For others, when I had the time, I glued with tacky glue. These angels are only 2 1/2 inches long. It depends on the size of the pasta pieces.

Directions:
I glue the pasta together and then paint it white.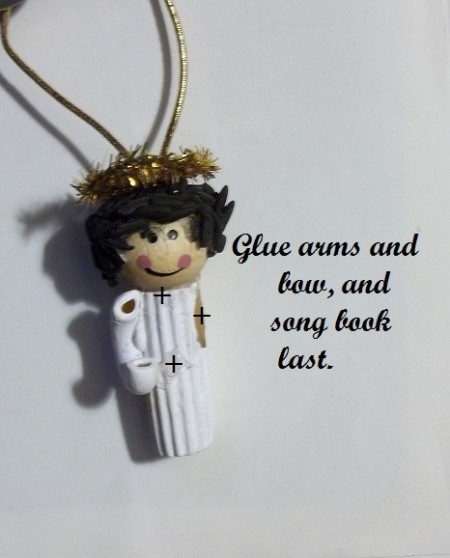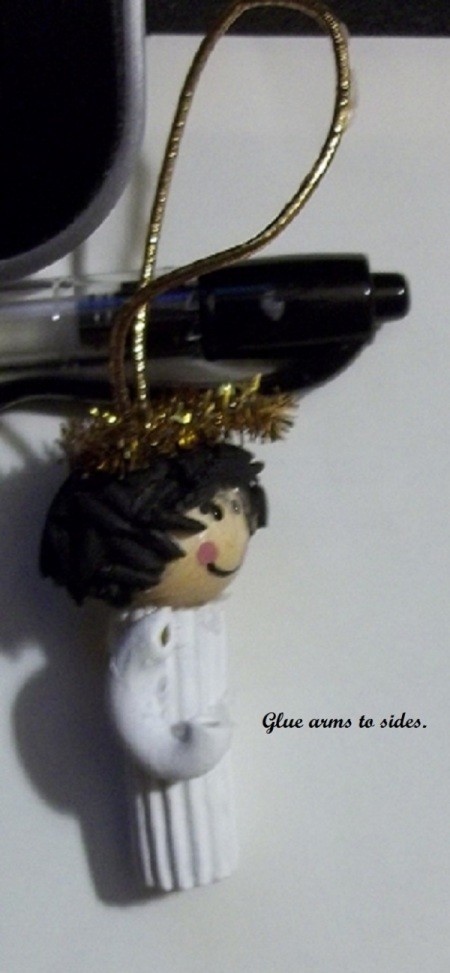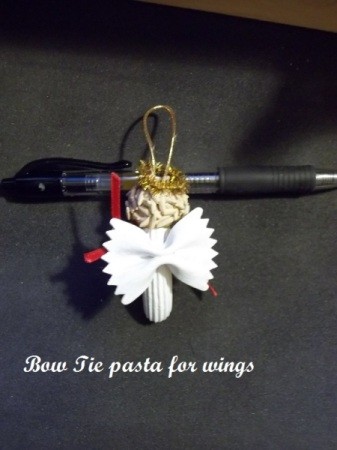 I pull a loop of gold thread (or thin fishing line) through the hole in the bead, stuff glue in and around the hole and dip it in the rice.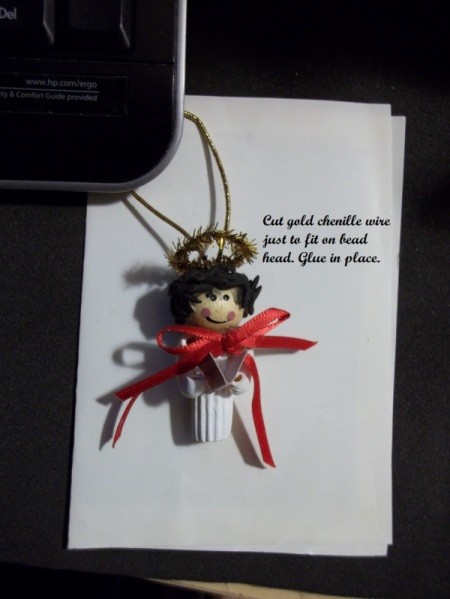 Let it dry, being sure the hanger is secure.
After the body is dry and the head is dry, I glue the head to the body and paint the rice hair color. Then make a bow and glue it at the neck.
Fold a piece of cardstock or stiff colored paper for the song book and glue it between the arms. And you are done!
They make nice package ties or Christmas ornaments. They do take a lot of time. I try to assembly line them.
I took off one arm so you could see how they are glued on and how the "book" is glued between the hands.