Making Plantable Seed Paper
Solutions: Making Plantable Seed Paper
Read and rate the best solutions below by giving them a "thumbs up".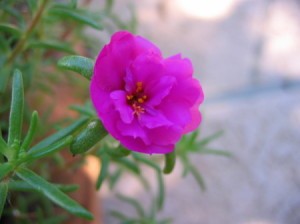 These recycled paper seed circles make lovely gifts! All you need is scrap paper, a blender, some flower or vegetable seeds, and some type of screen. The easiest screen to use is a cheap metal cooking splatter screen, or you can make an instant screen by cutting a square from a pair of old pantyhose or tulle fabric remnant, and clamping it in an embroidery hoop.
Approximate Time: 20 minutes, plus drying time
Supplies:
screen
torn up paper
blender
water
seeds, flower petals, dried leaves, etc.
sponge
Instructions:
Blend torn up paper with water until it makes a slurry. We made a lovely pink seed card using white copier paper and bits of red tissue paper. You can also add flower petals or bits of dried leaves to the pulp as you blend it for added texture. Or you can add the petals after you blend.
Working over a bowl, pour the paper slurry slowly onto the screen until it makes a small circle.
Sprinkle seeds on the circle and press them down gently into the pulp so they won't pop off the surface when the rounds dry.
Press out excess water from the rounds with a sponge, and carefully transfer the circle to a sheet of paper to dry.
When seed rounds are dry, they're ready to plant or give as a gift.
For a gift, print or write a bit about the flowers and attach to the seed rounds, or include the info with the seed round.
Plant rounds in a pot or ground, covering with a thin layer of soil. Water well, and soon you'll have flowers or vegetables!
By GuinevereW from AZ
Question:
I would like to make my own plantable paper and put my own wildflower, or lavender seeds on the paper. How do I keep the seeds from falling off?
MaryLynn from Saskatoon, SK
Answer:
MaryLynn,
If the seeds are added during the papermaking process, they will become imbedded in the layers of pulp as the paper dries. Here are some directions for making plantable paper.
Directions:
Tear Paper into nickel-sized pieces, or use a paper shredder and place in blender (to half full). Make sure to remove any staples! You can also add bits of hemp or other natural fibers that may be safely composted once planted. Fill the blender with warm water. Blend for about 60 second on low to medium speed. Continue to increase the speed until no paper flakes remain and pulp appears smooth.
Now make a mold by tightly tacking screen or mesh onto a frame of the desired size.
Fill the washtub about half full of water and pour in pulp from blender. Add in at least 3 blender loads of paper-more if desired (the more pulp, the thicker the paper). Add in flower or vegetable seeds. Small, flat seeds like forget-me-not, hollyhock, chili pepper and tomato seeds work wonderfully. Stir the mixture.
Slip the frame into the washtub, gently moving it from side to side to get the pulp around to the top of the frame level and to the desired thickness. Let the layer of pulp settle and slowly lift the frame up so it is above water level. Let it drain for a moment and check to see if it is level. Fill the turkey-baster with pulp from the washtub and use it to fill in any uneven spots or gaps in the pulp.
After removing the frame from the water, let it drain. When it stops dripping, carefully lay the frame (pulp side down) onto a fabric square or an old dishcloth. Use the sponge to press out as much water as possible (wring excess water back into tub).
This step may take some practice to master so be patient. Holding the fabric square flat, slowly lift up and remove the frame. The wet paper should remain on the fabric. If the paper sticks to the screen, you may have pulled too fast or not pressed enough water out of the paper. Once you successfully remove the frame, gently smooth out any noticeable air bubbles or rough edges.
Keep repeating steps 4-6 and stack the fabric squares (or dish towels) on a cookie sheet. When finished, place a piece of cardboard on top of the last piece and use bricks or another cookie sheet to press out the remaining water in the stack.
Gently separate sheets and dry them on a clothesline or out in the sun for 12-24 hours. When they are dry, gently separate the paper from the fabric squares (or dish towels).
For great gifts, use cookie cutters or stencils to trace holiday shapes. Cut them out and attach a ribbon for thoughtful gifts that last beyond the holiday season. Other uses for home made paper include scrapbooks, stationary and note cards, journal or photo album covers, lampshades, etc. Don't forget to include the planting instructions!
Ellen
By Ellen Brown
Share Your Feedback:
Once you try any of the above solutions, be sure to come back and give a "thumbs up" to the solution that worked the best for you. Do you have a better solution? Click "Share a Solution" above!
Questions
Here are questions related to
Making Plantable Seed Paper
.
Putting Greeting on Seed Paper Card
Looking through crafts, I found an article about making seed paper by Ellen Brown. I am going to try this but want to know how to put a greeting on the front of the card?

Barb from NY
---
Most Recent Answer

By melody_yesterday
09/26/2008
I've seen that paper online too ! That's very cute!
here are some free printable quotes to use with your cards : http://www.google.com/search?source ... 6&q=free+printable+craft+quotes+

Related Guides
Related Posts