I'm searching for patterns for Christmas ornaments that are made from plastic canvas and hold a Hershey Kiss inside. I've seen a Santa and a reindeer. They are great gifts for kids or to use as a decoration on packages.

Does anyone have the patterns that they could share?
By Darlene from Minneapolis, MN
December 6, 2009
0

found this helpful
I have some wonderful patterns shared with me by a very generous lady. I will share with you also. email me at fgordonjr AT maine.rr.com
December 12, 2011
0

found this helpful
http://www.chri Ornaments-2.html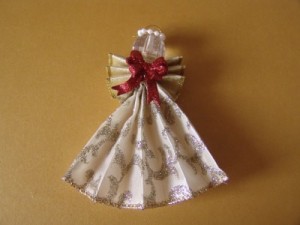 I am looking for a pattern for a plastic canvas mailbox, that is a Christmas ornament. Much appreciated.
By Eileen-e from CA
April 15, 2009
0

found this helpful
www.aokcorral.com/projects/how2feb2005.htm
This site has a plastic canvas pattern
I hope this is what you wanted.
jean in Ohio
December 11, 2011
0

found this helpful
Attached is the pattern for the mailbox ornament pattern on plastic canvas in excel. I took one of my ornaments and plotted the pattern using it. Hope this is helpful. Stitch the sides & top piece onto the base. Stitch the "side 1" at one end. Stitch the "side 2", only at the bottom, to make the opening for the mail. Attach the flag to one long side. Put a loop on the top to hang it.
December 11, 2011
0

found this helpful
I thought I has uploaded a file to my last post, but realized that it wasn't the right type file, so it doesn't show. I will email you the pattern if you email and ask me.
Momtruax AT yahoo.com