You can save money by making your own small kitchen appliance covers. I use vinyl table covers to make sturdy, wipe clean small kitchen appliance covers.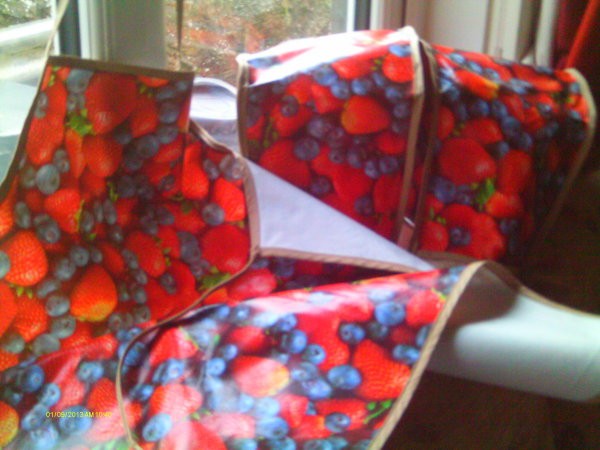 I have made everything from toaster and blender covers to air poppers (for popping corn) with it. I especially love the wipe clean factor as I do a lot of baking and wow does my little hand mixer like to send splatter all over the work area!
You can also buy the vinyl off the roll at most larger crafting stores. The rolls come table width so buy a yard (or metre if you're here in the UK) of it and you have enough to make covers for everything in your kitchen! I don't try to "stitch and turn" by sewing right sides together with this fabric. Instead I seam wrong sides together then use seam binding tape in a complimentary or matching colour.
My latest set is made from a mouth watering photographic print of strawberries and blueberries. I had enough left over to make a nice apron too (pattern and instructions for the apron can be found at the below link too. Just click around to find the apron info).
Free patterns and instructions for sewing the covers using all kinds of fabrics can be found here:
http://sewing.about.com/library/weekly/aa011801a.htm
Source: The lovely Guide at about.com's sewing pages:)
By FrugalSunnie from Scotland
Add your voice! Click below to comment on this post or add your answer to this question. ThriftyFun is powered by your wisdom.