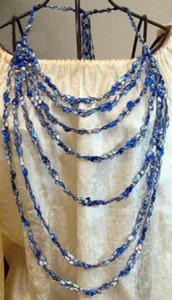 Questions
Here are questions related to Making Trellis Yarn Jewelry.
I know how to make the basic slip bead necklace. I would like your direction on the other methods with the elastic and plastic, then also the one that is pictured with all the different lengths.
By cmajor
Do any of the Thrifty Fun community members know where I can get free trellis and ladder crochet necklace patterns?
By Marjorie
---
Most Recent Answer

By gretta09/02/2013
http://justanotherhangup.blogspot.c ... 12/04/trellis-necklace-tutorial.html and other sites as well
I received a beautiful necklace made from ladder ribbon with a fused glass pendant. There is no crochet.It appears to be 5-6 strands of yarn that maybe were twisted. Then 6-8 inches of 5 strands of yarn knotted and a bead at the top knot to adjust the length. Anyone with directions?
By Jerry Ann G.
---
Most Recent Answer

By CJ's Crocheted Necklace04/16/2013
To make a "non-crocheted" ladder ribbon necklace just purchase some "ladder ribbon" (Trellis Ladder Yarn by Lion Brand Yarns is not manufactured any longer and too expensive on e-bay) at Creative Fiber Arts or Numei. You'll need to iron the yarn because it is usually twisted on the skein. Then find an item (like a box or picture frame) that you can use to wrap it around that will be the length that you want. Cut one end and use some ribbon to gather and sew all the ribbon and cut the other end if you want or not - depending on the type of of neck scarf you want.
I personally think the crocheted necklaces are prettier, especially if they are adjustable like mine are: http://www.cjscrochetednecklaces.com I've even added pendants and earrings and they are stunning.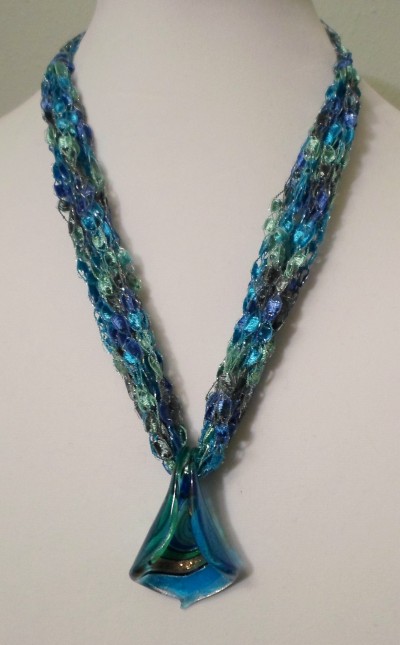 I am looking for directions for jewelry making with ladder yarn that does not require crocheting.
By Susan
---
Most Recent Answer

By Mrs. J05/10/2012
Not sure what ladder yarn is; is this the same as finger weaving with yarn? If it is I would also like some patterns, and not just for jewelry.

I bought a trellis ribbon necklace at a craft fair that was not crocheted. It had many strands that just laid flat and the back seemed to have been secured with wrapped thread. All the patterns I can find are crocheted. Any idea how this was made?
By Paula
I am looking for directions on how to make trellis ribbon earrings. Please help. I would like to make a necklace and earring set to sell for charity benefits. Thanks.
By Annie M from Cincinnati, OH
Cyinda showed a picture of a lovely ruffled necklace using trellis yarn. I can't figure it out, so if it's possible to give more detailed instructions I would really appreciate it.
Thank you.
By Pauline from Myrtle Beach, SC
---
Most Recent Answer

By Cyinda04/28/2010
Just found these detailed instructions & photos for trellis yarn necklaces:
http://www.numei.com/crochetpatterns_ladderribbonnecklace.htm

Does anyone have instructions to make a ladder necklace and earrings?
By Doris from Chula Vista, CA
---
Most Recent Answer

By Anonymous01/11/2010
I hope these links are helpful :-)

http://jewelrymaking.about.com/library/blladnk.htm

http://video.google.com/videosearch ... le&resnum=6&ved=0CCIQqwQwBQ#

http://www.angelfire.com/co2/beltana/cheyenne.html

http://www.craftideas.info/html/earrings_tutorial_b.html
What is trellis yarn and where can I purchase it?
By suziemb from Columbus
---
Most Recent Answer

By KL11/28/2009
Trellis yarn is a is a "shimmering lacy ladder ribbon yarn"
made by Lion Brand yarns but it has been discontinued.
http://www.lionbrand.com/yarns/trellis.html

You might still find it in yarn shops possibly. Amazon.com has some from other sellers:
http://www.amazon.com/s/ref=nb_ss?u ... Brand+Trellis+Yarn&x=19&y=18

or on eBay:
http://shop.ebay.com/?_from=R40&amp ... s+yarn&_sacat=See-All-Categories

I also saw it listed at joann.com but their site is down for the moment:
http://snurl.com/tgw9c
Solutions: Making Trellis Yarn Jewelry
Do you have knowledge about this guide topic? Feel free to share a solution!
Archives
Thrifty Fun has been around so long that many of our pages have been reset several times. Archives are older versions of the page and the feedback that was provided then.
I am new to the site and am trying to find patterns to knit or crochet necklaces out of Trellis yarn or similar types. I am also looking for patterns to make them without being knit or crocheted. Any help would be greatly appreciated. Happy Holidays.
Donna from Worthington, MN
---
RE: Crocheting Necklaces Out of Trellis Yarn
I don't know if they specifically have a pattern that uses trellis yarn, but I find dozens of great patterns on crochetpatterncentral.com (12/15/2008)
By ellens815
RE: Crocheting Necklaces Out of Trellis Yarn
http://store.knitting-warehouse.com/trellisnecklace.html Has a pattern using Trellis yarn for a "bib" necklace. Is that what you wanted?
Harriet (12/21/2008)
By Harriet
RE: Crocheting Necklaces Out of Trellis Yarn
If you need a really great Trellis necklace pattern go to www.anythingcrafty.com. The pattern also includes a "free" earrings pattern complete with full color pictures of the supplies and tools needed to complete your project. (04/25/2009)
I saw a necklace made out of Trellis ladder yarn and cannot figure out how to make it. Does anyone know?
By atph from NY
---
RE: Crocheting Necklaces Out of Trellis Yarn
It's all done with a large hook (J, K etc) and only chains. Just look at the pictures here and copy one.
There's a second type that's made by single crocheting around a piece of clear elastic. OR, a third type that's made by threading the clear beading elastic thread on to a "big eye" beading needle then thread every 2, 3 or 4 empty square on to the elastic (skipping every other or every 2 or 3 "holes"). They can either be threaded on straight (accordion style) or the Trellis yarn can be twisted in a spiral with every empty square that's threaded.
For more details write me here on ThriftyFun. Cyinda Here's a picture of the necklace made by the #2 or #3 method. (07/03/2009)
By Cyinda
RE: Crocheting Necklaces Out of Trellis Yarn
Here's the trellis yarn necklace made only with crocheted chain: (07/04/2009)
By Cyinda
At a craft fair last fall I saw a vendor with necklaces and earrings made from the trellis (also called ladder) ribbon yarns. I went back to buy some in a couple of hours and they were sold out. The vendor was selling them for her sister and did not know the pattern instructions and I can't remember them well enough to make them look right. I have found patterns for the necklaces, but not the earrings. Can anyone help?
By Melodybh from Oak Ridge, TN
---
RE: Jewelry Made from Trellis Ribbon Yarn
Go to the website
anythingcrafty.com
and click on Craft Patterns Trellis Yarn. The necklace instructions are $5.00 and you get the earrings pattern for free. That's all I could find. I would love to see photos of the finished product. Maybe you could post some here when you get them done. Good luck. (05/04/2009)
By Momof1
RE: Jewelry Made from Trellis Ribbon Yarn
Go to the URL below, I posted basic directions and pictures:
thriftyfun.com
(07/07/2009)
By Cyinda
Has anyone been able to find a pattern for crocheted trellis earrings?
By Brenda from CO
---
RE: Jewelry Made from Trellis Ribbon Yarn
No trellis yarn earring patterns yet, but I just found these detailed instructions and photos for trellis yarn necklaces that everyone has been looking for:
numei.com
(04/28/2010)
By Cyinda