Here is another cute yo yo Christmas tree project, for the yo yo enthusiast. You can make one or a whole grove.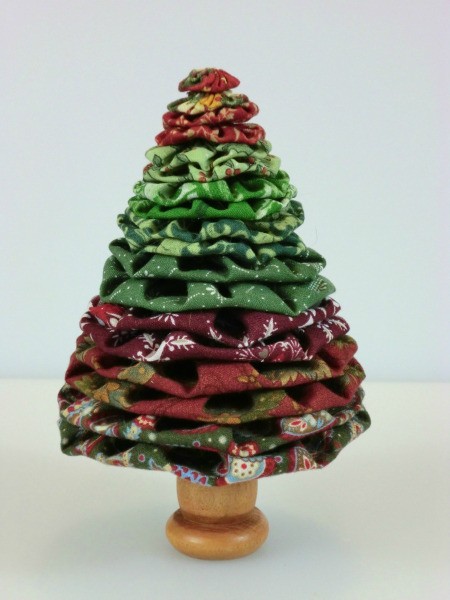 Total Time: 1.5 hours to assemble 4, not including making yo yos
Yield: 4
Supplies:
pieces of recycled cardboard packaging or file folders for templates
assorted cotton Christmas fabric
1 6 mm wooden dowel
1 3mm dowel for smaller tree
4 wooden craft spools
hot glue gun
small saw - hack saw
shoe polish, paint, or other stain
drafting compass
pencil
scissors
Steps:
Cut 18 circle templates ranging in size from 220mm down to 50 mm, in 10 mm increments. I used a compass to draw the circles.

Cut 18 yo yos using paper templates.

Make yo yos. Follow this link for a short tutorial on making yo yos: Making Fabric Yo Yos
Use brown shoe polish to stain spools for the tree trunks. You may paint the spools using acrylic craft paint or leave natural.

Snip a small hole in the yo yo, through the center of the gathered opening, into the ungathered side.

Begin to slide yo yos onto the dowel through the snipped hole. Continue adding yo yos until only the smallest remains.

Glue the smallest yo yo the the tip of the dowel, a bit of glue can also be applied to the yo yo below.

Slide the spool onto the dowel and mark the cutting line on the dowel.

Using a small saw cut the dowel to the correct length.

Glue dowel into spool.

You are done. Make as many of these cute little trees as you like to create a little grove or to give as gifts. You could also attach a ribbon hanger to them to use as Christmas tree ornaments.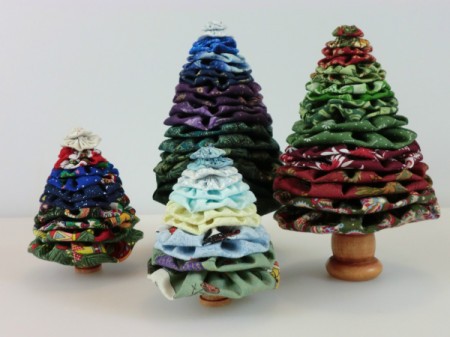 December 22, 2012
0

found this helpful
These are so cute!
December 26, 2012
0

found this helpful
How cute.
November 9, 2016
0

found this helpful
How do you get 18 yoyo's. I get 13 templates ranging from 220 to 50.
Do you double up any. Please help. Thank you
December 17, 2016
0

found this helpful
220, 210, 200, 190, 180, 170, 160, 150, 140, 130, 120, 110, 100, 90, 80, 70, 60, 50...Those are the measurements for the 18 templates.
December 17, 2016
0

found this helpful
If you set your compass at 11 cm (1/2 of the 22cm) and make the largest circle, then go down in 5mm increments (you will actually be reducing the circles by 10mm each time). So you would use the following settings on your compass: 11cm, 10.5, 10, 9.5, 9.0, 8.5, 8.0, 7.5, 7.0, 6.5, 6.0, 5.5, 5.0, 4.5, 4.0, 3.5, 3.0, 2.5. Hopefully that makes sense....