Making Your Own Envelopes
The envelope you use to mail a letter or card can be just as creative and fun as what you put in the envelope. This is a guide about making your own envelopes.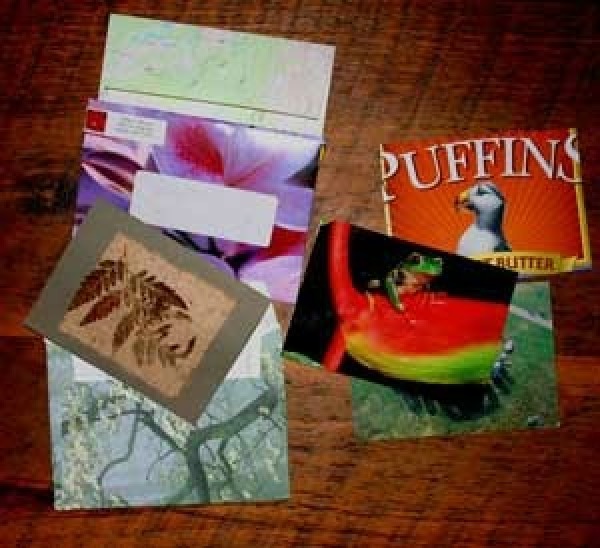 Filter

: All Articles
Sort

: Relevance
After you've made your homemade cards and matching envelopes, here's an easy to make glue.
Materials needed:
6 Tbsp.white vinegar
4 (0.1 oz.) packets unflavored gelatin
1 Tbsp. vanilla extract
Instructions:
Start by bringing the vinegar to a boil in a pan. Add the gelatin and stir until it dissolves. Add the extract and stir until well mixed. While still warm brush a thin layer onto your homemade envelope flap and set aside and allow to dry.
To adhere the envelope, moisten as you would any envelope and press closed. Store unused mixture in an airtight container. To re-apply, warm the mixture in a pan and apply as before.
By keeper from Blue Ridge Mountains, NC
For my Dad's 80th birthday party, I printed the invitations on card stock, folded in thirds, stamped 2 holes with a regular hole punch close to the edges, and ran 1/4 inch organza ribbon tied in a knot (knot came out to the front) through it. I got a lot of comments on my unique invitations and I saved money on envelopes. (The ribbon was very cheap, cheaper than envelopes).
This also works for mailing a plain letter when you don't have an envelope, I just did it here at work where I needed an envelope, but had the stamp (my own) already. Take a piece of copy paper, fold in thirds (shorter side), tape the ends and back shut with tape, address, stamp, and mail.
By thriftyvicki from Dallas, TX
I have a bunch of nice greeting cards without envelopes. Does anyone know of easy way to make envelopes? The cards are all different sizes, so buying them is not an option. I hate to let them go to waste.
By Erika from Tallahassee, FL
December 17, 2012
1

found this helpful
You used to be able to purchase a package of multi - colored and sized envelopes from the Current Company - a mail order (and now online) store.
When I receive birthday cards etc. that the envelope has not been written on, I save them for just this occasion. If I do not mail cards to someone, I don't write on the envelope either - and if I know the person well enough, I ask them to return them to me - if they won't recycle them themselves. (This has many times prompted these people to save all of their "Clean" envelopes for me!)
The third way I use these cards is when I give gifts to Christmas Angel Banks, I attach the card to the gift without an envelope. It is prettier than using a stick on Christmas tag.
I also recycle Christmas cards by cutting out the pretty pictures and the nicer verses with fancy scissors and leave a space to write my "To: and From:" - or I write that part on the flip side.
Merry Christmas to All!
December 17, 2012
0

found this helpful
You can lay the card on a sheet of paper - any typing or copier paper will do. Cardstock will work too, but is a bit costlier. Put the card at a diaganol in the center of the sheet - trace around lightly then fold at the drawn lines. Bigger cards require bigger sized sheets.
You can also just put the card on a sheet of paper and fold it up and around as needed.
There are lots of 'tutorials' on the internet. Just Google hand made envelopes. Good luck.
December 17, 2012
1

found this helpful
Here is a step by step photo tutorial:
http://www.wikihow.com/Make-a-Greeting-Card-Envelope
Another thing I've done before (if there is no printing on the back of the front of the card) is carefully tear or cut the front of the card from the back and use the front as a postcard. Not only does it save an envelope but postcard postage is also less expensive ;-)
December 17, 2012
1

found this helpful
Take apart one envelope to make a template for others, orfold a white piece of paper around the card, allowing room for a fold-over top. Fold sides around the card. Remove the card and fold the side folds to the inside of the envelope, trim and glue.
Mara Rivet
1

found this helpful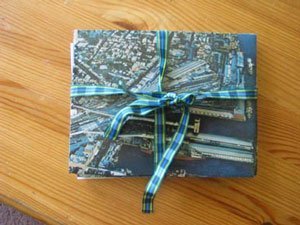 Here's a great way to recycle paper by making your own envelopes and note cards.
Materials
postal regulation envelope (for a template)
paste, or glue sticks
scissors or exacto knife
ruler
pencil
paint brush (if paste is used)
small amount of plain paper (you can uses pieces of envelopes, lined paper or whatever)
various sheets of interesting paper ranging in size from 6.5x9-10 inches or 8.5x11 inches - these sizes are easier to handle and more readily available
Hint: I often use old maps and pages from old magazines.
Instructions
We will be creating a tri-fold style closed envelope, which is much simpler than the triangular style closure seen on many postal envelopes but you can use any envelope as your pattern.
Making The Envelope
Place your template envelope in the center of the backside of the paper you want to use, or so that the image you want on the front of your envelope is in the center-ish of where your template sits.
Fold the bottom up to within 1-1/2 inches of the top of your template. Then fold the sides of the paper gently up and over so that they overlap at least 1/3-1/2 inches. This will create the creases for the seams you will be using.
Fold the top down, ensuring it overlaps your bottom portion enough to create a closure (usually at least 1/2 inch).
Now you will cut off the pieces you don't need. Cut the inside portion of the seams.

Then cut these same pieces off of your top flap down to the top edge of the bottom flap, but don't cut below that. The edges left will be your side closures.
Now we will paste the seam edges closed. You can "paint", dab or smear a small amount of paste or glue to the folded edges and then fold them on top of your envelope to create the closures on the sides. Only a little is needed.
Let these dry.

Making The Notecard

Measure the opening you have in your envelope from the bottom edge to the top crease. Subtract about 1/4 inch and double this to get the length you will want to measure for your note card.
Measure from straight across from left to right and subtract about 1/4 inch to get the width.
Cut out a sheet of interesting looking paper in using those measurements as a guide.
Fold this sheet in half.
Take a piece or two of your plain paper and cut it to the size you would like to write your note on.
Paste this on the inside and if needed the back of your note card.
Let this dry

Write your note and slide it inside the envelope. Fold over your closure. You can either paste your envelope closed after inserting the notecard, or just fold the flap inside the envelope. Or make a set and give them to a friend as a gift.

By Mara from Seattle, WA
Envelopes made from white paper bags and post cards made from file folders.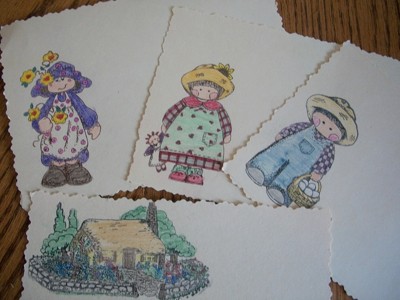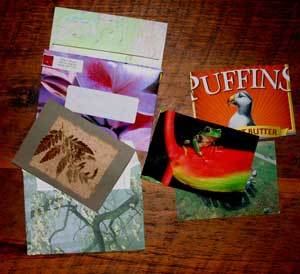 Whether I'm at work or at home, I try to limit the amount of paper I use by utilizing electronic media as much as possible. The problem is, I'm a stationary junkie. I would much prefer to send and receive greeting cards and written correspondence by postal mail rather than email. After all of the junk mail that gets delivered to my cyber mailbox each week, I find it refreshing to open something that has actually been delivered by a living breathing human being.
It seems like after a period of time, my stationary box always comes up long on cards and short on envelopes. My solution has been to make own envelopes out of recycled paper. Now not only am I able to personalize the envelopes according to the personalities of each addressee, but I get to alleviate some of my "paperless guilt" by showing the world (or at least the post office) that I am committed to recycling.
Envelope Materials:
Wallpaper scraps
Wrapping paper scraps
Magazine covers
Old maps
Paper grocery bags
Pages from old calendars, etc.
Have fun by selecting envelope paper that suits the personality of your recipient. A gardener might enjoy getting a card or letter in an envelope made from a picture on last year's gardening calendar. Use the cover of a sports magazine for an athlete or an old map for someone who loves to travel.
Tips:
Colored paper can slow down mail automation machines unless the address is easily readable. To prevent this, use a plain, white, self-adhering address label when you're using an envelope made out of colorful paper. Make sure to print the name of the addressee clearly on the label using black or dark blue ink.
Standard 1 ounce letters can be a maximum of 1/4 inch thick and are machine sorted at the post office. Adding lace, buttons or reusing clasps from other envelopes are all wonderful ideas if you plan to deliver the envelope by hand. When sending envelops through the mail, however, an additional non-machine surcharge of $.0.13 is applicable under the following conditions:
It is a square letter
It contains very rigid items such as wood or metal
It has clasps, string, buttons, or similar closure devices
It has an address parallel to the shorter dimension of the letter
It contains items such as pens that cause the surface to be uneven
The length divided by height is less than 1.3 or more than 2.5.
| | | |
| --- | --- | --- |
| Letter Dimensions: | Length | Height |
| Regular | 5 inch min | 3-1/2 inch min |
| | 11-1/2 inch max | 6-1/8 inch max |
| Large Envelope | 11-1/2 inch min | 6-1/8 inch max |
Envelope Directions: A simple way to make an envelope template is to take apart any size envelope you happen to have laying around and use it as a pattern. Iron the envelope flat with a cool iron and trace the pattern onto a durable material like vinyl. Cut it out carefully. Now you have a long lasting template that won't rip or tear. Lay the vinyl template over the piece of paper of your choice, cut around it carefully and refold it like the original envelope. Use a glue suitable for paper (Elmer's stick glue works well) to seal the points of the envelop after inserting your letter or card.
Post Card Materials:
Post cards are a great way to drop someone a quick "hello." It's easy to recycle paper for postcards, but they need to be made from a slightly heavier paper like cardstock. Cereal boxes, magazine and phone book covers work really well.
| | | |
| --- | --- | --- |
| Post Card Dimensions: | Length | Height |
| | 5 inch min | 3-1/2 inch min |
| | 6 inch max | 4-1/4 max |
Free Envelope and Postcard Templates
Advice On Desktop Publishing
Mailing Guidelines & Rates
Here are a series of pictures that show you how to turn a regular piece of paper into a usable envelope. You will need to have some kind of glue or tape to put it together. I like to use glue sticks.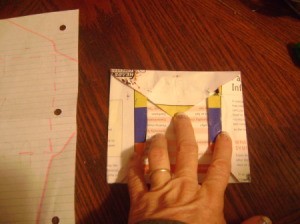 Christine Weber
1

found this helpful
Why let the card have all the glory? Using stamps and embossing powder to create elegant winter images, this craft makes the envelope enchanting too!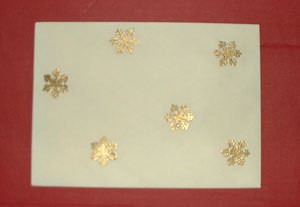 Related
© 1997-2016 by Cumuli, Inc. All Rights Reserved. Published by
ThriftyFun
.
Page
generated on August 21, 2016 at 11:32:06 PM on 10.0.1.174 in 3 seconds. Use of this web site constitutes acceptance of ThriftyFun's
Disclaimer
and
Privacy Policy
. If you have any problems or suggestions feel free to
Contact Us
.