Making Your Own Envelopes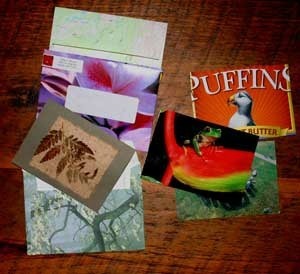 The envelope you use to mail a letter or card can be just as creative and fun as what you put in the envelope. This is a guide about
making your own envelopes
.
Solutions
Share on ThriftyFunThis guide contains the following solutions. Have something to add? Please share your solution!
After you've made your homemade cards and matching envelopes, here's an easy to make glue.
Materials needed:
6 Tbsp.white vinegar
4 (0.1 oz.) packets unflavored gelatin
1 Tbsp. vanilla extract
Instructions:
Start by bringing the vinegar to a boil in a pan. Add the gelatin and stir until it dissolves. Add the extract and stir until well mixed. While still warm brush a thin layer onto your homemade envelope flap and set aside and allow to dry.
To adhere the envelope, moisten as you would any envelope and press closed. Store unused mixture in an airtight container. To re-apply, warm the mixture in a pan and apply as before.
By keeper from Blue Ridge Mountains, NC
March 21, 2011
0

found this helpful
Sounds like a good one, Keeper. You get my vote! JPJ
March 21, 2011
0

found this helpful
Thumbs Up Blue Ridge Mountain Keeper. I love making cards, but hate having to add Elmer's Glue to them at the last minute when I'm ready to use them. I've never found a Glue Stick that actually works, and keeps working.
Thanks for sharing this great recipe. I had a copy once before, and lost track of it. I'm so happy to have it again. It works so well.
Pookarina
March 23, 2011
0

found this helpful
What a great tip. I love making my own cards and envelopes, but being able to add a glue that will dry and keep until ready to mail is going to be so nice. I can't wait to try this.
Thanks for sharing.
MisMachado
For my Dad's 80th birthday party, I printed the invitations on card stock, folded in thirds, stamped 2 holes with a regular hole punch close to the edges, and ran 1/4 inch organza ribbon tied in a knot (knot came out to the front) through it. I got a lot of comments on my unique invitations and I saved money on envelopes. (The ribbon was very cheap, cheaper than envelopes).
This also works for mailing a plain letter when you don't have an envelope, I just did it here at work where I needed an envelope, but had the stamp (my own) already. Take a piece of copy paper, fold in thirds (shorter side), tape the ends and back shut with tape, address, stamp, and mail.
By thriftyvicki from Dallas, TX
April 21, 2011
0

found this helpful
Thanks for sharing a really good idea! I've done this in a pinch myself. :-)
April 21, 2011
0

found this helpful
I can imagine how cute this turned out . . . BUT . . . sending mail with knots tied in the "envelope" probably isn't such a good idea. Mail is sorted by high-speed equipment and could have easily, easily been caught in the equipment, torn up, etc, or been charged an extra postage surcharge that the recipients might have had to pay since you didn't.
I think this kind of cute, decorative idea would be better with flat ribbon inside an envelope.
April 21, 2011
0

found this helpful
Umm, she did not say whether she mailed these invitations or hand delivered them. The one she did mail was taped not knotted. I would imagine that she would have heard an earful if people had been charged for her "thriftiness" and I will also assume, had she indeed mailed the invitations, that the postage was surely paid. I've never heard of a postage surcharge for not having a proper envelope. That being said, I bet these invitations were awesome. Wish you had posted a pic! Thanks for the idea!
April 22, 2011
0

found this helpful
Katie, I have a cousin who works for the USPS (for two decades now) and has run those machines you're talking about so I asked her if the ribbons alone could be a problem and she laughed. Any number of things could cause a very occasional problem including improper feeding of the machine, a bulky amount of folded paper within an envelope or even a non sealed envelope and there is no such thing as a surcharge for a damaged letter, post card, flyer, package or otherwise.
September 18, 2013
0

found this helpful
Hi,
Thanks for the tip! Haven't done this, but I have made invitations folded in half, with a ribbon or silver elastic string run thru the punched holes. My knot, though, could be on the inside instead of the outside. I imagine this would not cause problems with USPS.
Nica
If you are a card maker, you can save money on envelopes. Grab a roll of wax paper and make your own. You will need an envelope template or just cut it out free-handed.
You can put glitter, stickers, dried flowers, or anything you like between the sheets of waxed paper. Just be careful when you melt the sheets together. You could heat the paper with a high powered hair dryer, embossing gun, or your iron. They make beautiful and cheap envelopes.
By Tricia from Ridgeway, VA
December 11, 2009
0

found this helpful
WOW, I love your idea, can't wait to make some just as soon as I get some wax paper. I have been drying leaves and flowers for years, some of them break up and will work perfect between the layers.
Kudos to you and my thanks!
I make envelopes from wallpaper sample books for my cards I get free from paint stores, but can't wait to make yours.
December 13, 2009
0

found this helpful
These sound very nice, but will the post office accept these? I would hate to see them get torn up by a cancelling machine and, if they have to be hand-cancelled, you will have to pay additional postage because it's not a "standard" envelope.
July 6, 2011
0

found this helpful
It is such a good idea, I can see the beautiful image in my mind, is it possibe to post a sample picture?
Jennetta
Mara Rivet
1

found this helpful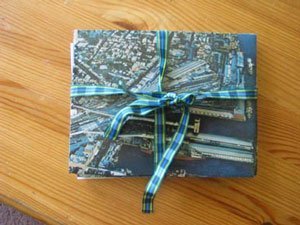 Here's a great way to recycle paper by making your own envelopes and note cards.
Materials
postal regulation envelope (for a template)
paste, or glue sticks
scissors or exacto knife
ruler
pencil
paint brush (if paste is used)
small amount of plain paper (you can uses pieces of envelopes, lined paper or whatever)
various sheets of interesting paper ranging in size from 6.5x9-10 inches or 8.5x11 inches - these sizes are easier to handle and more readily available
Hint: I often use old maps and pages from old magazines.
Instructions
We will be creating a tri-fold style closed envelope, which is much simpler than the triangular style closure seen on many postal envelopes but you can use any envelope as your pattern.
Making The Envelope
Place your template envelope in the center of the backside of the paper you want to use, or so that the image you want on the front of your envelope is in the center-ish of where your template sits.
Fold the bottom up to within 1-1/2 inches of the top of your template. Then fold the sides of the paper gently up and over so that they overlap at least 1/3-1/2 inches. This will create the creases for the seams you will be using.
Fold the top down, ensuring it overlaps your bottom portion enough to create a closure (usually at least 1/2 inch).
Now you will cut off the pieces you don't need. Cut the inside portion of the seams.

Then cut these same pieces off of your top flap down to the top edge of the bottom flap, but don't cut below that. The edges left will be your side closures.
Now we will paste the seam edges closed. You can "paint", dab or smear a small amount of paste or glue to the folded edges and then fold them on top of your envelope to create the closures on the sides. Only a little is needed.
Let these dry.

Making The Notecard

Measure the opening you have in your envelope from the bottom edge to the top crease. Subtract about 1/4 inch and double this to get the length you will want to measure for your note card.
Measure from straight across from left to right and subtract about 1/4 inch to get the width.
Cut out a sheet of interesting looking paper in using those measurements as a guide.
Fold this sheet in half.
Take a piece or two of your plain paper and cut it to the size you would like to write your note on.
Paste this on the inside and if needed the back of your note card.
Let this dry

Write your note and slide it inside the envelope. Fold over your closure. You can either paste your envelope closed after inserting the notecard, or just fold the flap inside the envelope. Or make a set and give them to a friend as a gift.

By Mara from Seattle, WA

June 7, 2007

0

found this helpful

I like this idea but - I can't understand the instructions. I think I know how to use the common style envelope as a template, But I would like to try this different style. Anywhere I can find a template for the style you are doing? Or maybe describe a trifold envelope? My memory may just need a little jog. TIA

June 7, 2007

0

found this helpful

I love making envelopes out of old calendar pages, magazine pages, wrapping paper, even tissue paper. I've got so many envelopes now that I'll never use them all. lol

For varying patterns I had been going to suggest the Donovon Template site, but it's been suspended for some reason. There are however other templates available online.

Here are some links that people might find useful;

http://www.diyn … _2278611,00.html

Business sized;

http://www.ewsw … e/templates.html

Pocket envelope;

http://www.pape … z/projectsheets/

A tip for making your own out of a regular store bought envelope, for a long lasting pattern, trace around it and cut it out of stencil or quilter's plastic. Doing that also offers the added bonus of allowing you to see the underlying image and to use the picture more effectively.

June 8, 2007

0

found this helpful

The envelopes and notecards in your photos are quite beautiful.

By guest (Guest Post)

July 12, 2007

0

found this helpful

HI ALL , TO MAKE TEMPLATES THAT LAST I USE OLD X-RAY FILMS NO LONGER USED ,TRACE FROM OLD ENVELOPES YOU ALREADY HAVE , TRACE THEN SIMPLY CUT OUT , VOILA

HOPE THIS HELPS YOU

SNOOPI

November 16, 2007

0

found this helpful

Judging by the pictures, I think that tri-fold means (1) fold up the bottom side of the paper (just slightly less than half the length) to make the back of the envelope (2) fold in the 2 sides then (3) fold down the extra bit on top to close the envelope.

I've been thinking of trying this for awhile, after seeing these pics I'm all inspired and determined to give it a go this weekend. Your envelopes and notecards are gorgeous!
Envelopes made from white paper bags and post cards made from file folders.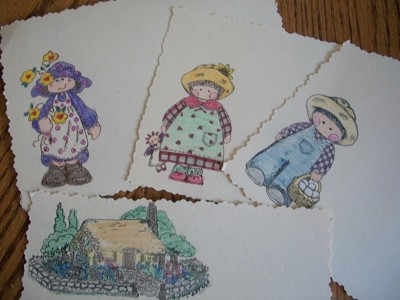 Read More...
Whether I'm at work or at home, I try to limit the amount of paper I use by utilizing electronic media as much as possible. The problem is, I'm a stationary junkie.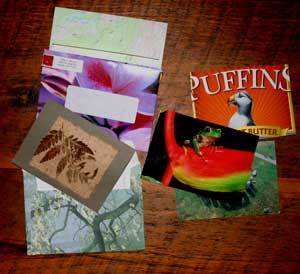 Read More...
Christine Weber
1

found this helpful
Why let the card have all the glory? Using stamps and embossing powder to create elegant winter images, this craft makes the envelope enchanting too!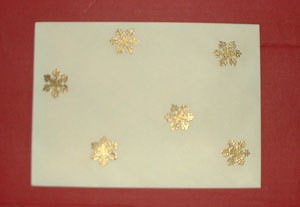 Read More...
Here are a series of pictures that show you how to turn a regular piece of paper into a usable envelope. You will need to have some kind of glue or tape to put it together. I like to use glue sticks.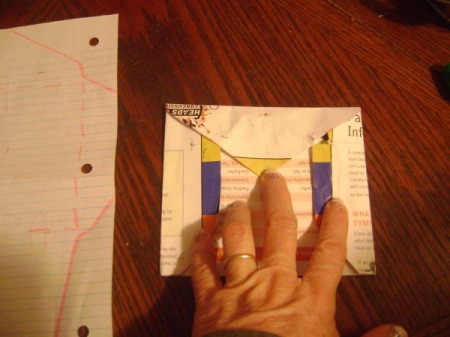 Read More...
December 6, 2016
0

found this helpful
This is a guide about making a DIY envelope. It's easy to use a piece of paper to make an envelope in a pinch.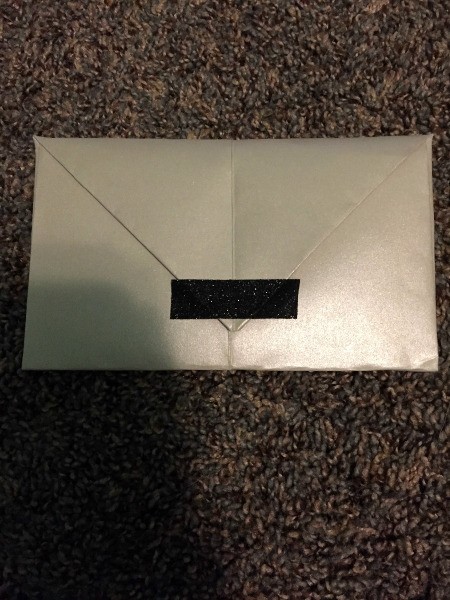 Questions
Ask a QuestionHere are the questions asked by community members. Read on to see the answers provided by the ThriftyFun community or ask a new question.
I have a bunch of nice greeting cards without envelopes. Does anyone know of easy way to make envelopes? The cards are all different sizes, so buying them is not an option. I hate to let them go to waste.
By Erika from Tallahassee, FL
December 17, 2012
1

found this helpful
You used to be able to purchase a package of multi - colored and sized envelopes from the Current Company - a mail order (and now online) store.
When I receive birthday cards etc. that the envelope has not been written on, I save them for just this occasion. If I do not mail cards to someone, I don't write on the envelope either - and if I know the person well enough, I ask them to return them to me - if they won't recycle them themselves. (This has many times prompted these people to save all of their "Clean" envelopes for me!)
The third way I use these cards is when I give gifts to Christmas Angel Banks, I attach the card to the gift without an envelope. It is prettier than using a stick on Christmas tag.
I also recycle Christmas cards by cutting out the pretty pictures and the nicer verses with fancy scissors and leave a space to write my "To: and From:" - or I write that part on the flip side.
Merry Christmas to All!
December 17, 2012
1

found this helpful
Here is a step by step photo tutorial:
http://www.wiki … ng-Card-Envelope
Another thing I've done before (if there is no printing on the back of the front of the card) is carefully tear or cut the front of the card from the back and use the front as a postcard. Not only does it save an envelope but postcard postage is also less expensive ;-)
December 17, 2012
1

found this helpful
Take apart one envelope to make a template for others, orfold a white piece of paper around the card, allowing room for a fold-over top. Fold sides around the card. Remove the card and fold the side folds to the inside of the envelope, trim and glue.
December 17, 2012
0

found this helpful
You can lay the card on a sheet of paper - any typing or copier paper will do. Cardstock will work too, but is a bit costlier. Put the card at a diaganol in the center of the sheet - trace around lightly then fold at the drawn lines. Bigger cards require bigger sized sheets.
You can also just put the card on a sheet of paper and fold it up and around as needed.
There are lots of 'tutorials' on the internet. Just Google hand made envelopes. Good luck.
Related Content