Bees are very important for plant pollination in our environment, but there are times when someone needs to be protected from a possible sting. This guide is about making a bee trap.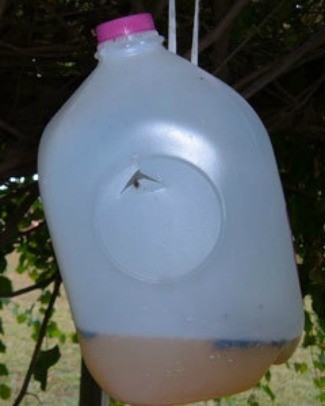 Filter

: All Articles
Sort

: Relevance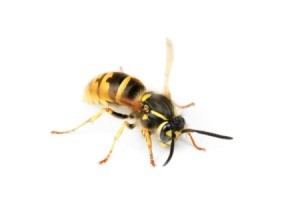 I saw this tip in "Country" magazine years ago and use it every year to trap yellow jackets and hornets. I have this one hanging in the grapevine. The yellow jackets like the apple juice better than the grapes. Lures them right in and they can't get out.

Take a gallon milk jug and cut an upside down V shape in the side 2/3 way up on the jug. Press the tab in. Pour fruit juice ( I use apple) 1 inch deep into the jug. Put the cap back on the jug and hang. Insects enter through the hole and can't get out.

By Betty from North Carolina
Punch a hole in a jar lid about as wide as your pinky finger. You want the bee to be able to get in but not crawl out as easy. Fill the jar half full of orange juice. Smear some jam under the lid.
Seal jar with lid and put it in the yard where there is little traffic. They will crawl in and drowned. This will also work for fruit flies.
By coville123 from Brockville, Ontario
Editor's Note: As many of the ThriftyFun community have pointed out, bees are essential for pollinating home and commercial gardens and should not be killed unless absolutely necessary.
Does anyone know how to make a bee and wasp catcher homemade? I'm looking for one to work like those in the catalogs which have a hole the bees go in and some sugar water and they can't get back out.

Hardiness Zone: 6a
Answer
Was this helpful?
Helpful?
Yes
I want to know how to trap carpenter bees. They have been burrowing onto the 2/4's that hold up the roof of the barn.
Reply
Was this helpful?
Helpful?
Yes
Read More Answers...
This past summer our humming bird feeder was attracting more bees than birds. My husband cut the top off a regular sized soda bottle. He threaded a string through the bottom and bent inside a lip from the top of the bottle. It hung upside down from the string.
He put it on the same rod that holds our humming bird feeder and it attracted a lot of bees. Once the bees found their way in they couldn't get out. Turned out really good for the birds since they got to use the feeder, and the bees ended up in the trap.
Source: My husband
By gem from VA
What can I use to get rid of jellow jackets? Is there any one thing that would attract them so that they would go in a trap for yellow jackets? We bought 4 of the traps and put the liquid in but now that has lost its power.
Sincerely,

Patricia
Answer
Was this helpful?
Helpful?
Yes
I have the perfect, cheap, easy idea which I discovered quite by accident. I noticed that my hummingbirds stopped coming to the feeder which I fill with 1 part sugar to 4 parts water. When I dumped out the water, there were so many yellow jackets in it that I was absolutely amazed. Now I need a different feeder for my hummers but I know how to lure yellow jackets!
Reply
Was this helpful?
Helpful?
Yes
Read More Answers...