To make a Barbie house, start with a small bookcase you might have that you no longer use. Use carpet remnants for the floor, or recycle an old rug. You can also use linoleum scraps to cover the floor of your doll house, or use the contact paper with the wood look. Use contact paper or glue on wallpaper scraps for the walls.
You might choose to paint the bookcase before beginning the craft the dollhouse, depending on what color the bookcase is. Use small pictures cut from magazines to glue on the walls for room decor. This dollhouse is good when you don't have much floor space.
By duckie-do from Cortez, CO
August 5, 2010
0

found this helpful
This is a great idea! Where were you 10 years ago?
Sandy
August 6, 2010
0

found this helpful
My husband and I did this for our granddaughter a couple of years ago. The only difference in ours was that he made two doors to go on it. The doors were decorated to look like front doors and we painted the outside like a house. We also put a slant roof on it and "tiled" it. When she is finished playing with it, she just closes it up and it looks like a miniature house.
August 8, 2010
0

found this helpful
I don't think any submission should be considered as a contender without pictures!
August 4, 2011
0

found this helpful
This is a really cute idea. Major dollhouse lover here, and what an easy way to make one!
August 4, 2011
0

found this helpful
Thumbs up on this one! When I was a kid, we had a big long hutch in the kitchen with shelves up top and a couple of compartments with doors on the bottom that had a shelf each and were maybe a foot high.
My Dad cleared out one of those compartments and it was my two-story Barbie house. Your tip brings back memories :)
August 4, 2011
0

found this helpful
We did something similar for our American Girl type dolls. My daughter was desperate for a bed for her doll, which I knew she would be receiving from Grandma for her birthday months later. I used a white bookshelf (like the kind from Target that you assemble yourself) and an old curtain. I did have to buy a tension rod for the curtain. She used one shelf for a doll bed with some doll blankets and a pillow and then we got another tension rod to make a closet for the other shelf. It's really cute with the curtain to close when she's asleep and to conceal her doll closet.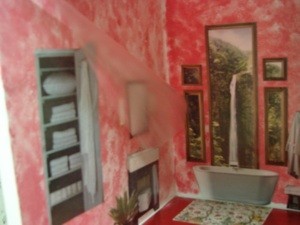 I am making a doll house out of a small bookcase. I was cutting pictures from magazines to use for the "rooms". I glued them to the sides and back of the inside of the bookcase and wanted to cover them with something clear to help hold the pictures on. I have a roll of clear laminate with a "sticky" side. But it is not sticking enough to stay, only enough to tear the pictures if I try to take it off the rest of the way when it starts coming off. Any suggestions on what I can use? Thanks.
By minnabird from VA
July 6, 2009
0

found this helpful
How awesome! What a beautiful job you did.
July 7, 2009
0

found this helpful
Thanks! If I ever get the thing finished I will post a picture of the finished house. Just have one "room" left I think. Anyway, thanks again!
July 8, 2009
0

found this helpful
You can use modpodge which is available at most craft stores for $5. It's used for decoupage projects and I love it! It will dry clear, no fear!
August 4, 2011
0

found this helpful
Yes, this is a great idea! I once read that you can make your own Modgepodge by watering down glue; however, I've never tried it. Might want to experiment.
August 4, 2011
0

found this helpful
I am very inspired to make one for my little girl. Thanks for all the ideas!