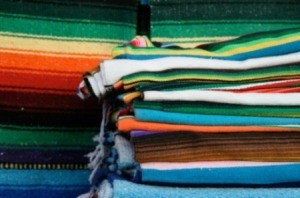 Sometimes the best way to reuse a blanket is to make a warm coat. This guide is about making a coat out of a blanket.
Ad
---
Questions
Here are questions related to Making a Coat Out of a Blanket.
I am looking for a jacket pattern using woven throws or blankets.
By Penny
AnswerWas this interesting? Yes No
Ad
---
---
Best Answer
By Soile 1 03/27/20110 people found this helpful
1. Lay the blanket on a flat surface. Cut out two pieces of fleece that are each as wide as the widest part of your torso and long enough to reach from your collar bone to your hips.

2. Lay the two pieces directly on top of each other. Sew up the long sides of the fabric, leaving the top 6 inches of each side open for the armholes. Cut a "J" shape from each armhole to allow for more room for the shoulders.

3. Sew the top of the jacket together, leaving 6 inches open in the middle for the collar. Cut out a semi-circle at the front of the collar to make more room for the neck.

4. Cut the front of the jacket open all the way down the middle. Start at the middle of the collar and end at the bottom of the jacket.

5. Fold under the collar and the bottom of the jacket 1/4 inch. Sew the folds in place, tucking the raw edge of the fabric under as you sew.

6. Sew a zipper into the front opening of the jacket or use big buttons and make button holes on the other side, or even just make a belt and tie it together.

7. Cut out two pieces of fleece that are each 12 inches wide and long enough to reach from your shoulder to your wrist. Round off one of the shorter edges of each piece. These will form the sleeves.

8. Fold one sleeve piece in half, bringing the longer sides together. Sew the long sides together (opposite the fold).

9. Sew the curved end of the sleeve to the armhole in the jacket, with the middle of the curve at the top. Repeat this process with the second sleeve.

10. Fold the sleeve openings under 1/4 inch and iron the folds in place. Fold the fabric under 1/4 inch again and sew the fold into place. Turn the jacket right side out.
I was wondering if anyone had any pictures of the process? I am 15 and love to sew, but I kinda need some pictures. I hope to hear from you soon! :)
By Katie S.
AnswerWas this interesting? Yes No
Ad
---
---
Most Recent Answer
I saw a lady today wearing a great looking coat made from an inexpensive, woven, fringed, throw-blanket. It did not have buttons and the fringe ran down the front, around the bottom, and around the collar. It looked pretty simple, but I could sure use some instructions or a pattern. Can anyone help me? (I am not talking about fleece.)
By Terri
AnswerWas this interesting? Yes No
---
Most Recent Answer
By redhatterb 1 672 12/16/20120 people found this helpful
My guess is it would take two throws to make this the way you describe it. I think you would need to have a throw with an all over design, not just a centered design. Google the topic and see what you can come up with. Also look at patterns in the pattern books at fabric stores.
Solutions: Making a Coat Out of a Blanket
Do you have knowledge about this guide topic? Feel free to share a solution!
Archives
Thrifty Fun has been around so long that many of our pages have been reset several times. Archives are older versions of the page and the comments that were provided then.
I need instructions for making a jacket from a throw blanket.
Rose from Brookhaven, MS
---
RE: Making a Jacket Out of a Blanket
I can tell you how to make a poncho out of a blanket if this helps. Just fold the material into a triangle and cut the top of the triangle off. Remember you can always cut more if needed, but you can't put it back once you cut it off. Then you can cut about half inch slits all along the bottom and tie each one individually into knots. I helped make one for my 11 month old little girl and you would not believe how many compliments I get on it. (12/01/2008)
By 1hope4all
RE: Making a Jacket Out of a Blanket
Check the site called "Pattern Review". They can give you some ideas on what your looking for.
patternreview.com
I have had good luck with this site when I was looking for a certain type of ideas or patterns for a project. Sometimes I just do a search, typing in the type of project I am looking for. It takes time and sometimes you have to do, what I call, a play of words to find what your looking for. I hope this was some help (12/03/2008)
By NHRIVERAT2
RE: Making a Jacket Out of a Blanket
I have a pattern from the 90s that I used to make a coat that I still have and still get compliments on. If you'd like to send me a message with your contact information, I can send you the information, but I can't really describe it with words here. (12/05/2008)
By Beth
I would like to know how to make a jacket out of throws.
By jsasser from Daphne, AL
---
RE: Making a Jacket Out of a Blanket
I'm sure if you look in pattern books in stores you will find a pattern that will work. Are you talking about the woven throws or the fleece ones? If you are talking about fleece, almost any pattern will work. For the fleece jackets you can buy however many yards of fleece that is stated on the back of the pattern. Fleece is extremely easy to work with. I have never seen a jacket made out of woven throws. (09/12/2010)
By redhatterb
RE: Making a Jacket Out of a Blanket
http://www.inquiry.net/outdoor/winter/gear/capote.htm This is a great scouting site, This has a lot of decorations/accessories on the coat, but you could make it without them. (09/12/2010)
By Diamondee
RE: Making a Jacket Out of a Blanket
I know what you are looking for. I had one back in the 70s; it was so comfortable and warm. Mine was more of a jacket, but they had longer coats too. Unfortunately, I can't find a pattern on the net. Here is a site that sells jackets made from Indian blankets that might give others an idea of what you're looking for. They are more detailed than the one I had, but at least go in the right direction.
nativejackets
(09/20/2010)
By susanmajp
I would like to sew a jacket using a blanket throw. I saw it done some years back, but can't remember the details. Does anyone have instructions or can you refer me to a pattern?
Thank you.

By Helen from Long Beach
---
RE: Making a Jacket Out of a Blanket
Try your local quilting shop; the jacket patterns are usually quite simple, shawl collars, unlined sort of thing. Good luck. (12/17/2010)